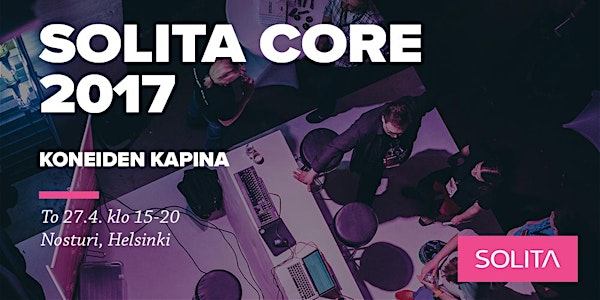 Solita Core - Koneiden kapina
When and where
Location
Nosturi Telakkakatu 8 00150 Helsinki Finland
Description
*** HUOM! Tapahtuma on täynnä ja paikat varattiin loppuun ennätyksellisen nopeasti. Päätimme tästä syystä tarjota striimin niille jotka eivät mahdu mukaan. Voit katsoa puheenvuorot livenä täältä. ***
Miten Internet of Things ja robotit liittyvät toisiinsa? Mitä uutta Deep Learning, tekoäly ja neuroverkot tuovat tullessaan? Kuinka lokien avulla voidaan monitoroida pilvipalvelun turvallisuutta? Miten Teslan lähdekoodi päätyi Solitalaisen devaajan käsiin – ja mitä sitten tapahtui?
Me Solitalla olemme kiinnostuneita ympäröivän maailman digitalisoitumisesta. Haluamme edistää avoimuutta, DevSec-osaamisen laajenemista ja jakaa tietoa kehittäjäyhteisön kanssa. Tervetuloa kuulemaan tämän hetken polttavista aiheista ja verkostoitumaan alan kovimpien osaajien kanssa.
Tarjolla on tuoreita näkökulmia ja ideoita omaan työskentelyyn, kylmiä juomia ja maistuvaa ruokaa Nosturin legendaarisissa puitteissa. Tilaisuuden alussa ja tauolla pääset tutustumaan demoihin: paikalla mm. Chatbots, Face Recognition demo, Bots of Black Friday ja Finland Yard -peli, joten kannattaa saapua paikalle heti kolmelta.
Tapahtuma on avoin kaikille ohjelmistokehityksen ja tekoälyn mahdollisuuksista innostuneille. Suomenkieliset puheenvuorot avautuvat parhaiten jos sinulla on jo kokemusta ohjelmistokehityksestä ja ohjelmointitaitoa. Tilaa on rajoitetusti, varmista siis paikkasi ja ilmoittaudu heti mukaan.

AIKA: 27.4.2017 klo 15-20
PAIKKA: Nosturi, Telakkakatu 8, 00150 Helsinki
---
OHJELMA:
15.00 Demoja ja virvokkeita
16.00 Solita Core - devaajalta devaajalle
Panu Kalliokoski, Senior Software Developer, Solita
16.10 Syvät neuroverkot luonnollisen kielen ymmärtämisessä
Jaakko Pasanen, Chief Science Officer, UltimateAI
16.40 Monitoring Cloud Security
Tuomas Koivusalo, Cloud Service Specialist, Solita
17.10 Tauko ja demoja
17.50 Internet of Things: softasta hardwareen ja takaisin
Aki Helin, Software Designer, Solita
18.20 Miten sain Teslan lähdekoodin haltuuni
Iiro Uusitalo, Vulnerability Researcher & Cloud Service Specialist, Solita
18.50 HTTPS || pwned
Antti Virtanen, Software Architect, Solita
19.00 Street food menu, viilennettyjä virvokkeita & vapaata seurustelua
20.00 Tapahtuma päättyy, jatkot alkaa