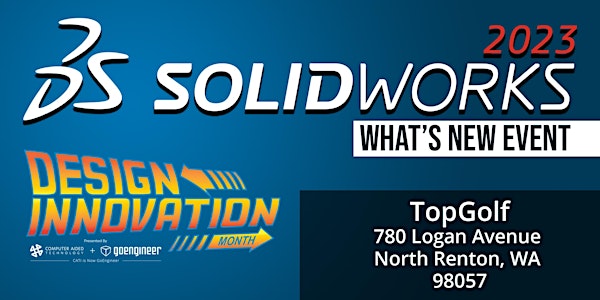 SOLIDWORKS What's New 2023 - Seattle, WA
Our SOLIDWORKS What's New 2023 events are a great way to get the latest updates from SOLIDWORKS and meet the CATI/GoEngineer team!
When and where
Location
Topgolf 780 Logan Avenue North Renton, WA 98057
About this event
Join Computer Aided Technology (CATI) and GoEngineer for our Design Innovation Month Live Event Series. This year's events showcase What's NEW in SOLIDWORKS 2023 as well as What's New in 3D Printing and 3D Scanning technologies! The Design Innovation Month Live Events are an interactive learning experience focused on helping you design and make better products.
SOLIDWORKS 2023 is on its way to your local device. Our team is working to get you all the latest tips and tricks, along with 'What's New' to let you know how it applies to you. And it doesn't stop there. We offer a full range of solutions from simulation and design to 3D printing and 3D scanning to help you get the job done quickly, efficiently and make you the 'office hero'.
Join us in the month of October (and a little bit into November) as we travel back in time to see where the industry has been, where we can go and what we can create. Where we are going, there are roads — we will be visiting 30+ cities across the US on our tour along with a virtual option, so register today to find out the latest information.
At CATI, we empower innovators like you with the tools and knowledge needed to create the future you imagine.
We look forward to seeing you at this year's event!