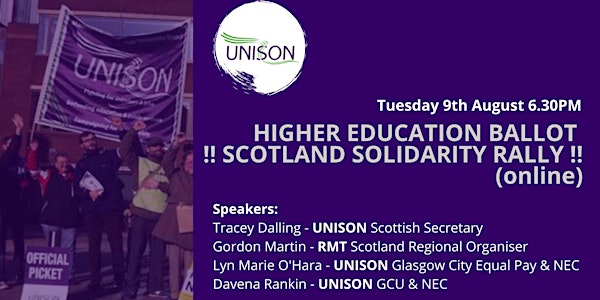 ! SOLIDARITY RALLY ! - UNISON Scotland HE Ballot - Tues 9th August - 6.30pm
Join our activists and HE members to hear from speakers from across the movement in support of the pay ballot - 3%?! We demand more!
About this event
With the cost of fuel, food and energy jumping up, we can't afford less than an inflation-busting pay rise of at least RPI+2% and an end to poverty pay in higher education. A 3% pay rise during this cost of living crisis is pitiful - Join us on Tuesday 9th August at 6.30pm to demand more!
Speakers confirmed so far:
Tracey Dalling - UNISON Scottish Secretary
Gordon Martin - RMT Scotland Regional Organiser
Lyn Marie O'Hara - UNISON Glasgow City Equal Pay & NEC
Davena Rankin - UNISON GCU & NEC
Further speakers TBC!
A Zoom link and reminder to join the meeting will be sent out on Tuesday 9th August.