Enjoy a delicious dinner at Et Voilà! , an authentic Belgian and French bistro, and get to meet the Chef while helping the community!
About this event
How about enjoying a special dinner prepared just for us by Chef Claudio Pirollo of Et Voilà!, an authentic Belgian and French bistro? With the vaccination campaign going strong, we hope that you will enjoy going back to the restaurant!
Your participation will help the restaurant AND the community since the price of the ticket includes the price of the meal which goes entirely to the restaurant plus a tax-deductible donation to the CT which goes entirely to one of our beneficiaries.
Vegetarian options are available.
20 tickets are available at the price of $ 70 per person, which consists of $ 45 for your meal (tax and tip included, drinks excluded) and $25 as a donation to the Comité Tricolore (larger donations are of course encouraged). The donation is tax deductible. Parties of 2 minimum and 6 maximum.
All COVID 19 sanitary protocols are still being respected. You will be asked to wear a mask when entering the restaurant and walking around. Your party will be assigned a separate table unless you indicate wishing to join another party. Please do not attend if you are experiencing any symptoms of COVID-19. Tables are for 6 people maximum (COVID-19 protocol) and 2 minimum.
Monday May 24, at 6:30 pm
At Et Voilà!
5120 MacArthur Blvd, Washington DC 20016
TO GO Option: If you wish to pick-up your dinner(s) and enjoy it at home, please send your pick-up time and menu choices to Jean-Philippe Krukowicz: jp@gtlinens.com . Choose the Ticket "Dinner To Go" to buy your dinner(s). Thank you!
Menu: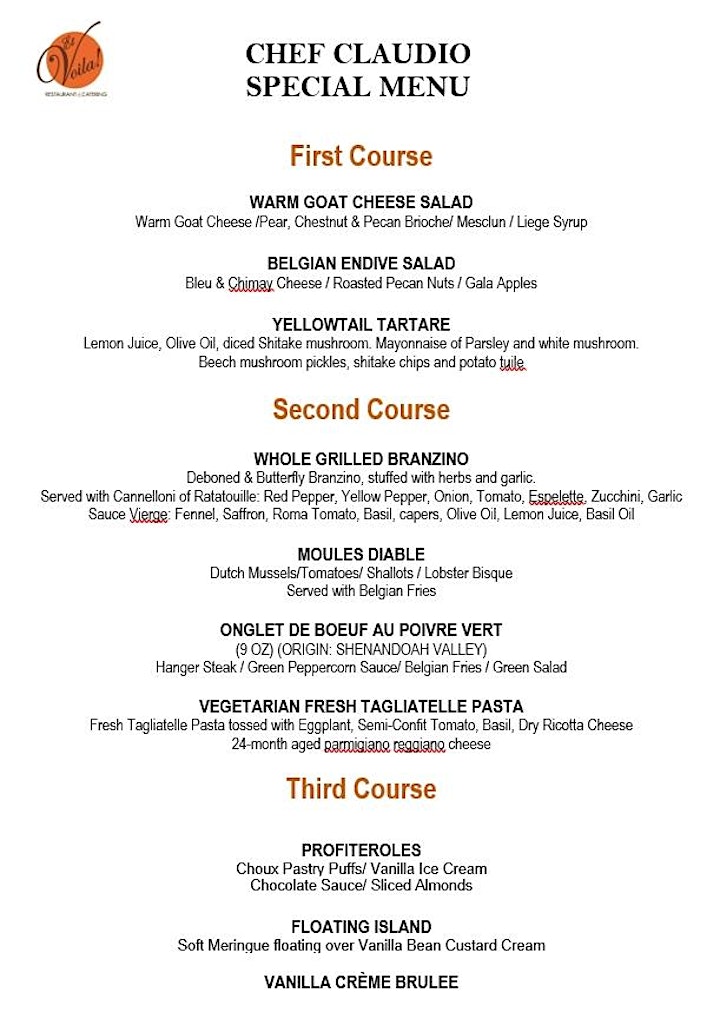 Organizer of Solidarity Dinner of the Comité Tricolore at Et Voilà!
The  Tricolore Committee (501-C 3) is the associative network of a strong and supportive Francophone community in the Washington, DC area. It is an apolitical, philanthropic non – profit, open to French, Francophone and Franco-American clubs or associations of the Washington, DC region which share a common interest in French culture and in the strengthening of the relationship between France and the United States.
The Tricolore Committee was founded in 1997 by a group of associations committed to the organization of annual activities and events, and to the dedication of the generated benefits to help disadvantaged people in the community. Twenty-three associations are currently members of the Tricolore Committee.