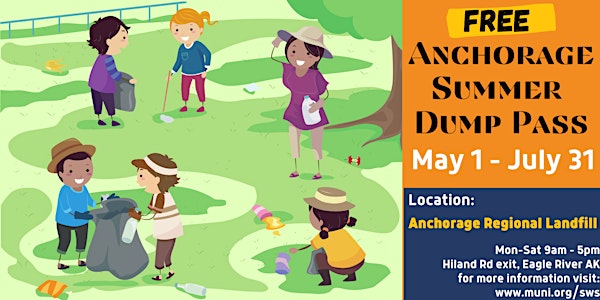 Solid Waste Services Free Summer Pass
Passes are good at the Anchorage Regional Landfill and Girdwood Transfer Station
Location
Anchorage Regional Landfill 15500 East Eagle River Loop Road Anchorage, AK 99577
About this event
Summer Disposal Pass
Unfortunately this program has reached its limit of available of free passes for 2023 earlier than anticipated. There are no more passes available this year.
----------------------------------------------------------------------------------------
All free loads must go to the Anchorage Regional Landfill in Eagle River or, Girdwood residents may use their passes at the Girdwood Transfer Station. Passes WILL NOT be accepted at the Central Transfer Station in Anchorage.
Only current residents of the Municipality of Anchorage may register for a free pass. You must provide a valid Municipality of Anchorage address to register. Passes will be deactivated if false information is provided.
Loads are limited to1,​000 pounds or less and may not exceed the size of a standard pick-up truck bed. No U-Hauls or double-axel trailers will be eligible for free disposal. Double-loads do not qualify. Trailer loads can be no bigger than 3' height x5'6" width x8' length and cannot be combined with vehicle load at the time of disposal.
Additional fees will apply for any items containing freon (refrigerators, freezers, etc).
HHW or potential asbestos-containing materials do not qualify for free pass loads.
Unsecured loads WILL be charged a fee. Please make sure to tie or tarp your load prior to disposal.
You must have a valid email address to register for a pass.