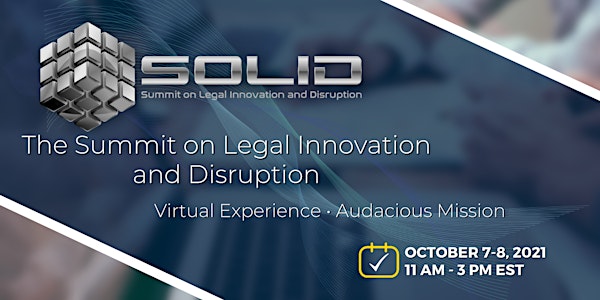 SOLID Fall 2021:The Summit on Legal Innovation and Disruption
SOLID Fall 2021:The Summit on Legal Innovation and Disruption
About this event
A VIRTUAL TED-STYLE TALK SUMMIT FOCUSED ON INNOVATION AND THE BUSINESS OF LAW
Speakers share what they are doing, how they are doing it, and the business impact it has. Engage and brainstorm in real time with speakers on how to apply ideas to your business. Our talks are followed by facilitated breakout room conversations, sprint panels, and town hall discussions that allow participants to discuss what they know now that they did not know before the session started, and how to apply these lessons to their own organizations. SOLID provides participants with maximum interaction with peers and colleagues in a round table, workshop environment to assess current challenges and design concrete solutions.                
Complimentary registration is for corporate and law firm guests only. Corporate guests are defined as counsel and executives from corporate legal departments that are not from companies that sell or consult legal services or software. We reserve the right to refuse admission and cancel your registration if you don't qualify. 
Agenda - October 7-8, 2021 ( 11:00 am – 3:00 pm Daily EST):
Day 1 : October 7 @ 11:00am ET
Welcome and Opening Remarks from David Cowen, Founder of SOLID and The Cowen Group.
Session One: The Big Picture – New -Perspectives – Trends – Challenges and Solutions.
Breakout Rooms / Town Hall / 15 minute Session Break
Session Two: Technology Innovation in Action - Start Time: 01:00pm ET
Breakout Rooms / Town Hall
Day 2: October 8 @ 11:00am ET
Session One: Innovation in Action – Workflow and Process
Breakout Rooms / Town Hall / 15 minute Session Break
Session Two: Innovation in Action- Talent
Town Hall
End of Conference + Wrap Up