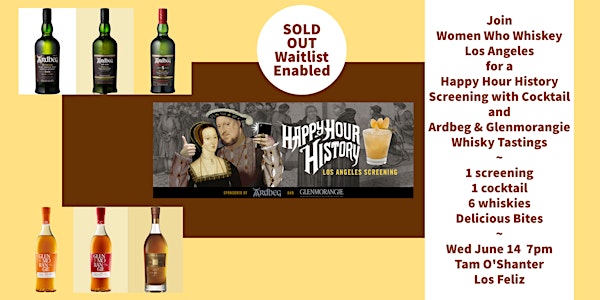 SOLD OUT/WAITLIST ENABLED: Happy Hour History + Ardbeg & Glenmorangie
Join Women Who Whiskey Los Angeles for a Happy Hour History screening with a cocktail plus whisky tastings and light bites
By Women Who Whiskey Los Angeles
Date and time
Starts on Wednesday, June 14 · 7pm PDT
Location
Tam O'Shanter 2980 Los Feliz Boulevard Los Angeles, CA 90039
About this event
Happy Hour History is back! Join Women Who Whiskey Los Angeles on Wednesday, June 14 at 7:00 p.m. for a screening of new episode Scotch & Don't Drink the Water, accompanied by a Penicillin cocktail. Later, we'll enjoy guided Single Malt Scotch tastings of Ardbeg and Glenmorangie as well as delicious bites at the charming Tam O'Shanter Scottish restaurant.
Portland based filmmaker David S. Mayne (PBS, The History Detectives) tells history in an unusual way – with a cocktail in hand. He has brought together America's top bartenders, historians, and film artists to create Happy Hour History. The series is now available on Amazon but watch it here first with other club members. In April 2019, Women Who Whiskey Los Angeles introduced the series to the L.A. chapter. Four years later, David is back with exciting new boozy history to share with us...this time focused on the history of Scotch!
Cameron George, Ardbeg US Brand Ambassador, and Travis Tidwell, West Region Glenmorangie and Ardbeg Brand Ambassador, will lead us on a guided tasting juxtaposing three expressions of Glenmorangie and three expressions of Ardbeg.
The tasting will include:
Glenmorangie 10 year old
Glenmorangie Lasanta 12 year old
Glenmorangie 18 year old
Ardbeg 10 year old
Ardbeg Wee Beastie
Ardbeg An Oa
We will be partnering with Remedy Liquor so guests can purchase whisky after the event.
We hope you will join us on this Scotch history adventure with David, Cameron, and Travis! Feel free to invite your friends.
Slainte Mhath!
21+ to Purchase & Attend | Please Drink Responsibly
All genders welcome!
No refunds but tickets are transferable with prior notice to: losangeles@womenwhowhiskey.club
David Mayne
Portland based filmmaker David S. Mayne (PBS, The History Detectives) tells history in an unusual way – with a cocktail in hand. He has brought together America's top bartenders, historians, and film artists to create Happy Hour History.
Using cocktails to tell diverse historical stories, each Happy Hour History episode starts with a cocktail that is traced back to a historical event that changed our world forever. Then, after the brief history lesson that includes Monty Python inspired animations and historical recreations, top bartenders from around the country teach viewers how to make that classic cocktail at home.
Cameron George
Cameron George is a Whisky evangelist from Seattle Wa. An impassioned spirits educator and community leader he serves as an educational resource for whisky enthusiasts of all levels, bringing with him numerous accreditations and over 13 years in the industry.
Working as US National Ambassador for the 5x reigning World Whisky Distillery of the Year; Ardbeg, Cameron aims to intentionally bring the conversation of diversity to the world of whisky & Single Malt Scotch by openly discussing triangle trade, global drinking trends, and the influx of POC as the fastest growing consumer segment in Whisk(e)y.
Cameron brings to life Ardbeg's finest qualities with passion, a unique quirkiness, and a sense of place brought to life through experiential storytelling; Ardbegcam's seminars, masterclasses & virtual tasting are equal parts exciting and academic.
Travis Tidwell
Travis Tidwell has had an interesting journey into the spirits industry; he grew up in a very small town outside of Yosemite National Park, named Coarsegold. Travis found his passion for flavors and ingredients in that small town. He started out as a dish washer at the local pizzeria where he learned the ins and outs of the business. His hard work and dedication lead him t oversee all staffing and management of the back and front of the house at the age of 18. After a few years, it was time for him to spread his creative wings and move to Southern California to attend the Art Institute of Southern California for Culinary school, where he would go on to graduate at the top of his class in 2008. While he was attending college Travis started working behind a fast paced bar as their bar back. He graduated the ranks and eventually went on to work for an import company focusing on single malt scotch, rum, cognac, and craft spirits out of Italy, and running the portfolio for all of Southern California. Travis is also a certified spirits specialist and education accreditation through the Society of Wine Educators and WSET level 2 Wine and spirits and WSET level 3 Spirits.
As of October 2015 he proudly joins the Glenmorangie and Ardbeg team as the Brand Ambassador for the Western Region of the United States. Based in Southern California, Travis will work to highlight the broad range of Single Malt Scotch Whisky offerings for both brands in key markets including California, Washington, Nevada, Arizona, Hawaii and Alaska.
What are your hobbies? And how does it relate to the brands?
I enjoy fast cars, outdoor sports like surfing, hiking, and playing soccer. I also enjoy spending time with close friends. I am known as the "whisky guy" with my local group of friends. I always bring something new and exciting to the mix. Sharing great whisky amongst friends is one of my favorite hobbies. I also enjoy collecting scotch whiskies from around the world.
What makes you passionate about Glenmorangie and Ardbeg?
The true craftsmanship of the two distilleries and the history and heritage that has created a legacy with both of these whiskies. Glenmorangie has a delicate style that works so well with different maturation types in unique casks, but is also delicious and complex in bourbon casks. Ardbeg has a distinct peaty flavor but finishes with a subtle roundness and creaminess. I am inspired by the innovative spirit of both distilleries that honors tradition but is also bold enough to experiment.
Where do you draw your inspiration?
Creativity is a big inspiration for me, incorporating my culinary education into the mix and being slightly different than the norm. I look forward to bringing this unique skill set to this position and animating Glenmorangie and Ardbeg whiskies in the West.
Royal Guards Room at the Tam O'Shanter
About the organizer
Launched in March 2016 by President Kim Ohanneson, Women Who Whiskey Los Angeles is the first California chapter of Women Who Whiskey: an international whiskey appreciation club founded in New York in 2011. The club has 30 chapters (and counting!) and 10,000 members worldwide.
Women Who Whiskey Los Angeles is the largest wWw chapter in the world, with 2500+ members (25% of Women Who Whiskey's global membership.)
Women Who Whiskey Los Angeles produces two to five events a month -- usually 25 or less -- with an emphasis on whisk(e)y tastings and a focus on brand and category education. Our mission is to  help members become more informed consumers at the bar and in the marketplace.
Our events include distillery tours, cocktail classes, whisk(e)y pairing dinners and more.
All are welcome!