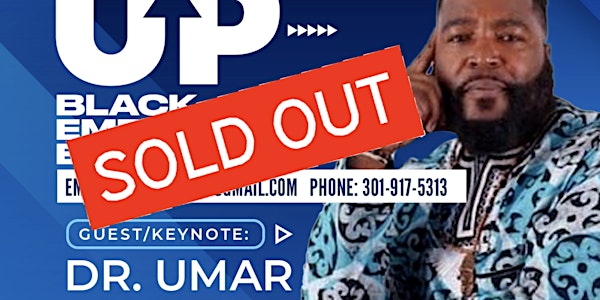 ***SOLD OUT***LEVEL UP BLACK EMPOWERMENT EXPO
Level UP is an empowerment exposition to stir our people into action. FOOD, MUSIC, GIVEAWAYS! SUPPORT LOCAL AND PROSPECTIVE BUSINESSES!!!
When and where
Location
Graces Event Center 4045 Renner Road Waldorf, MD 20602
About this event
Level UP is an empowerment exposition to stir our people into action. I am calling on YOU to assist me with the breaking of generational curses!
The Level UP BLACK EXPO's primary focus is to be a catalyst to encourage community participation to assist with the advancement of the Black community, by bringing together and showcasing much needed minority professional creatives from all facets of industry. That will help us to get to the next LEVEL!
We will have guest/keynote speaker Dr. Umar Johnson in our very own Charles County making an impassioned plea for us to LEVEL UP! Dr. Umar is a Doctor of Clinical Psychology and Certified School Psychologist. He has made several appearances on the popular Breakfast Club morning show. Please see Bio information below:
***We will also have DMV Legend CURTIS MALONE speaking as a panelist.***
***Capitol Heights own Everlasting Life Vegan Restaurant will be vending!!!***
>>>SEATING IS LIMITED!!!!!!!!!!<<<
Will you join us?
**************************************************
ABOUT DR. JOHNSON
Dr. Umar Johnson is a Doctor of Clinical Psychology and Certified School Psychologist who is considered an expert on the education and mental health of Afrikan and Afrikan-American children. Dr. Umar, as he is known to friends, is a paternal kinsman to both the Great Abolitionist Frederick Douglass (1818-1895) and the late Bishop Alexander Wayman (1821-1895), 7th Bishop of the AME Church, both from Maryland's Eastern Shore.
Dr. Umar is founder and lead tour guide for the "Unapologetically Afrikan" Black College & Consciousness Tour for 11 thru 17-year-old boys & girls which exposes them to the great historical Black College tradition, within the context of visiting and learning about significant places and personalities that helped shaped the global Afrikan struggle for freedom and independence. This tour is held annually during the first two weeks of July.
The Prince of Pan-Afrikanism hosts a free regular weekly Black parent teleconference every Tuesday morning from 6-8am EST where he gives free educational and mental health consultations to community members in order to help them better advocate for Black children. Dr. Umar's name, quotes and speeches have been mentioned and shared on records and songs by various Hip-Hop artists more than any other living scholar. In addition, his image has been re-created by various Black artists more than any other scholar of the 21st century.
The most requested Black scholar in America also hosts a regular annual "Unapologetically Afrikan" Group tour to the Afrikan continent, which takes place the last week in July and first week in August. This tour, which always includes stops in two different countries, is designed to help Afrikans in the west reestablish their psycho-spiritual connection to their ancestral homeland.
A direct descendant of formerly enslaved civil war veterans who served in the United States Colored Troops of Maryland, Dr. Umar is an educational diagnostician who specializes in special education issues. He is known most for his work in identifying mis-diagnosed learning disabled and ADHD students.
Dr. Umar has been featured on News One Now, the Tom Joyner Morning Show, the Bev Smith Show, The Breakfast Club, as has appeared as a special guest life coach on Real Housewives of Atlanta(RHOA8). As a child therapist, he works with depressed and behaviorally-challenged males.
Dr. Umar is author of the book "Psycho-Academic Holocaust: The Special Education and ADHD Wars Against Black Boys," the 1st book ever written by a African-American male school psychologist to Black parents with specific strategies on how to fight back against special education and ADHD misdiagnoses. Dr.Umar also holds degrees in education and political science.
Dr. Johnson is preparing to begin organizing his National Independent Black Ex-Offender Association (NIBEA), also known as "The New Underground Railroad," in order to advocate for rights on behalf of previously incarcerated Black women, men & children, and to prevent their recidivism. Dr. Umar is founder of the "Unapologetically Afrikan," "Unapologetically Black," & "Afrikan Family First" movements.
Dr. Umar is founder & president of the National Independent Black Parent Association (NIBPA) organized to fight against educational and academic racism & disproportionality in the 7 core areas of a) special education, b) school discipline, c) school finance, d) social support/services, e) school policy, f) home schooling, and g) parent advocacy.
One of the most recognized social scientists & Pan-Afrikanists of the 21st Century, his book, articles and lectures are included by college and university professors across the country within their required course materials. Dr. Umar is one of the most requested speakers in the world, and has lectured in North America, South America, The Caribbean, Europe and Afrika.
Dr. Umar is currently working on building his new school, The Frederick Douglass & Marcus Garvey RBG International Leadership Academy for Boys, America's first residential academy for Black boys founded upon the principles of Pan-Afrikanism and International Economics. In the future, Dr. Umar also would like to extend this school to include female students in their own residential school.