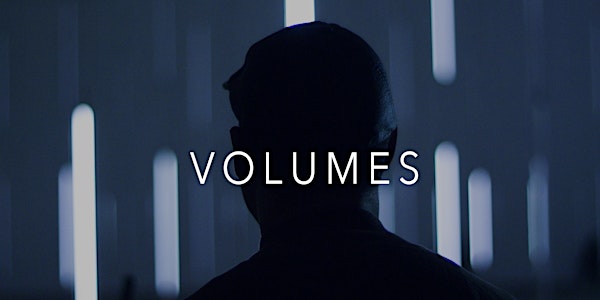 **SOLD OUT** VOLUMES - Steve McKie, Chris Cogburn, Erica Mack
VOLUMES is an immersive audio-visual installation by interdisciplinary artist/musician Ezra Masch that is activated by live drumming.
When and where
Location
Icebox Project Space 1400 North American Street Philadelphia, PA 19122
About this event
VOLUMES is an immersive audio-visual installation by interdisciplinary artist/musician Ezra Masch. The exhibition will be on view October 8th-29th at Icebox Project Space in Philadelphia PA. In VOLUMES, live drumming activates a matrix of vertical lights installed in a three-dimensional grid. Velocity and pitch determine the quantity of light that floods the gallery, creating a dynamic sensory experience for viewers.
A month long performance series curated by Masch will feature a host of percussionists from the Philadelphia area and abroad. This performance features drummers Chris Cogburn and Steve McKie, who will play solo sets.
Doors: 7:30pm
Show: 8:00pm
There will be a brief intermission between each drummer performance.
Drummer Bios
Steve McKie is one of the most distinctive sounding players ever to hail from Philadelphia. A native of the city, McKie was able to hone his skills playing in the house band at Philly's Black Lily and make connections that would lead to his excellent production credits. Mckie has since shared the stage with luminaries such as Jill Scott, Musiq, Bilal, Common, Joy Denalane, Joss Stone, Robert Glasper, Chuck Treece, DJ Statik, DJ Aktive, Jazmine Sullivan, Floetry, and James Poyser. And with the help of valuable mentors such as acclaimed songwriter and producer Donald Robinson, and bassist Lee Patterson, Steve was able to make the transition from drummer to producer.
Chris Cogburn is a percussionist living in Austin, Texas and Mexico City. Cogburn's artistic practice is rooted in the collaborative context of improvisation. Current music practices focus on the threshold between acoustic and electronic sounds, their differing timbral qualities and their sites of resonance. Tensions between just intonation and the unfettered resonances of objects is a burgeoning concern informing his most recent work.
Erica Mack - A native of Prince Georges County Maryland, Erica McElveen is an all around musician. Affectionately known as E Mack, Erica continues to shock her audiences with her musical versatility. Erica graduated from Temple University in 2012 with a Bachelors Degree in Music Education and has since proudly called Philly her home! She is an educator at The Philadelphia Charter School For The Arts and Sciences where she serves as the Arts Department Lead Teacher and percussion ensemble instructor. Although E Mack plays multiple instruments, her first love is certainly the drum set! Her father had faith in her ability to play the drums at just 6 years old. She began playing for her church when she was barely able to reach the foot pedals! Since moving to Philadelphia, Erica has partnered with artists and organizations such as Drum Like A Lady to help enrich the community and spread the joy of communal percussive experiences. In 2019 Erica ventured into solo artistry and has since put out three music projects. Her most recent album, Sunbathing, takes listeners on a healing journey charged by the energy of the sun. Erica only hopes to continue spreading the love of music as an educator and performer.