About this Event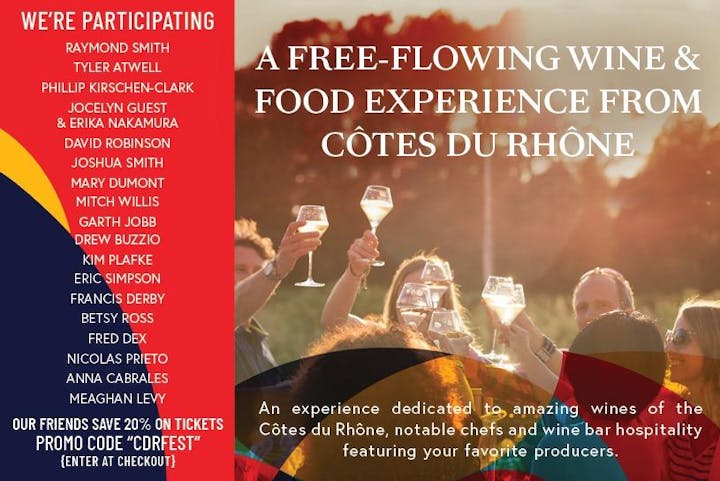 The Trade Tasting might be at capacity, but that doesn't mean you have to miss out. Tickets still remain for the all-inclusive Consumer Festival. Invite your friends to an amazing culinary experience this Sunday!
Here's the menu!!
60+ Wines, Over 700+ Bottles of Wine, only 400 Guests
10+ Chefs will be on-hand to explain all the dishes.
10+ Sommeliers are excited to be your guides through the Rhone.
White Wines with
• Assorted Country Pate, Mustards, Pickles, Crostini
• Radish & French Butter Bar
• Artisan Breads with French Butter & Salt
Rose Wines with
• Purple Tomato Skewer- Reblochon Cheese, Turnip Seed Oil, Shibazi Spice
• Sirloin Tartare, Fleur de Sel, Rosé Vin, Fried Capers, Cured Yolk, Crostini
• Praline Profiterole: Cocoa Choux, Hazelnut Ice Cream, Vanilla-Tonka Chantilly, Chocolate Sauce
Red Wines with
• Jambon Persille Terrine
• Beef Wellington Sausage with Grain Mustard
• Boudin Blanc Sausage Red Wine Poached
• Mussels Suzette, Crispy Leeks, Sherry and Pepper Conserva
• Gnocchi Parisienne, Aged Comte, Tomato Jus, Wildflower Honey
• And a wide-selection of artisan cheeses, warm French olives and Biellese Charcuterie.
To get more information on the chefs, sommeliers, and event details, CLICK HERE
* The Trade event is complimentary to Trade & Media ONLY — RSVP is required. Please bring business card to gain entry. Trade and media includes only those persons that buy, sell, consume wine as a profession. Upon RSVP'ing you will be emailed a short questionnaire. Please fill out to confirm your reservation. All reservations will be confirmed, and all reservations are reserved for those only in the wine trade.
Friends of the industry, trade, wine retail, barkeeps and media are welcome to attend the Trade Tasting, open early to those in the hospitality business. Includes special access to winemakers, brokers, importers and distributors prior to the public tasting. The Trade Tasting includes access to all wines plus cured meats, pate, cheese and olives. Both wine tasting seminars hosted by experts promise to enlighten guests about the classics and the newcomers of the wine region.
* The Trade event is complimentary to Trade & Media ONLY — RSVP is required. Please bring business card to gain entry.
TRADE TASTING - 2:30 PM - 4:00 PM
The French wine and culinary revival will highlight 60 dynamic wines from the Côtes du Rhône along platters filled with sausages, artisan cheeses and olives.