About this Event
This is a seated show with general admission, first-come-first-served seating. The Cedar is happy to reserve seats for patrons who require special seating accommodations. To request seating or other access accommodations, please go to our Access page.
This show is sold out.
About The Okee Dokee Brothers' Winterland Sing-Along!
Imagine sitting around the fire with family and friends, snow gently falling outside, while singing cozy songs... with The Okee Dokee Brothers! This February, the Minneapolis-based folk duo will host a sing-along of their entire Winterland album at the Cedar Cultural Center. Lyrics will be provided so bring your voices! This will be a different kind of Okee Dokee Brothers concert and will highlight the inspiration for each tune as well as a Q&A. So brush up on the melodies and we'll look forward to celebrating the joys of winter together on February 8th.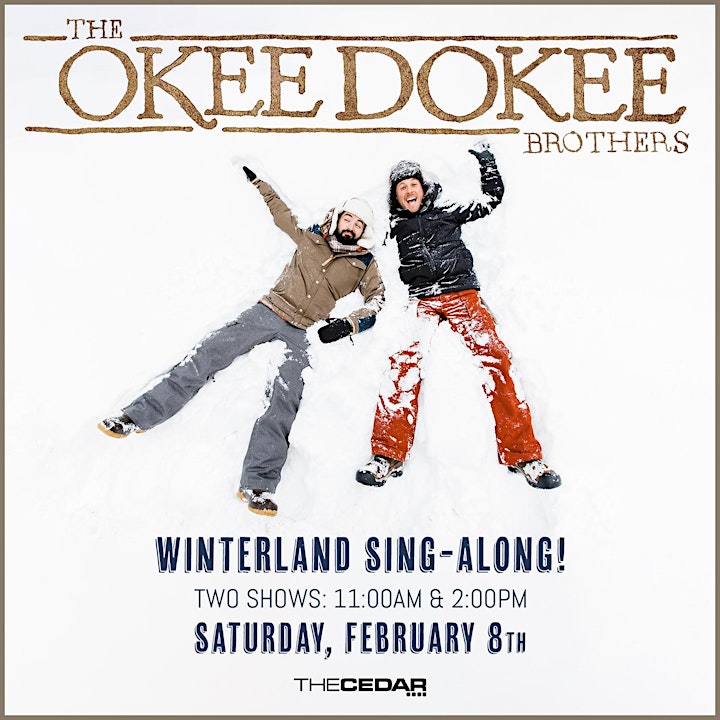 About The Okee Dokee Brothers
GRAMMY® Award-winning The Okee Dokee Brothers embark on an experience of a lifetime as Joe Mailander and Justin Lansing celebrate the spirit of the winter season on their latest full-length studio album, Winterland released two years ago. Following their critically-acclaimed "Adventure Album Series" featuring Can You Canoe?, Through the Woods, and Saddle Up, The Okee Dokee Brothers release an exuberant yet introspective collection of 16 original songs exploring the wonders and beauty of winter. A voyage from autumn to spring, Winterland presents secular winter music the entire family can enjoy while cozying up around the fire.
In a world where people are all too often pursuing their own individual journeys, Winterland humbly reminds us that we are all human beings living within the uncontrollable motions of Mother Nature. Embracing the cycles of loss and new life, darkness and light, bitter cold and warmth, Winterland reflects that winter is not only a season, but a feeling we carry within. As we weather the storm by looking inward, we can redefine our seasonal perspectives. In fact, with just the right outlook, winter can become our own sense of paradise, even through the warm months. Join The Okee Dokee Brothers as they welcome you to experience a refreshing, wide-eyed view of the most exciting time of year with their album, Winterland.
The Okee Dokee Brothers performing "Blankets of Snow" courtesy of Okee Dokee Brothers' YouTube channel.
Performers
Date and Time
Location
Refund Policy