Description
SOLD OUT!

WEDNESDAY AUGUST 1, 8PM
The Music Room
Presented by HarmoNYom In aasociation with AAICM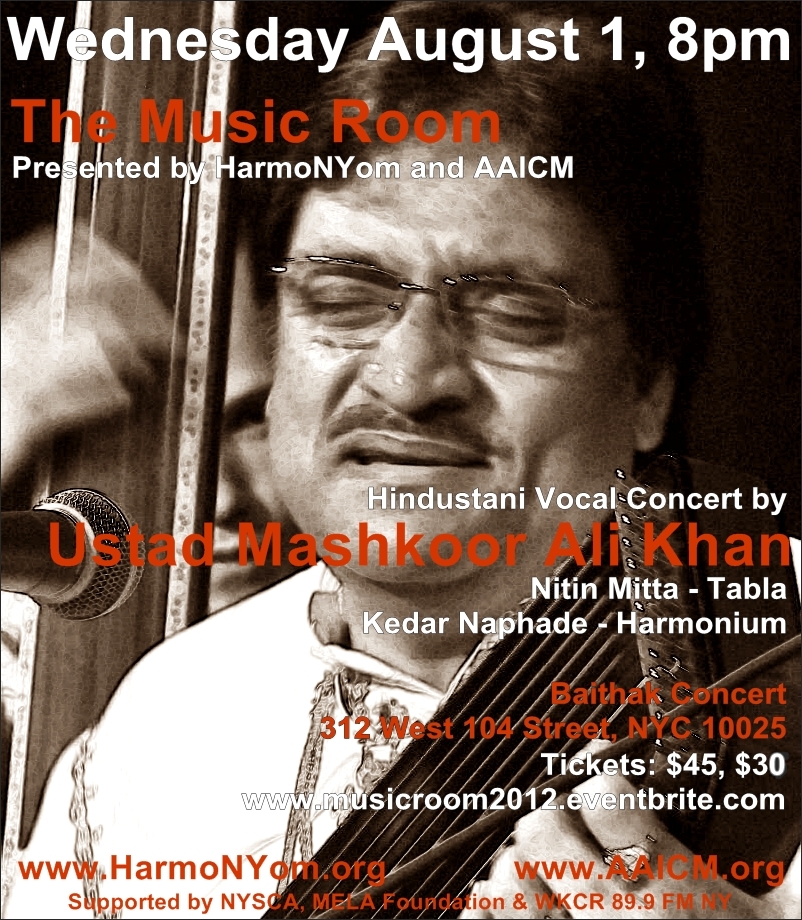 Ustad Mashkoor Ali Khan
(Hindustani Maestro Vocalist from the Kirana Gharana )
will be performing one exceptional and intimate Baithak Concert!
Ustad Mashkoor Ali Khan has musical blue blood in his veins owing to his family lineage. A direct descendant of the family of the great Ustad Abdul Karim Khan and the much legendary Sartaj-e-Mousiqui, Ustad Abdul Wahid Khan who were the founders of the famous Kirana Gharana. Ustad Mashkoor Ali Khan is the son of the great Sarangi-nawaz, Padmashree Ustad Shakoor Khan, who was the grand nephew of Ustad Bande Ali Khan Beenkar who composed numerous andishes under his pseudonym 'Sabras". www.mashkooralikhan.com/
Nitin Mitta - Tabla www.nitinmitta.com
Kedar Naphade - Harmonium www.kedarnaphade.com/
Michael Harrison- Vocal support/Tanpura www.michaelharrison.com
Aaron Shragge- Tanpura www.aaronshragge.com
House Concert - Residence

312 West 104 Street (between West End Ave. and Riverside Dr.),
New York, NY 10025
Tickets:
General Admission: $45
Students w/ID and Seniors: $30

REGISTRATION in advance required:
www.musicroom2012.eventbrite.com
www.HarmoNYom.org www.AAICM.org
Supported by NYSCA, MELA Foundation, TV Asia, DooBeeDooBeeDoo, Marcus Simpson Photography
& WKCR 89.9 FM
Organizer of SOLD OUT! THE MUSIC ROOM! AUGUST 1, 2012 - Vocalist USTAD MASHKOOR ALI KHAN in NYC. Nitin Mitta on Tabla and Kedar Naphade on Harmonium.
HarmoNYom "A Voice for Indian Classical Music"
HarmoNYom, exploring innovative ways of providing high quality experiences, through Indian Classical Music, as way of engaging, inspiring and challenging communities locally, nationally and internationally. Targeting music lovers of all ages, races and backgrounds!
For all Concerts and Events in New York!
www.HarmoNYom.org