The Bridge City Sinners ||| Bossanova Ballroom || Portland Fri, Nov 26, 2021 7:30 PM
About this event
|||
|||
AT
BOSSANOVA BALLROOM
722 EAST BURNSIDE STREET,
PORTLAND, OREGON, 97214
FULLY VAXXED OR NEGATIVE COVID TEST REQUIRED FOR ENTRY
FRIDAY 11/26/21
DOORS AT 700PM SHOW AT 730PM
ALL AGES
From the misty, pine-covered hills of the Pacific Northwest hail the Bridge City Sinners, who span the continuum from prohibition era jazz to Appalachian death folk. This traditional string band line up bends the meaning of the word genre, playing festivals from Punk Rock Bowling, to Muddy Roots, to Oregon's Bluegrass String Summit. They started their journey by busking on sidewalks across the country and now this supergroup of musicians find themselves on the national tour circuit. The Sinners still hold true to the DIY mentality of putting albums out on a self made record label, Flail Records. With talented musicianship and a punk as f***! live show, this is one band you don't want to miss.
All tickets are final sale and cannot be exchanged or refunded. In the case of an event cancellation without a rescheduled date, a full refund will be issued to each patron on the credit card used to purchase. By purchasing a ticket to this event, you agree to this purchase policy. Before purchasing your tickets, we urge you to confirm the title, time and location of the event.
Important notice re COVID-19: Please note any interaction with the general public poses an elevated risk of being exposed to COVID-19 and we cannot guarantee that you will not be exposed while in attendance at an event. By attending this event you are assuming risk and releasing Bossanova Ballroom / Bossanova LLC from any liability. A ticket is a revocable license and may be taken up and admission refused upon refunding the purchase price appearing hereon and is grounds for seizure and cancellation without compensation. Holder of a ticket ("Holder") voluntarily assumes all risks and danger incidental to the event for which a ticket is issued whether occurring prior to, during, or after same, including, but not limited to, contracting, and/or spreading the COVID-19 virus, and agrees that the organization, venue, presenter, agents, participants, or artists are not responsible or liable for any injuries, sickness, or death resulting from such causes. Holder acknowledges that the COVID-19 pandemic remains a threat to individual and public health, COVID-19 is a highly contagious disease transmitted through human contact and respiratory droplets (including through the air and via common surfaces) and it is possible that Holder may contract COVID-19 while at the event for which a ticket is issued. Holder agrees by use of a ticket not to transmit or aid in transmitting any description, account, picture, or reproduction of the event to which this ticket is issued. Breach of the foregoing will automatically terminate this license. Holder agrees that the license comprised by a ticket may be removed and Holder may be ejected from the event for which a ticket is issued in the event that Holder violates any law, ordinance, or venue regulation. Holder grants permission to the organization sponsoring the event for which a ticket is issued to utilize Holder's image or likeness in connection with any video or other transmission or reproduction of the event to which a ticket relates.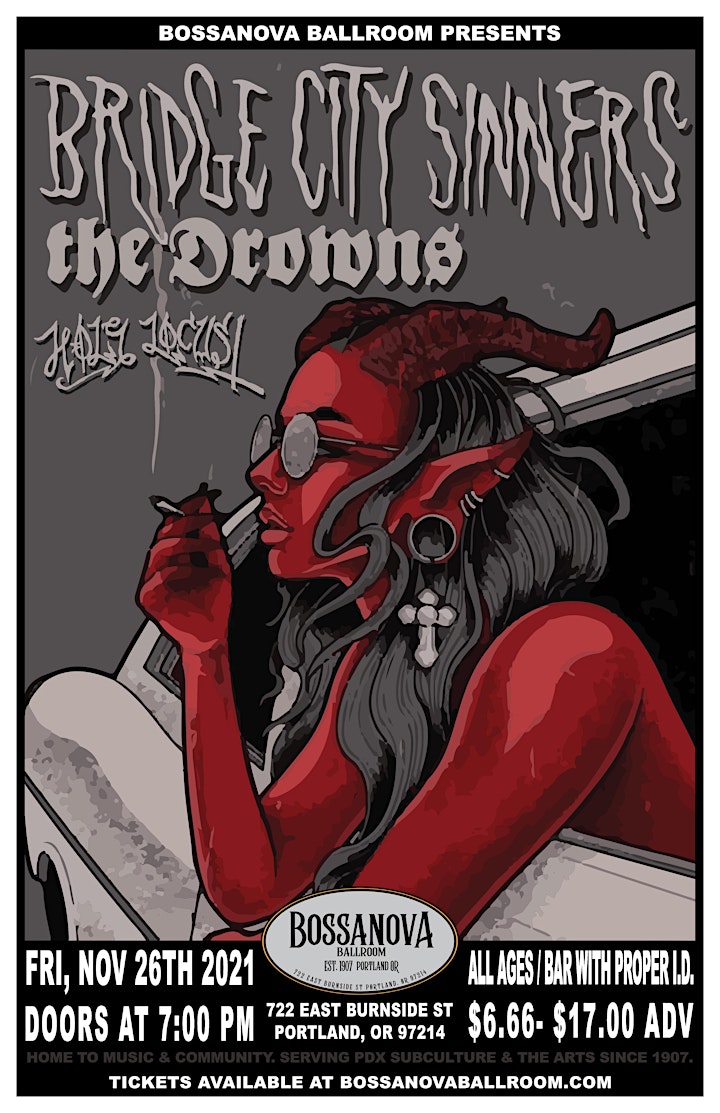 Organizer of SOLD OUT - The Bridge City Sinners || Holy Locust || The Drowns || PORTLAND