Description

Join us for the 6th Annual StartOut Awards, recognizing and celebrating excellence and leadership in the LGBTQ entrepreneurial community!
On Friday, October 6, 2017, StartOut will once again honor entrepreneurs and business leaders for their accomplishments and personal commitment to the LGBTQ entrepreneur community.
Festivities will include a cocktail reception, awards ceremony and dinner, and an exclusive keynote interview with the recipient of the 2017 Leadership Award. Each award recognizes exceptional entrepreneurs for their vision, leadership, advocacy and achievement in entrepreneurship, and for being a source of true inspiration to the entire LGBTQ community.
Our 6th annual awards ceremony marks a truly special occasion, as StartOut is now growing nationwide through our online community of entrepreneurs! We hope you'll join us in celebrating their amazing achievements.
Schedule:
6:30 pm — Check-In Begins at The St. Regis San Francisco

6:30 - 7:30 pm — VIP Cocktail Reception (open bar included with VIP Admission)

6:30 - 7:30 pm — Cocktail Reception

7:30 pm — StartOut Awards Gala

Cocktail Attire
Host Lea DeLaria:
Lea DeLaria seems to have achieved overnight stardom with her two time, SAG Award winning, stand-out role as 'Carrie 'Big Boo' Black' in the Netflix hit series "Orange is the New Black." However, DeLaria's multi- faceted career as a comedian, actress and jazz musician, has in fact, spanned decades.
Lea holds the distinction of being the first openly gay comic on television in America which led to countless Television and Film roles portraying Police Lieutenants, PE Teachers and the Lesbian who inappropriately hits on straight women. Selected TV credits: "Broad City," "Baroness Von Sketch," "The Jim Gaffigan Show," "Awkward," "Clarence," "Californication," "The Oblongs," "One Live to Live," "Law and Order: SVU," "Will and Grace," "Friends" & "Matlock." Selected Film credits: Cars 3, Support The Girls, First Wives Club, Dear Dumb Diary, Edge of Seventeen.
She's received Obie & Theater World Awards, and a Drama Desk nomination for her portrayal as 'Hildy' in the Public Theatre's revival of On The Town, an Ovation nomination for The Boys From Syracuse, and has played both Eddie & Dr. Scott in the gender-bending Broadway musical The Rocky Horror Show.
Lea was the featured vocalist at the 50th Anniversary of the Newport Jazz Festival, and has performed in some of the most prestigious houses in the world including Carnegie Hall, Lincoln Center, the Chicago Symphony, Hollywood Bowl, The Royal Albert Hall and the Sydney Opera House.
Lea has five records on the Warner Jazz and Classics label and her book "Lea's Book of Rules for the World" is in its third printing at Bantam Doubleday and Dell.
Her sixth record, House Of David delaria+bowie=jazz, was released in the Summer of 2015 to critical acclaim.
Awardees:

Arlan Hamilton is the founder and Managing Partner of Backstage Capital, a boutique venture capital fund based in Los Angeles that invests in exceptional women, people of color and LGBTQ tech founders. Started from scratch in 2015, Backstage has now invested in more than 50 companies. Her Limited Partners include Marc Andreessen, Stewart Butterfield, Ellen Pao, Heather Hiles and Startout Board member Chris Fraley.
Having founded and published the internationally distributed indie magazine  Interlude, and toured extensively as a live music production professional, Arlan enters the venture investing world from an unconventional path. She is dedicated to minimizing funding disparities in tech.
Before launching Backstage Capital, Arlan was the author of the groundbreaking blog for lesbians--"and the lesbian-adjacent"--Your Daily Lesbian Moment, which from 2006 - 2011 was read by an average of 50,000 people worldwide each month. In 2014, she created the popular fanfic Twitter profile @ModernLWord, which is often referenced by L Word creator Ilene Chaiken, director Angela Robinson, and cast member Rachel Shelley, among others.

Meg Columbia-Walsh is recognized as one of the most successful women tech entrepreneurs and CEOs. She recently received the NJBIZ Top 50 Women in Business. Meg is currently the CEO of Wylei, an Artificial Intelligence and Machine Learning company where the cloud based machine uses advanced predictive algorithms to take the guesswork out of digital web, email, mobile, and video campaigns. This is Walsh' 5 th start up and the previous all were sold to the Fortune 100 and one in an IPO. During her twenty plus year career in healthcare, CPG and Technology, Meg has successfully founded, run and exited companies including Inverse Mobile sold to EY, Oncology.com sold to Pharmacia and Upjohn, CBS Healthwatch in IPO and then sold to WebMD, and HealthTech Digital Communications sold to Interpublic Group. Meg is a proven entrepreneur recognized as a leading visionary in marketing, digital, social, mobile, pharma business process and consumer marketing.

Dubbed "The Coach" by Marie Claire, Natalia (aka Ms. Oberti Noguera) is Founder and CEO of Pipeline Angels, a network of women investors that's changing the face of angel investing and creating capital for women and non-binary femme social entrepreneurs. Natalia is also Creator & Host of Pitch Makeover, a podcast on startups, pitching, investing, and #morevoices (women, non-binary people, and men of color). She holds a BA in Comparative Literature & Economics from Yale and she serves on the boards of Walker's Legacy, Women 2.0, and iRelaunch. Inc. Magazine selected Natalia as one of "The Most Impressive Women Entrepreneurs of 2016," Latina.com included her in their list of "25 Latinas Who Shine in Tech," and Women's eNews recognized her as one of 21 Leaders for the 21st Century for 2012. Natalia was named to the Forbes list "Top 20 Women for Entrepreneurs to Follow on Twitter" and Fortune's "55 most influential women on Twitter." You can find Natalia on Twitter (@nakisnakis).
The 2017 StartOut Company of the Year Award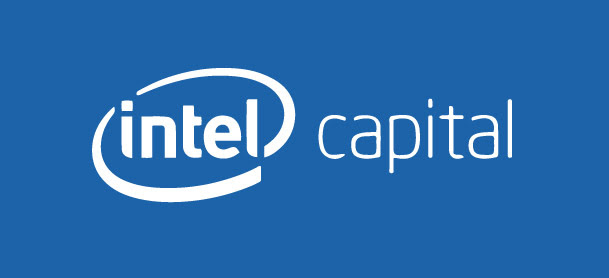 Intel Capital has been selected as this year's StartOut Company of The Year. Intel Capital was chosen as it demonstrated unique leadership and vision in promoting diversity, equality and visibility for LGBT entrepreneurs and business leaders. With the introduction of its Diversity Fund in 2017, Intel Capital has demonstrated inspirational leadership at the highest level by recognizing and including the LGBT community as a specific focus.
StartOut Award Sponsors:
Thank you to our award sponsors!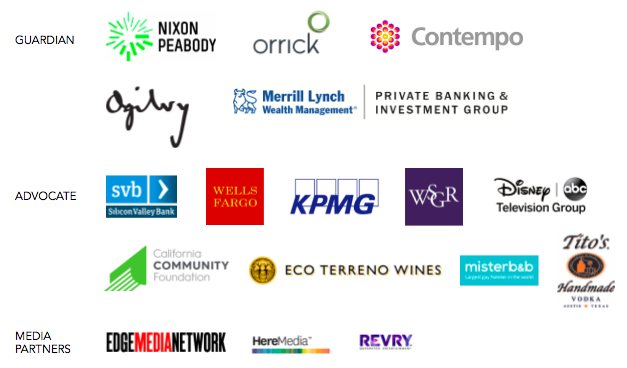 StartOut Table Captains:
Thank you to our Table Captains!
Arlan Hamilton
Golden Gate Business Association
Chris Fraley
Jason Kelley
Lorenzo Thione
Sutanto Sudiro Widjaja

Natalia Oberti Noguera

Andres Wydler and Dan Veatch
And our Table Officers!
*If you'd like to support StartOut and have an amazing night with friends and colleagues, consider becoming a table captain. You can register by completing this form.
Organizer of **Sold out** The 6th Annual StartOut Awards
StartOut, a national 501(c)(3) non-profit organization, is the largest national organization to support LGBTQ entrepreneurs with 17,000 members nationwide. Its mission is to increase the number, diversity, and impact of LGBTQ entrepreneurs and amplify their stories to drive the economic empowerment of the community. StartOut helps aspiring LGBTQ entrepreneurs start new companies; supports current entrepreneurs as they grow and expand their existing businesses; and engages successful entrepreneurs as role models and mentors, on its online portal and through targeted events nationwide.
Visit www.startout.org and follow @StartOut to learn more.