Description
SOLD OUT!
Friends of Pathways & Slow Food in the Tetons Presents:
TETON FOOD TOUR 2018
---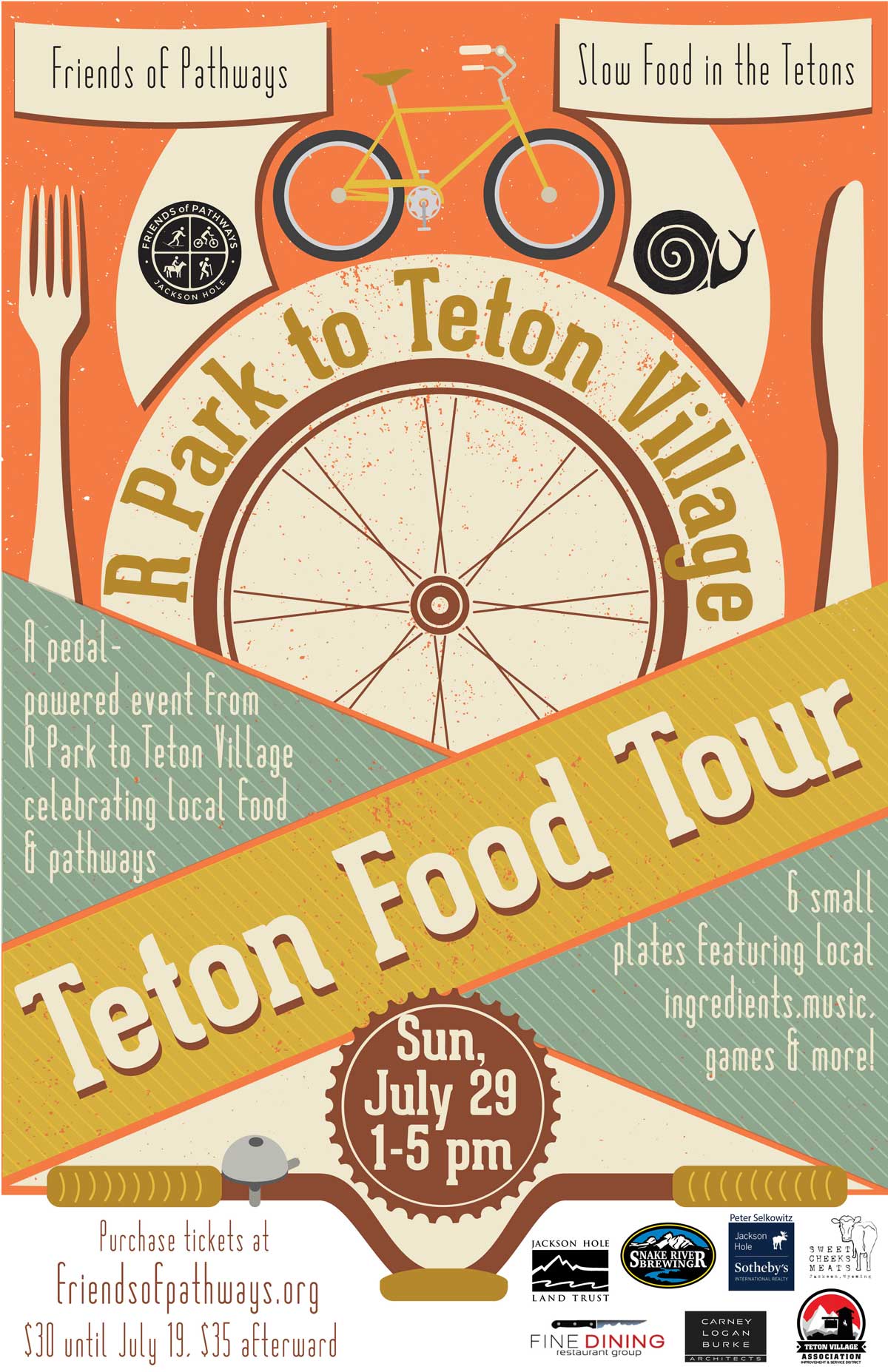 SUNDAY, JULY 29TH from 1-5pm
A pedal powered event from R-Park to Teton Village celebrating local food and pathways
6 small plates featuring local ingredients
$30 until July 19, $35 from July 20-day of event
Registration for the tour starts at 1:00 pm and ends at 2:30 pm. Plan on leaving R Park no later than 3:00 p.m.
Participants will experience wide and ample tastes from Chippy's Kitchen & Catering and Snake River Brewing, The Slow Food Kids Cooking Class, Glory Bowl Soup Company, Aspen's Market, Sweet Cheeks Meats, Bodega with Fine Dining Restaurant Group and Roadhouse Brewing.
There will also be musical entertainment and family activities at various stops.
2018's Teton Food Tour, is brought to you by:
Teton Village Association, Peter Selkowitz, Carney Logan Burke Architects & Snake River Brewing
Organized by Friends of Pathways and Slow Food in the Tetons with support from Jackson Hole Land Trust and R Park and View 22, programs of Jackson Hole Land Trust.
---
It is highly recommended to Check In before 2:00 pm - stop #1 will end service at 3 pm.
REMINDER: IT'S A GOOD IDEA TO BRING YOUR OWN WATER BOTTLES -LOADED WITH H2O FOR THE SIX MILE TOUR!