SOLD OUT Storytelling Evening with Sylvain Gillier - The Navajo & how Horses feature in their Ceremonies, Traditions and Culture

Saturday, September 2, 2017 from 7:30 PM to 10:30 PM (CEST)
Event Details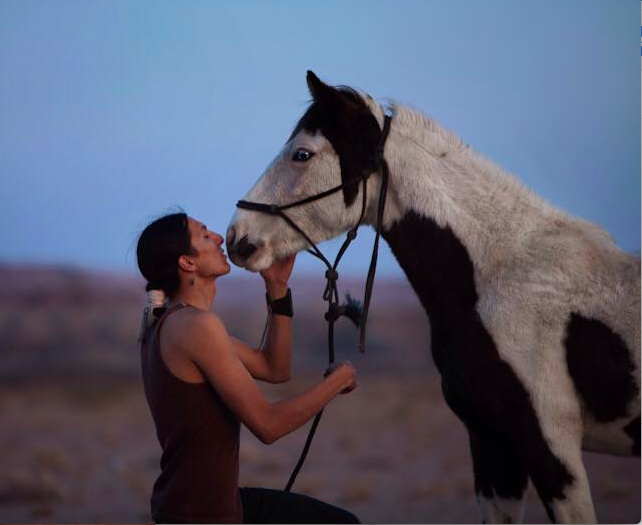 Stories of the Navajo and how Horses feature in their Traditions, Ceremonies and Culture

        This Storytelling Evening features Sylvain Gillier, a holistic practitioner and homeopathy MD, who will share legends, lore and history of the Navajo Native American People, in particular, how the Navajo interact with horses. He will recount the traditional Navajo ceremonies and techniques used in gentling horses and how the Navajo incorporate horse-work into teachings, bringing knowledge to their fellow Native Americans to improve their lives and interactions with the world at large.
           About Sylvain……residing near Paris in the natural preserved area of Vallée de Chevreuse with his herd of horses, he organizes workshops on relationships between humans, animals and nature. His passion for horses started when he discovered through intuitive communication that many horses have a message to transmit to humans. He was trained in horse therapy by author and teacher Linda Kohanov, author of The Tao ofEquus  attending horse workshops and traditional Native American ceremonies on the Navajo reservation in Arizona and New Mexico. These experiences led him to discover the parallelism with his practice. Sylvain's curiosity resulted in numerous visits, twice a year since 2012, and cultural exchanges with the Navajo People. Developing many friendships along the way including with the renowned Medicine Man Jones Benally, an Arizona Living Treasure, who visited France to share teachings and methods. In the Fall of 2017 Sylvain is organizing a group journey to Arizona to meet the Navajo and Hopi in their own territory and will include visits to the Grand Canyon, the Painted Desert, Shiprock, and sacred places in the Canyon de Chelly.
Questions fielded during the presentation
How did you first develop your love for horses?

What do you think is the message horses and animals in general have for humans?

What is your medical practice? Does it includes Native American ceremonies and methods?

What are the similarities to what you do and how the Navajo interact with horses?

How did you discover this?

What are the intercultural exchanges you have had with the Navajo and Hopi?
 The menu will feature a Navajo and Southwestern cuisine. As usual, it will be a complete dinner with choice of red or white wine, beer, cremant, and other beverages served. This Storytelling Evening will be chez moi.  Codes sent when you RSVP.
                                                                Yours in lore & legends of the Navajo,
                                                                                                Bernadette
                                                                                      
Information on trip to Navajo Reservation in September
https://www.equintessence.org/navajo2016direct
Facebook: https://www.facebook.com/NavajoHorseSpirit/
Email: cheval.communication@gmail.com
 If you have never been to a Storytelling Evening here is an FAQ
WHAT ARE THESE STORYTELLING EVENINGS? 

Events at a private residence (usually in Paris but now international) where a storyteller (author, entertainer, artist, musician, magician, opera singer, dancer, actor, expert in a particular field) tells a story around culture, lifestyle, entertainment, travel or the arts. The idea is to ENTERTAIN, AMUSE, EDUCATE, ENLIGHTEN or any combination thereof.
WHO ATTENDS?

25-30 Storytelling aficionados who hail from across the globe and understand English.
WHAT IS THE DINNER MENU?

The menu varies and is a very important part of the evening. With advice from a Chef, cuisines from the "four corners of the globe" have ranged from Mexican, Italian, Lebanese, Thai, Canadian, Spanish, Indian, French, Cajun, French, regional French and oftentimes fusion. Vegetarian options are available. Wine, juice, and other beverages are served as well as a selection of teas and coffee with a delightful dessert.

WHAT IS THE COST?
 
30 Euros which includes presentation, dinner, wine, beverages, juice, dessert, coffee.

HOW DO I REGISTER?
On this site    
www.visibilitybranding2015.eventbrite.com

HOW OFTEN ARE THESE STORYTELLING EVENINGS? 

Once a month usually on a Saturday
DO YOU WELCOME SUGGESTIONS FOR STORYTELLERS?
 Yes!  This could be you, someone you know in Paris or someone who may be passing through.

WHO HAVE BEEN THE PREVIOUS STORYTELLERS?
 For a full list and description of the past 25 plus Storytelling Evenings, view on this site   
www.storytellingevenings.com

When & Where

Private Residence Codes sent with RSVP. Event also livestreamed. See below
55 Boulevard Richard Lenoir
75011 Paris
France


Saturday, September 2, 2017 from 7:30 PM to 10:30 PM (CEST)
Add to my calendar