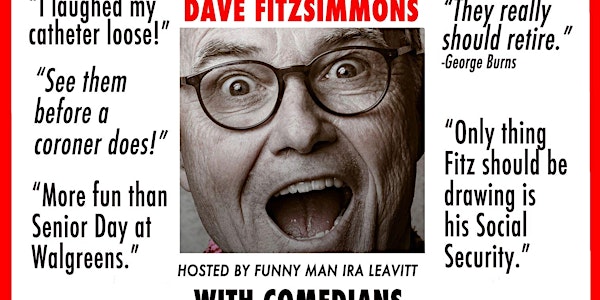 SOLD OUT: Still Standing Up
When and where
Location
Laffs Comedy Club, 2900 E Broadway Blvd, Tucson, AZ 85716-5312, United States
Description
Still Standing Up is SOLD OUT!

If you already have your tickets, please arrive by 5:30 so everyone can be seated before the show begins! Doors are at 5 p.m.

The irrepressible David Wayne Fitzsimmons headlines, and with his perennial sidekicks Elliot Glicksman and Jay Taylor, plus emcee Ira Leavitt and later-comers Dave Margolis and Linda Ray, will prove that we are Still Standing Up, comedy-wise. We'll make you glad that you are, too!

Here's a link to find out more about the comedians:
https://tucsoncomedyalliance.org/still-standing-up/

Still Standing-Up is a group of old-time funny comedians. Our humor is timeless as well as current and topical. Still Standing-Up knows what today's mature adults find funny. Still Standing-Up are veteran comedians with years and years and years of experience making adult audiences laugh. Join us for an evening of truly funny jokes, humor and clever insights. Before you come to our show, check to see if your medical insurance supplement covers butt replacement surgery, because we guarantee you will laugh your ass off.