Description
What better time to learn how what's on your plate affects your health, the animals, and our world than the upcoming Climate Week NYC?
Please join us to view two awe-inspiring, informative, and entertaining documentaries, "What's For Dinner?" and "Vegucated".
Free with e-ticket. Seats are on a first-come, first-served basis! (*This event is currently SOLD OUT*. Please join us on Monday for another screening. More information can be found by clicking HERE.)
Join us afterwards for a reception with healthy drinks and vegan snacks.
Meat is now central to billions of people's daily meals. The environmental, climate, public health, ethical, and human impacts are enormous and remain largely unexplored. 'What's for Dinner?' explores this terrain in fast-globalizing China through the eyes of a retired pig farmer in rural Jiangxi province; a vegan restaurateur in Beijing; a bullish young livestock entrepreneur; and residents of the province known as the 'world's factory' contending with water polluted by wastes from pig factory farms. They personalize the vast trends around them, in a country on the cusp of becoming a world power. Given that every fifth person in the world is Chinese, what the Chinese eat and how China produces its food, affects not only China, but the world, too. (Running time: 28 mins)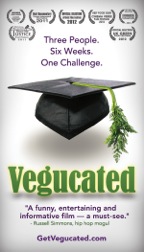 Part sociological experiment and part adventure comedy, 'Vegucated' follows three meat and cheese-loving New Yorkers who agree to adopt a vegan diet for six weeks. Lured by tales of weight lost and health regained, they begin to uncover the hidden sides of animal agriculture that make them wonder whether solutions offered in films like Food, Inc. go far enough. This entertaining documentary showcases the rapid and at times comedic evolution of three people who discover they can change the world one bite at a time. (Running time: 77 mins)
Climate Week NYC (September 24th - 30th) is an annual summit bringing together the world's leading businesses and governments and an exciting array of public-facing events, all focused on driving a swift, massive scaling-up of clean technologies to create jobs and boost the economy. This year, Climate Week NYC will unveil a powerful vision for an American Clean Revolution, and demonstrate how it can generate growth, create prosperity, and secure a sustainable future for American families.
Now in its fourth year, Climate Week NYC has become a key moment in the global climate leadership calendar. It brings together The Climate Group, Carbon Disclosure Project, the United Nations Global Compact, the UN Foundation, The City of New York, TckTckTck, the World Bank and an array of international business, government, non-profit and thought-leaders to call for urgent action to tackle the very real threats posed by climate change to American communities.
From the high-profile Climate Week NYC Opening Ceremony, to our ever-growing list of diverse affliate events, we'll all play a pivotal role in driving the Clean Revolution - and a better, smarter and more prosperous future. For all.
Brighter Green is a non-profit public policy action tank that works to raise awareness of and encourage policy action on issues that span the environment, animals, and sustainability, both globally and locally.
On its own and in partnership with other organizations and individuals, Brighter Green generates and incubates research and project initiatives that are both visionary and practical. It produces publications, websites, documentary films, and programs to illuminate public debate among policy-makers, activists, communities, influential leaders, and the media, with the goal of social transformation at local and international levels.
Brighter Green works in the United States and internationally with a focus on the countries of the global South and a strong commitment to ensuring and expanding equity and rights.
We would also like to send a warm 'thank you' to our sponsors at VegFund, Tofurky, Daiya, Mary's Gone Crackers, Gogo's Garlic Dip, Mamma Chia, Brad's Raw Foods, Chia Star, and AhhMIGO!
Organizer of *SOLD OUT* See FREE Film Duo! "What's For Dinner?" & "Vegucated"