About this Event
This is a standing show with an open floor. The Cedar always reserves a section of seats for patrons who require special seating accommodations. To request seating or other access accommodations, please go to our Access page.
This show is sold out.
Sasha Sloan Pre-Show Meet & Greet Experience Package Includes:-1 GA Ticket-1 Meet & Greet and Photo Opp with -Sasha Sloan-1 Signed Commemorative Laminate-VIP pre-show meet and greet times and instructions will be emailed no later than three days (3) prior to the concert.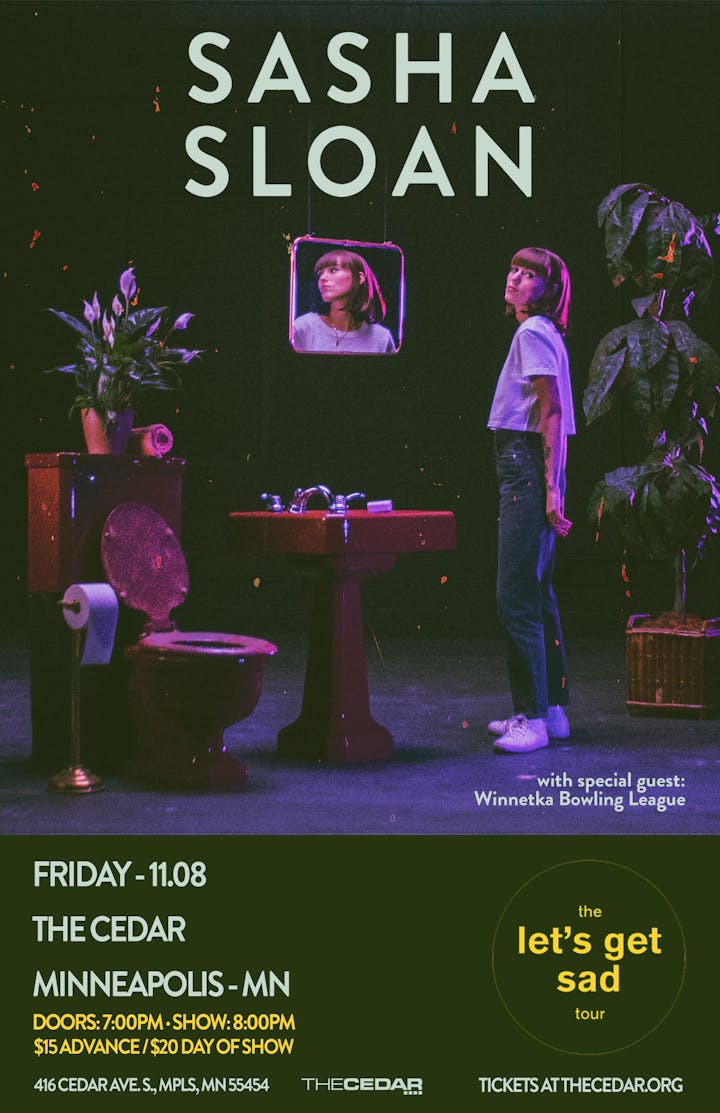 "Full of moody instrumentals and sincere lyrics that speak to a range of early-twenties anxieties, from the changing relationships to family to the loneliness of settling in a new city."
— Billboard
SASHA SLOAN
Sasha Sloan is that girl you can chat about "deep cuts" with in a diner until four AM between cigarettes and coffee. Sasha Sloan is a normal, yet "completely complicated human." Sasha Sloan is from South Boston, but lives in Los Angeles. Sasha Sloan melted a Hershey bar on her laptop, was too lazy to get a new one, and writes all of her lyrics on a refurbished iPhone 5. Sasha Sloan describes her style as "Target chic." Sasha Sloan is trying to speak to "the quiet girls at the party who struggle with what they look like." Sasha Sloan writes songs you "can listen to late at night when you're all fucked up and alone—and maybe feel better."
Raw honesty quietly cemented her as an unassuming phenom. As the story goes, a viral photo ironically kicked off her career after she started writing songs at just ten-years-old. At 18, her parents decided to paint the house. They took the opportunity to write "dork" under her window with an arrow, which was "super embarrassing." Still, she posted the pic on reddit, and it exploded.
So, she added her Soundcloud link to the post and landed a publishing deal as a result. Dropping out of Berklee College of Music, she moved to L.A. at 19-years-old. A whirlwind followed. As she primarily penned her own music, she also wrote "Never Be The Same" and "OMG" for Camila Cabello and featured on Kygo's "This Town" and "Falls" for ODESZA In 2017, she released the songs off her first EP sad girl independently prior to being signed. Within a year, "Runaway," "Normal," and "Ready Yet" each surpassed 19 million Spotify streams, while averaging over 4 million monthly listeners on the platform. Along the way, she signed to RCA Records and assembled her 2018 EP loser alongside "Ready Yet" collaborator and producer King Henry. Right out of the gate, loser garnered acclaim from Billboard, Flaunt, and more propelled by "The Only," "Chasing Parties," lead single "Older," and more. You'll feel right at home hanging out with Sasha Sloan.
About Winnetka Bowling League
Winnetka Bowling League's debut single "On The 5," a love letter to the baked asphalt of a California freeway, perfectly encapsulated the melancholy of a past romance conducted under blistering sunshine. The track, released at the tail end of the summer, was an immediate hit at college radio where it spent three weeks in the top 5, was playlisted on Sirius XM's' AltNation, and has received over 1,000,000 streams to date. Not bad for the first release from a newly formed band of musical compadres named for their singer's bowling league in the San Fernando Valley. Definitely the first time you've heard "non fat" rhymed with "Prozac," "Kombucha," their new track, is another end-of-a-relationship anthem. Winnetka Bowling League's penchant for cars and freeways continues, but instead of "On The 5"s "'92 Subaru," the protagonist of "Kombucha" is ending a relationship before hitting the road in "my Honda on the 101." Directed by Zach Sekuler, the video takes place in the Elliott Salter Pawn Shop in West Hollywood.
Winnetka Bowling League performing "Kombucha" courtesy of Winnetka Bowling League's YouTube channel.
Performers
Date and Time
Location
Refund Policy