SOLD OUT! Rain Showers bring Mud Puddles! Childcare Training Workshop: Abil...
Description
SOLD OUT! All seats are filled.
We will enjoy a fun day of training in Abilene! This child care training workshop is Ideal for Early Childhood Professionals in Texas Licensed Child Care Centers, Homes and Registered Homes. Discounts for 5 or more tickets. Bring your whole staff and treat them to a fun day of training with a free yummy lunch. Earn 15 clock hours of training (5 instructor led and 10 self-instructional), plus Door Prizes! Fun! Fellowship! and Training!
This training workshop will be loads of fun! It will be hands-on with lots of "messy" Sensory and Science activities. We will even do some make and take! Also, the six sections of the minimum standards for Emergency Preparedness, Immunizations, Medication, Allergies, and Hazards will be addressed. Join us! Lead by a Master Professional Trainer on the Texas Trainer Registry.
Need to pay at the door with a company check? call/text us at 817-403-9398.
Want to see some previous training pics? visit us at www.facebook.com/walchildcaretraining
Questions? or need to register to pay at the door with a company check? Call us/text us at 817-403-9398.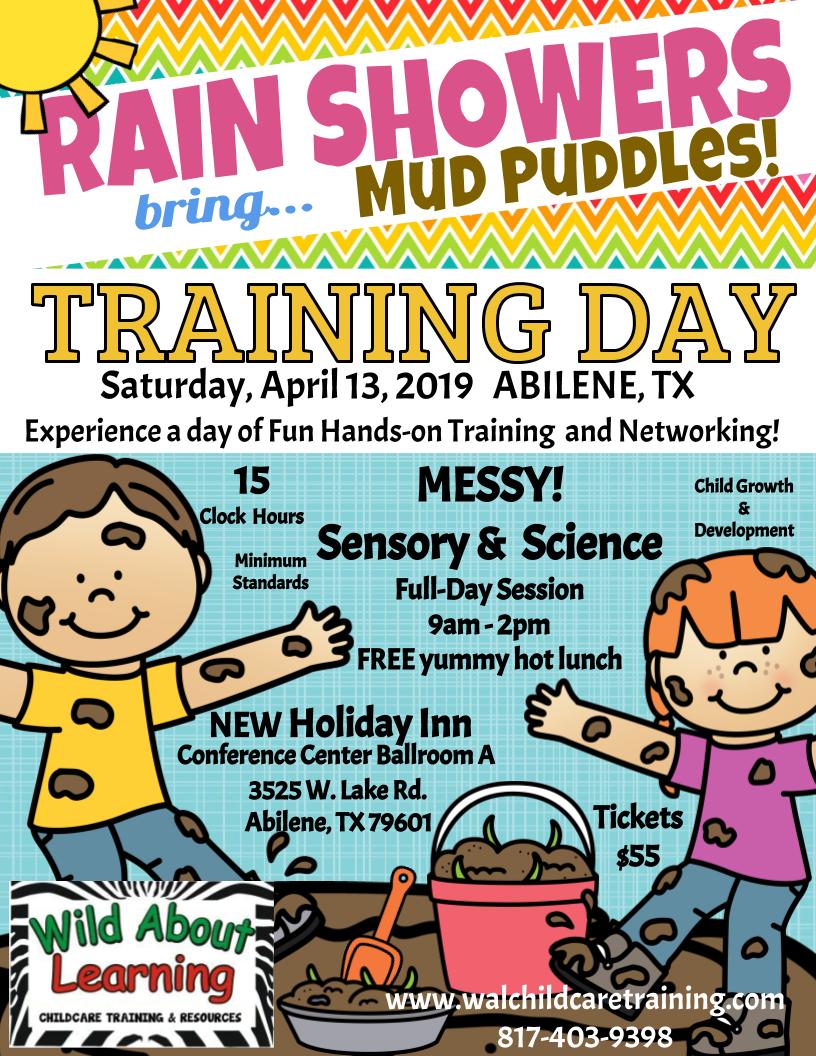 Online Tickets: https://wildaboutlearning.wildapricot.org/event-3273025
Child growth & development and Planning developmentally appropriate learning activities;
Emergency preparedness, Preventing and controlling the spread of communicable diseases, including immunizations, Administering medication, Preventing and responding to emergencies due to food or allergic reactions, understanding building and physical premises safety, and Handling, storing, and disposing of hazardous materials.
Rhonda Witt, Master Professional Trainer TECPDS #2934
www.facebook.com/walchildcaretraining
www.walchildcaretraining.com
817-403-9398 call or text
Join us!
Discounts: Buy 5 tickets and receive 1 FREE. Buy 10 tickets and receive 3 FREE! Bring your whole staff.
WOULD YOU LIKE US TO VISIT YOUR CITY? PLEASE LET US KNOW!