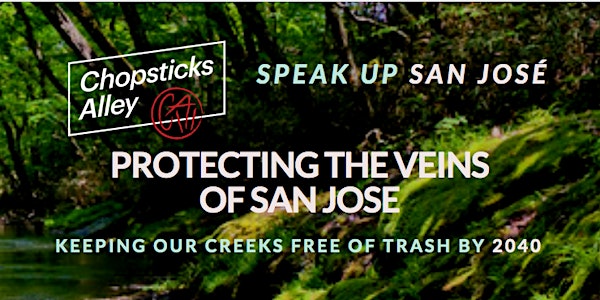 SOLD OUT! Protecting the Veins of San Jose Luncheon: Speak Up San Jose, a C...
Location
Vietnamese American Cultural Center
2072 Lucretia Ave
San Jose, CA 95121
Description
THIS EVENT IS SOLD OUT!
You are cordially invited to a free luncheon and musical performance!
As part of the Knight Foundation's Speak Up San José, a yearlong initiative that invites all residents for conversation and action to advance our city's future, Chopsticks Alley Art is hosting a FREE luncheon for San Jose residents. Join our efforts to learn how to keep our local creek beds clean for future generations.

Enjoy a complimentary community lunch catered by Rong Bien Restaurant.


Engage in a panel discussion on San Jose's creek and water ways with experts from the City of San Jose Environmental Services, Keep Coyote Creek Beautiful, Guadalupe River Park Conservancy, and Santa Clara Valley Water District.


Listen to a Live performance from Emmy-winning artist and composer Van-Anh Vanessa Vo.

Learn how we can make music together.

FREE Event | RSVP REQUIRED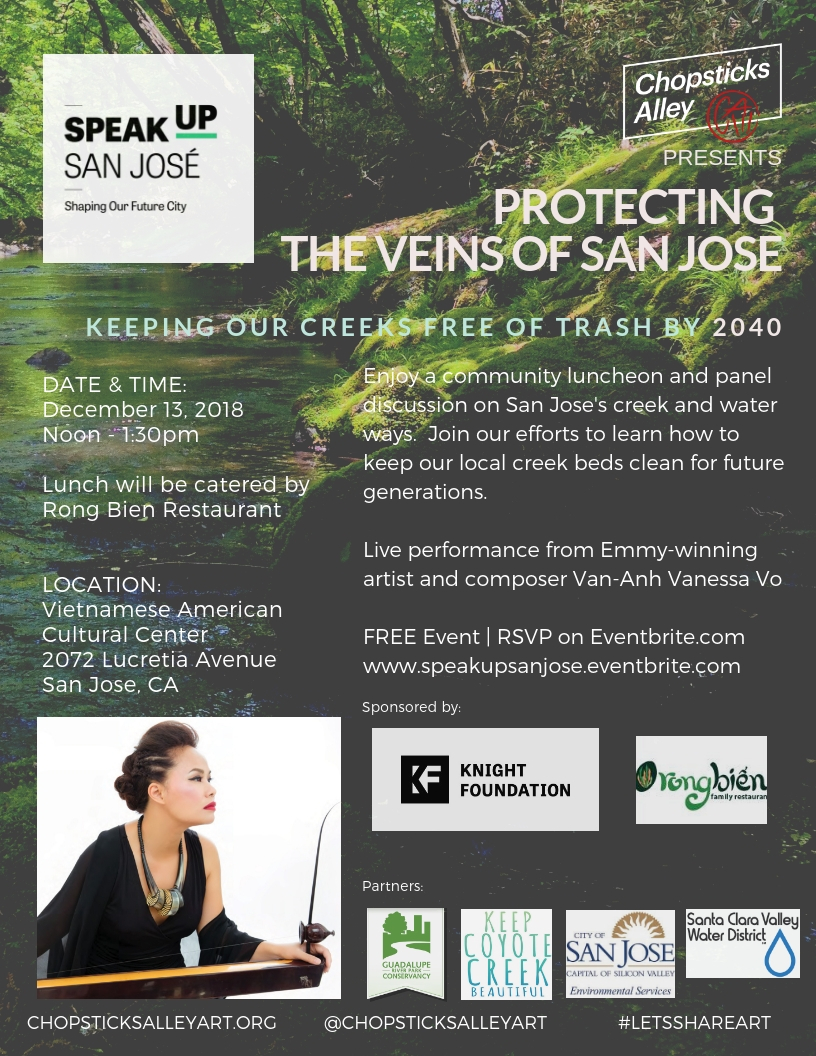 SAN JOSÉ HÃY LÊN TIẾNG
BẢO VỆ HUYẾT MẠCH CỦA SAN JOSE
DỌN SẠCH RÁC TRONG NHỮNG CON KÊNH CHO ĐẾN NĂM 2040

THỜI GIAN
Ngày 13 Tháng 12 Năm 2018
Từ 12pm – 1:30pm

Ăn Trưa MIỄN PHÍ

ĐỊA ĐIỂM
Trung Tâm Văn Hóa Việt-Mỹ
2072 Lucretia Avenue
San Jose. CA

Chung vui với bữa trưa thân mật dành cho cộng đồng và thảo luận về đề tài kênh rạch và nguồn nước của San Jose.
Trình diễn văn nghệ do nghệ sĩ và nhạc sĩ đoạt giải Emmy, Van-Anh Vanessa Vo,

Cùng chúng tôi học cách giữ cho những con kênh trong sạch cho thế hệ tương lai.
Chương trình MIỄN PHÍ
Ghi danh tại 408-794-6552