Description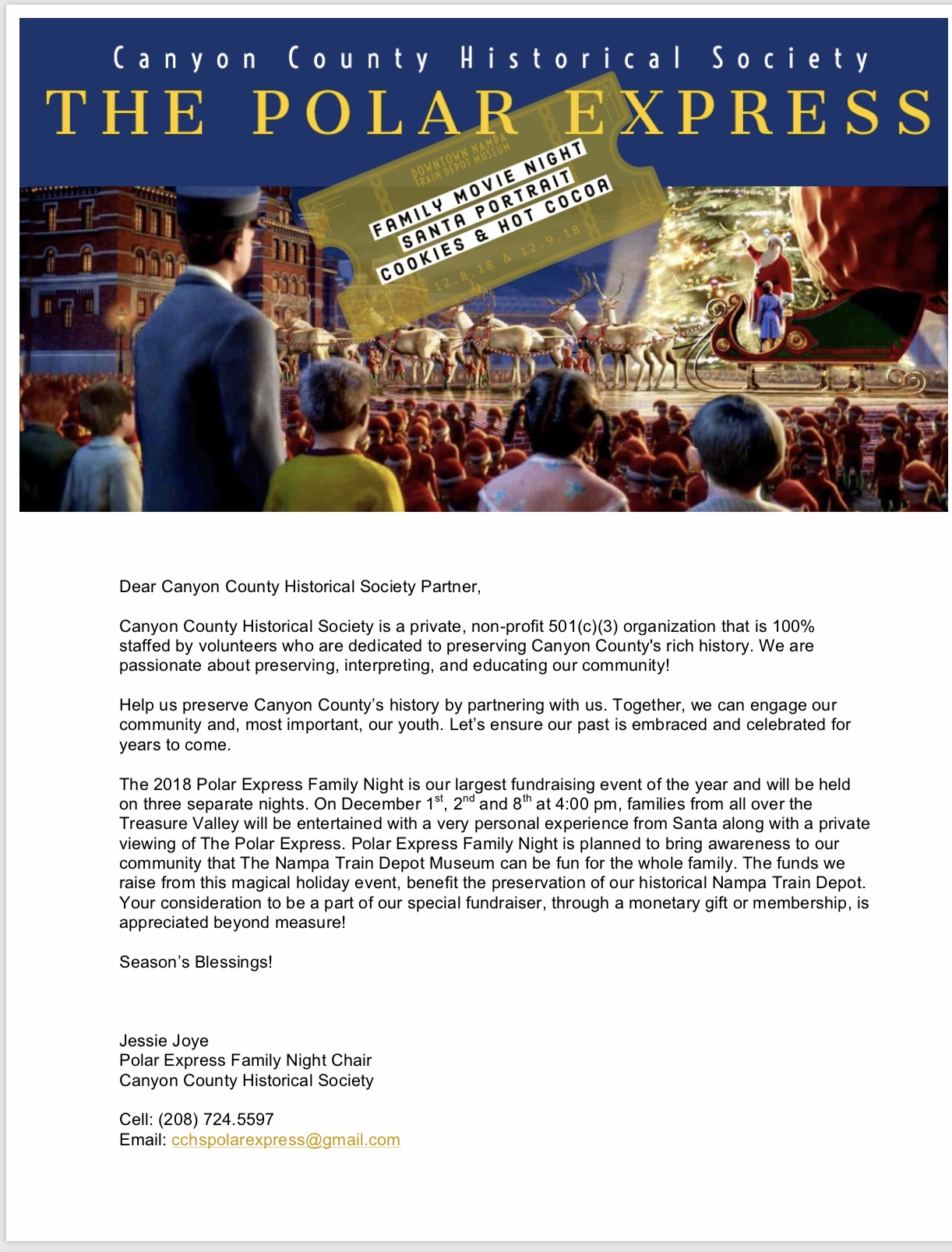 ALL ABOARD! For the second year we are returning to the North Pole to experience the heartfelt story of The Polar Express. Enjoy Canyon County Historical Society's version of The Polar Express Family Night on Saturday, December 1st and Saturday, December 8th! This is one of our largest fundraising events of the year! Thank you for supporting Canyon County Historical Society!
Your family will have the unique opportunity to visit privately with Santa in the newly renovated 1942 Caboose at the Nampa Train Depot Museum. After your visit and portrait with Santa, make your way back to the Train Depot Museum to warm yourself up with hot cocoa and cookies. Pack your pillows and blankets to snuggle under the big screen as you view our featured presentation, "The Polar Express".
Create life long memories and leave with a special gift from Santa himself! Canyon County Historical Society will transform the Nampa Train Depot into a magical Christmas wonderland! Take this opportunity to walk around the museum and enjoy relics and antiques from your local community!
All ages are welcome but they have to follow one rule! All must "believe". This event is designed for younger children but can be fun for the entire family! Wear your pajamas, bring your blankets, and your favorite pillow!
Tickets go on sale now until November 18th for Canyon County Historical Society Members and on November 19th tickets will open for the general public. Tickets sell out VERY fast, so keep your eyes open for updates on our Facebook page and mark your calendars so you can reserve your space.
All proceeds from this fundraising event directly benefit Canyon County Historical Society. Your ticket purchase can make a difference right here at the Nampa Train Depot Museum.
Disclaimer:
This is a fundraising event and all ticket sales are $20.00 for all ages. Children must be accompanied by an adult with a paid ticket. Each guest will have a professional portrait from a local photographer. Parents are allowed to transfer their portrait allowance to other guests and/or their children to provide them with additional poses. We appreciate your support and all of us at Canyon County Historical Society thank you and we wish you all HAPPY HOLIDAYS!