Description
Through the power of technology, engineering skills and support of global initiatives, Oracle is Changing Lives. Join us to discover how Oracle is supporting and empowering communities in the Bay Area and worldwide.
Come celebrate with us for an evening of conversation, networking and discovery of some of the leading technology being developed right now at Oracle. Our Girl Geek Dinner will feature delicious food and drink, great speakers and exciting demos including work by the Oracle Education Foundation and Design Tech High School, and Pepper the Robot.
We'll have fantastic door prizes and giveaways – not to be missed!

Speakers:
Rob Tarkoff, Executive Vice President, Oracle CRM/CX Cloud
Maria Kaval, Vice President, UI Technologies
Jenny Lam, Senior Vice President UX Design Leadership
Miranda Nash, Vice President Product Strategy
Aida Vosoughi, Senior Member of Technical Staff
Win Chang, Director, Cloud Customer Experience
Leor Chechik, Principal Software Developer
Lightning Talks:
Talk Topic: "The Rise of the Cloud Developer: Trends in Modern Application Development" by Maria Kaval
Talk Abstract: "The software industry is moving along at breakneck speeds, and there are so many exciting trends in Application Development, from Serverless Functions to Digital Assistants and Blockchain."
Talk Topic: "On Empathy and Accountability" by Jenny Lam
Talk Abstract: "When it comes designing things people love, empathy is core to this process. Jenny will explore methods and ideas for building more empathy and accountability into every aspect of what we do at Oracle."
Lightning talks will be followed by a panel of accomplished women in tech sharing perspectives on Oracle technologies and technical careers.
Oracle Demos:
"Oracle Blockchain Technology for Beer"
Video and discussion of a local brewery using Oracle Blockchain Technology for beer with beer samples!

"Leave Your World, Come Play in Our World"
Hands-on Infrastructure Technologies VR demo where in this virtual world, you are an IT solution architect (archer) whose task is to select (shoot down) the most appropriate Oracle Infrastructure Technology to meet your IT requirements, as your company journeys to the cloud.

"Internet Intelligence Map"
Internet Intelligence is powered by Oracle Cloud Infrastructure. Previously known as Dyn Research, we've been recording the state of the internet 24/7 for more than a decade, analyzing the connectivity of every network and every service provider in every market on earth at one-second resolution: Internet Intel.

"60 Second Groundbreaker Stories at the Video Hangout"
Attendees have an opportunity to share any 60 second story on a Green screen, which is merged with a cool background and Livestreamed out on Periscope/Twitter and late on YouTube. Details.
Oracle Girl Geek Dinner Agenda:
5:15pm – 6:30pm: Check-in, Networking, Food and Drinks, Demos & Prizes!
6:30pm – 8:00pm: Oracle Changing Lives: Keynote, Lightning Talks & Panel
8:00pm – 8:30pm: Networking, Demos & Refreshments!
Getting There:
Parking: The Conference Center has a designated parking lot that is located directly across from the building.
Public Transit: SamTrans (San Mateo County's Transit Agency) provides public bus service between the Millbrae BART station and Palo Alto with three stops on Oracle Parkway - one of which is directly in front of the Oracle Conference Center.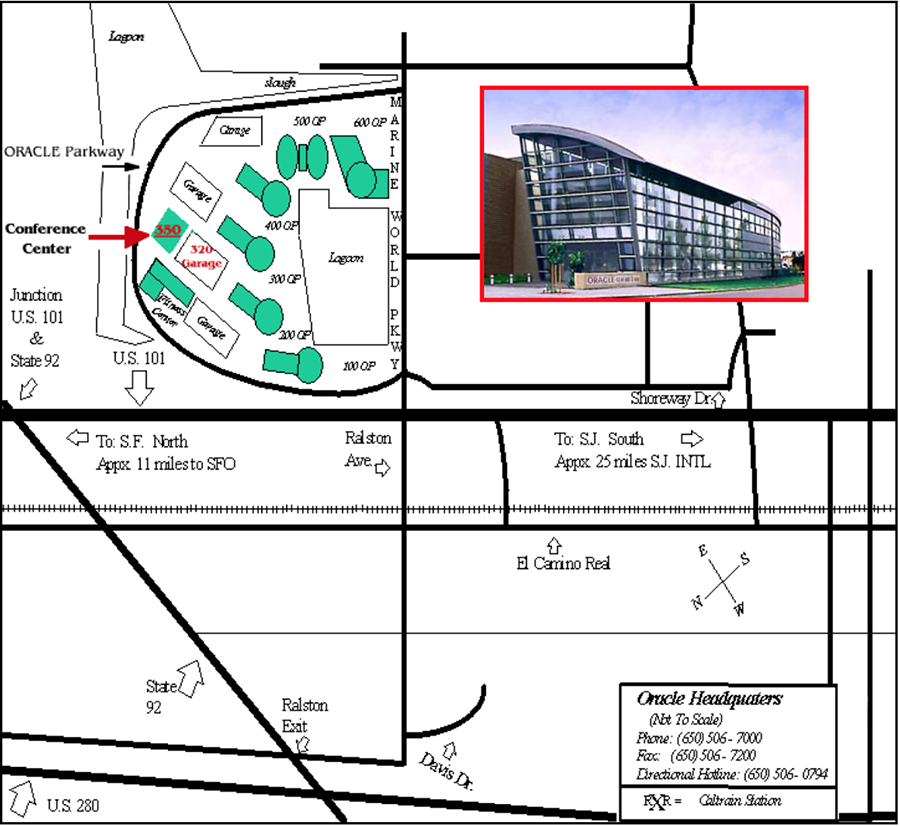 Oracle Employees
Oracle employees interested in attending the Girl Geek Dinner should only register through the Oracle Women Leadership Tech Community (OWLTech HQ) – this is an invite-only event for Oracle employees. Eventbrite sign-up is for non-Oracle participants.