**SOLD OUT** Obscura Society NYC: Lost Streams of NYC Walking Tour

Saturday, July 14, 2012 from 2:00 PM to 4:30 PM (EDT)
Event Details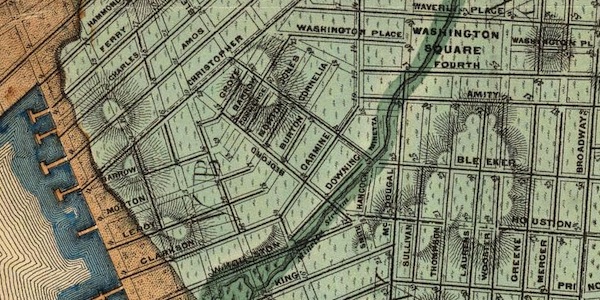 Lost Streams of NYC: Walk the Route of Minetta Brook
Join Steve Duncan of the Undercity blog for a walking tour through Greenwich Village in NYC along the route of the old Minetta Brook (approx. 1.5 miles) to the Hudson River, followed by a shorter walk along Canal Street (approx. 0.5-1 miles) above the route of its eponymous canal that later became New York City's first underground sewer.
We will talk about the history of these watercourses and how they impacted the city's development, as well as how they were transformed into underground tunnels and sewers. We'll also look at manhole covers, street names, and the other surface-level clues as to what's underground, and at the older manhole covers we'll use flashlights to peer down the tiny ventilation holes that give a little bit of a glimpse into this underground network.
Details/special instructions. 
Meet Steve at the south end of Union Square (14th Street between Broadway and University place) and be prepared to walk.
The Obscura Society is the real world exploration arm of Atlas Obscura.
Find out more, and join our local events announcement list here.
When & Where
The south end of Union Square (14th Street between Broadway and University place).
New York, NY 10003


Saturday, July 14, 2012 from 2:00 PM to 4:30 PM (EDT)
Add to my calendar