Description
Disasters of New York: Green-Wood Cemetery Walk with Allison Meier
Join Atlas Obscura's resident cemetery afficionado, Allison Meier, for an exploration of monuments to New York's notable tragedies.
Established in 1838, Green-Wood Cemetery is known as the most beautiful rural cemetery in New York City, with rolling hills carved by an ancient glacier, a rogue flock of green parrots that nests in the spires of the entrance gate, and statuary created by the most notable artists of the 19th and early 20th century. It also contains memorials to the catastrophic Brooklyn Theater Fire of 1876, the Malbone Street train crash that claimed 93 victims, the 1840 burning of the Lexington steamship, the recent, but almost forgotten, 1960 Park Slope Plane Crash, and more ghastly incidents of disaster. This exploration will take us to these sites and more in Brooklyn's city of the dead.
Tickets are 15$ and a portion of the proceeds goes to support the Green-Wood Historic Fund.
The tour will last from 1pm-3pm.
Meeting Place: Green-Wood Cemetery's main entrance at Fifth Avenue and 25th street by the Gothic gates.
GET INSPIRED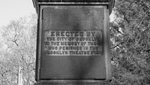 BROOKLYN THEATRE FIRE MEMORIAL in Atlas Obscura
The Obscura Society is the real world exploration arm of Atlas Obscura.
Find out more, and join our local events announcement list here.
Organizer of **SOLD OUT** Obscura Society NYC: Disasters of New York: Green-Wood