Description
NEW YEAR'S EVE - SATURDAY, December 31, 2016, 12:00 NOON, we sit down together in Celebration and in Purpose!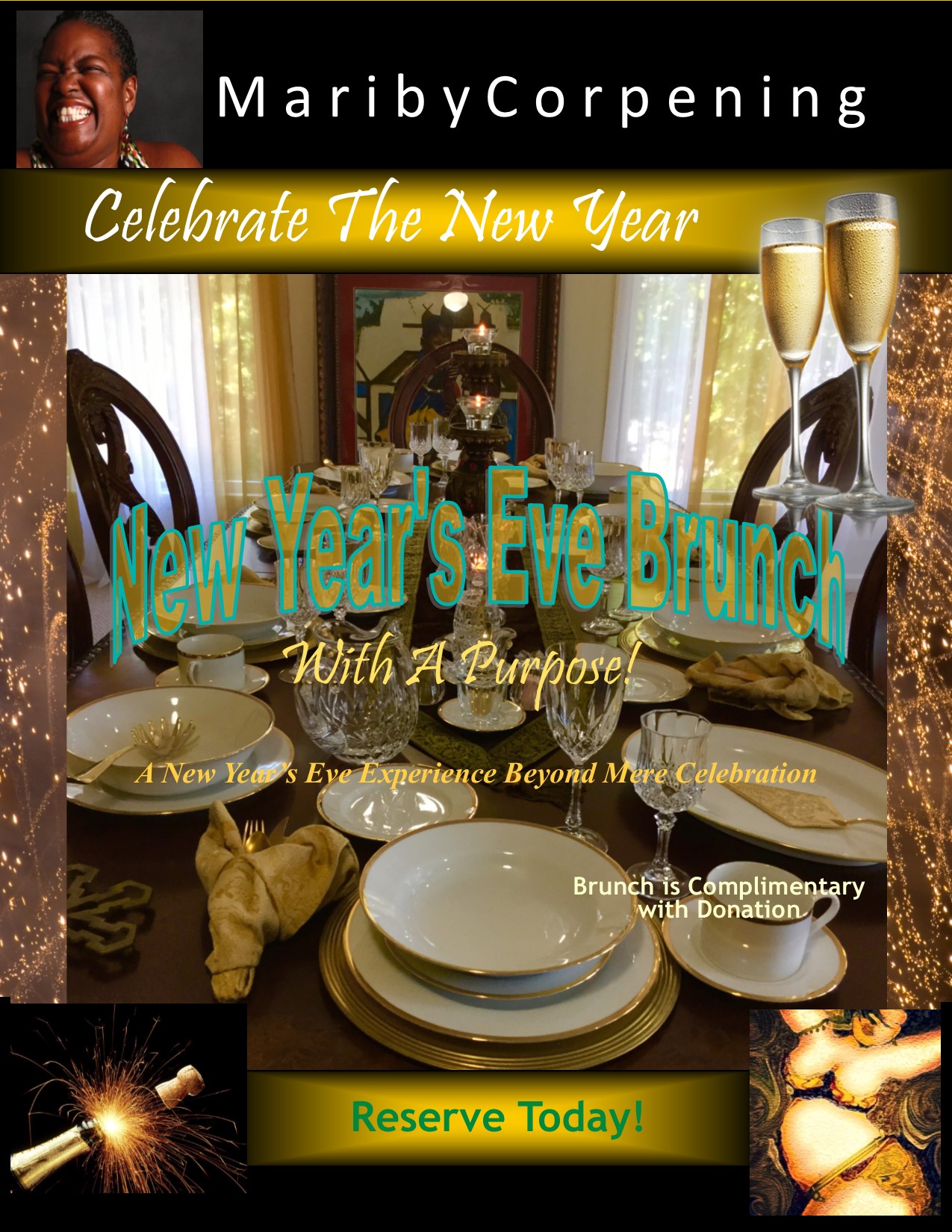 ON THE MENU - Southern Seafood Breakfast

Herb-Seasoned Grilled Shrimp, Golden Lump Crab Cake, Thick-Cut Smoked Bacon, Old-Fashioned Hominy Grits, Fluffy Cheesed & Scrambled Eggs, Mariby's Infamous Scratch-Made Buttermilk Biscuits with Home-Made Fruit Preserve, Fresh Prepped Green & Fruit Salads and Complimentary New Year's Eve Champagne Cocktail & Breakfast Beverages
---
GUEST COMMENT(S) - The comfort, warmth and soulfulness of Mariby Corpening takes "dining in together" to another level - I had heard about her breakfasts and especially "the biscuits" and read her food blog; so, the food is, of course, great; we had Fried Chicken and her Home-Made Belgian Waffles; but the conversation, the relaxation, the fellowship. I am generally not so open, but we talked about our lives, our families, our passions, we debated current affairs, oh how we laughed a lot, even shed a few tears. Grannie told us about her health tonics and we all agreed on the needs and Paying It Forward! It was intimate and all unexpected, refreshing, moving, memorable. I didn't know most of the people at the table, but at the end (almost four hours later), we hugged and exchanged contacts and, to my surprise, I truly did not want to leave. Not sure what I expected when I donated (in exchange for a complimentary breakfast), and to think I'd thought about canceling. I am so glad I came and I met Mariby and Grannie!
Kudos Mariby! A beautiful and memorable dining experience! You exude graciousness, comfort and so much love; it's beautiful what you do! Thank You!
--Guests In Support of MadlyGiving
---
There is just something about gathering over good food and good conversation, but in a halo of purpose. -- Mariby Corpening
A Brunch of Sundays is literally a dream of Mariby Corpening's - an intimate dining experience, with a purpose! With your donation, I thank you with a complimentary brunch, to include meaningful conversation and thoughtful collaboration for the good of community - from the good in you - out of which a portion of the donations - inherent fundraising - will help support outreach to individuals & families in Prince George's County, MD. Know that with your purpose-filled contributions - participating, donating, gifting, hosting and/or even sponsoring an intimate gathering, to include the collective resources of the many churches, non-profits, businesses, organizations and individuals - like you, we can make the difference and save some dreams, including our own! --MadlyGiving
EVENTFULLY BRINGING PEOPLE TOGETHER IN THE SPIRIT OF GIVING FORWARD in the New Year!
-- Mariby Corpening
---
LINKS TO MORE INFO