Description


Living Prism is elated to present: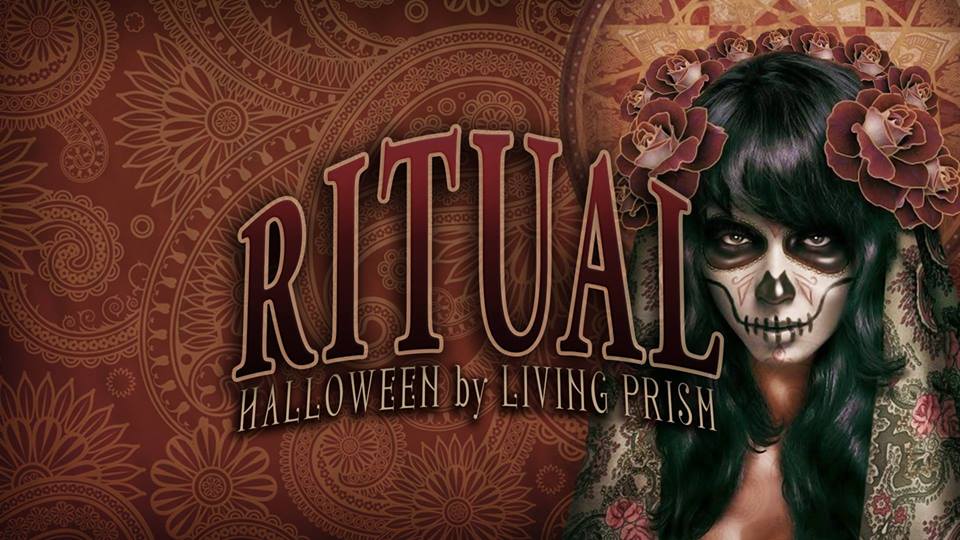 RITUAL - Halloween 2017  
Each year between the fall equinox and the winter solstice, our waking world feels the presence of another. A world of spirits. Western Europe celebrates All Saints Eve. Koreans honor the dead with Chuseok harvest festival. Wales knows it as Calan Gaeaf...and in Mexico, the dead come to dance for Día de los Muertos.
This Halloween, we invite you to join us in an enchanting celebration of the dead. For dark nights call for bright fires. Cold weather calls for warm hearts. And deep mourning calls for mad dancing.
Welcome to RITUAL
Sacred & Circus Performances
The Thin Veil Tea Lounge
Canvas & Body Painting
Interactive Ritual Art
Costume Contest
Photo Booth
Elixir Bar
Music by:
David Starfire Music
Los Angeles, CA
DJ Laura (aka Laura Low of LowRIDERz)
Oakland, Ca
Drumspyder w/ guest I AM HALO
Berkeley, CA
DAR VS MOO (Dar Sernoff meets Mr. Moo)
Portland, OR
Supertask
Bend, OR
TAKIMBA
Portland, OR
And special musical guests...
Tune into the event's SoundCloud playlist, featuring music by the musical acts, here:
https://goo.gl/3Hw1nN
Just some of the magic that awaits:
Priestess Presence held by Kriyanna Elumen and Sedona Soulfire
Orignal Stage Design by Allowe Allison Lowe
Venue & Altar Designs by Altarnative Reality Designs (Xochi Raye)
Body Painting by Katie Tastic & Kacie Woeber
Live Painting by Lux Jacques, Joe Riso & Autumn Rose Wild Heart
Elixir Bar by Metamorphix Roots Regeneration
Oracle Readings with Emakhet Uru (Readings For The People)
Tea Service by Rabbit's Moon Tea Arts
Art Installs by After Dark Arts (creators of Fungully)
Artistic Photography by Melissa Robin Photography
Ritual Dance by Soulfire Sacred Dance Collective
Artisan Vendors
More TBA...
The Ritual altar and many other offerings and activities will be happening on the venue's mezzanine and balcony throughout the night.
The full art and performance line-up, set times and more exciting information will be announced here soon. RSVP as 'Going' to the event to stay connected on our updates.
October 27, 2017 | 9:00pm - 3:30am
21+ event | Please bring ID
Coat check available | Re-entry
The majority of our events sell out of tickets before door time. If you want to secure your journey with us we surely recommend you grab your tickets ahead of time.
Our events are a safe & inclusive space for people of all colors, ethnicities, genders and sexual orientation. In love we trust and Consent is a must.
Set Times
 
11:11
- Ritual w/ Sedona Soulfire's ensemble & Drumspyder
11:10-12:20
- Drumspyder w/ special guest I AM HALO
12:20-01:30
- David Starfire Music
01:30-2:30
- DJ Laura Low
The Thin Veil Tea Lounge, enchanting stage performances, mysterious art installations, earthy elixir bar, photobooth shenanigans, oracle readings, live canvas & body paintings, and many more activities and surprises will be happening on all floors throughout the night...
If you like this event, you should check out our
Nov 17
event, Origin w/ Dirtwire, Thriftworks, Desert Dwellers, Amanda Sage +, our largest event to date, here:
https://goo.gl/ppJUqZ
Living Prism is dedicated to bringing music, movement and art to the people of Portland in unique ways. If you're excited about this event, you'd probably love our other events. You can follow us on Facebook, Instagram & Twitterland, and can sign up to our newsletter here:
http://eepurl.com/bCU9sH
Are you ready to peek beyond the veil?