About this Event
THIS SHOW IS SOLD OUT ONLINE. LIMITED TICKETS ARE AVAILABLE AT TAYLOR BOOKS IN DOWNTOWN CHARLESTON.
Definition: Appalachian Psychedelic Bluegrass
"Award winning flat picker Larry Keel and his rock solid, in the pocket bass playing wife, Jenny Keel, make up two thirds of this super fun trio I started in 2004. With three albums recorded together the handful of gigs we play a year turn into acoustic picking parties. We vowed from the beginning that we wouldn't do it often so that when we did, it would be special and it is." –Kw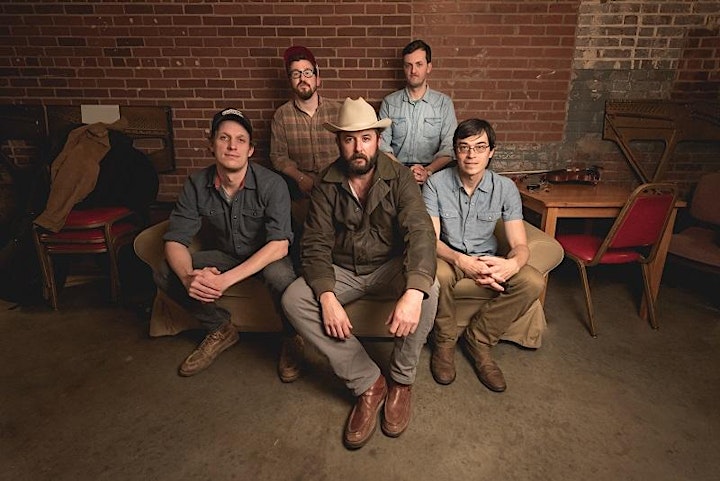 Raw, soulful, and with plenty of swagger, Town Mountain has earned raves for their hard-driving sound, their in-house songwriting and the honky-tonk edge that permeates their exhilarating live performances, whether in a packed club or at a sold-out festival. The hearty base of Town Mountain's music is the first and second generation of bluegrass spiced with country, old school rock 'n' roll, and boogie-woogie. It's what else goes into the mix that brings it all to life both on stage and on record and reflects the group's wide-ranging influences – from the Grateful Dead's Jerry Garcia and the ethereal lyrics of Robert Hunter, to the honest, vintage country of Willie, Waylon, and Merle. The Bend Bulletin's Brian McElhiney says Town Mountain, "has serious country and rock 'n' roll DNA." Town Mountain features guitarist and vocalist Robert Greer, banjoist Jesse Langlais, mandolinist Phil Barker, fiddler Bobby Britt, and Zach Smith on bass.
Town Mountain's latest album New Freedom Blues (October 2018) is their second consecutive album to debut in the top 10 on the Billboard Bluegrass Chart, and receive multiple worthy mentions by Rolling Stone, No Depression, and more. Full of new material and featuring several guest artists including Tyler Childers and Miles Miller (Sturgill Simpson, drummer), they prove they have staying power by regularly cranking out authentic hit albums. The impression the band has made on fans is clear through their engagement, top tier festival appearances, and those sweet, sweet Spotify streams (6+ million). And if you still can't get enough of this hard working group, you can look forward to new music in 2020.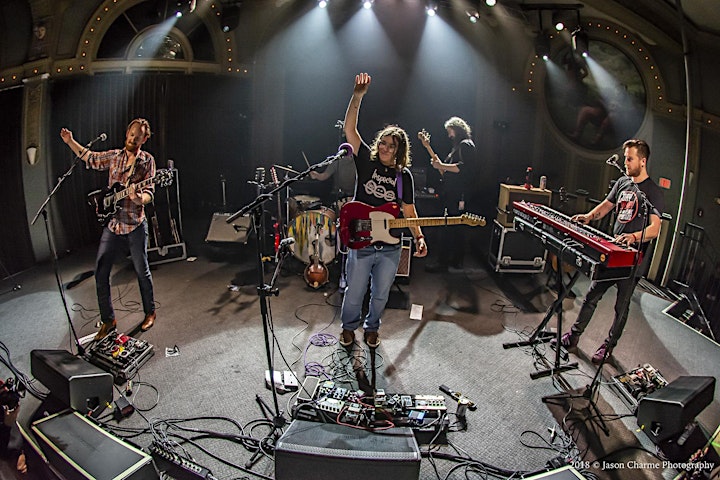 Fruition's newest album, Wild As The Night, conveys the emotions of our darkest, and sometimes weakest, moments. Influenced equally by acoustic music as well as rock 'n' roll, the eclectic, after-hours vibe comes naturally to the Portland, Oregon-based band, composed of Jay Cobb Anderson (electric guitar, vocals), Kellen Asebroek (piano, acoustic guitar vocals), Jeff Leonard (bass), Mimi Naja (mandolin, electric guitar, vocals) and Tyler Thompson (drums). Their unmistakable vocal blend first revealed itself in 2008 when Anderson tagged along with Asebroek and Naja for an afternoon of busking in Portland.
Since that time, they have opened shows for the Wood Brothers, Greensky Bluegrass, and Jack Johnson, and appeared at festivals like Telluride Bluegrass, Bonnaroo, and DelFest. Wild As The Night follows the band's acclaimed Tucker Martine-produced 2018 album, Watching It All Fall Apart.
Philadelphia natives The End of America (TEOA) caught the attention of the industry and fans alike with their debut release Steep Bay (2010), following up with the sophomore LP Shakey (2012) and the critically acclaimed eponymous S/T album in 2016. TEOA's new single "Break Away", released on June 7, 2019 on all digital and streaming platforms, is also available as a limited edition 7" vinyl and features a version of Simon and Garfunkel's "America" on the B-side.
"Break Away" is the first in a series of new songs that will be released by TEOA in 2019. TEOA is blazing new trails in the digital age by ditching the album format and releasing a new song each month for the remainder of 2019. Recorded at a barn cabin and produced by the band and mixed by Trevor Leonard, "Break Away" takes The End of America in a new bold direction, morphing acoustic instrumentation with drum loops and the bands' signature harmonies. The result is a cohesive mix of classic harmonies and new sounds delivering a fresh outlook on what future will hold for TEOA. "Break Away was written and recorded on the spot during a break mid-tour. It was one of those sessions that felt like magic. A full moon. There was a pond full of peepers near the cabin and you can hear them on the tracks. We played on wineglasses and looped stomp/clap ideas. Lots of spontaneity and experimenting. We're excited to let this one out of the bag", states Brendon Thomas.
The End of America (James Downes, Trevor Leonard and Brendon Thomas) consists of a group of friends who met on the road, after singing harmonies on each other's songs while on tour as solo artists. "We lucked out, our voices just seemed to blend together naturally. Since, we've been burning across the countryside, touring, recording in remote locations, just having fun. It's great being in a band with your best friends." The Philadelphia trio credit their name to Kerouac's On The Road -- relating to traveling "across the groaning continent" in search of inspiration. The sound is centered on their voices, weaving 3 distinct leads into captivating harmonies over a solid foundation of Folk, Rock, and Americana. WXPN's The Key states TEOA is, "soul-striking harmonies mixed with folk-rock melodies."
The End of America has been recognized for their powerful live performance which highlights dynamic songwriting, harmonies and playful stage banter. They have performed at festivals across the East Coast and Midwest including the 2016 Philadelphia Folk Festival where they were voted "Favorite New Artist" and will return for a performance at The PFF in 2019. In 2017 TEOA won the Emerging Artist Showcase at Falcon Ridge Folk Fest, returning in 2018 to perform as FRFF's "Most Wanted" band. TEOA have shared stages with the likes of David Bromberg, Brian Fallon, Larry Campbell, Mandolin Orange, Wild Child, The Ghost of Paul Revere, Rocky Votolato, and Beck. Beck invited TEOA to play at his Song Reader album release show in Los Angeles after hearing the trio's rendition of 'Please Leave A Light On When You Go'. Their performance was broadcast live on KCRW and earned praise from Spin and Filter.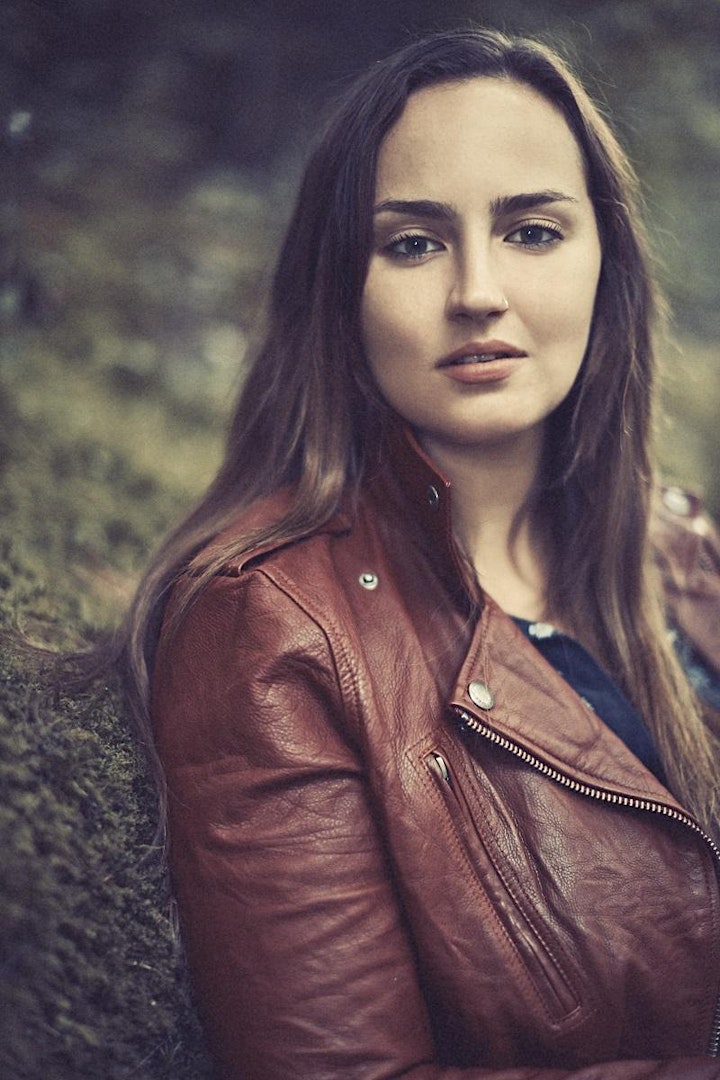 Restless and ready to pave her own way, Diana DeMuth has burst onto the singer-songwriter scene with an arresting perspective about life, love and self-discovery.
Growing up on the coast of Massachusetts, DeMuth was immersed in a bohemian upbringing where she moved from place to place with hippie parents. That same restless spirit inhabited DeMuth: she always had a sense that there was something out there beyond where she grew up and that existence. After seeing The Avett Brothers from the front row when she was 13, DeMuth was enamored with their raw performance and hunger on stage. In that moment, she knew she wanted to be an artist one day. So at 19, after going to college for one week, DeMuth left because she was certain music was her path. For the past five years, she's focused on just that, spending her time traveling and playing small gigs around America, while waitressing and honing her craft.
To record her debut album Misadventure, DeMuth and Felice teamed up with Felice's longtime collaborator David Baron at a Catskill Mountain house overlooking the Shokan Reservoir outside Woodstock where the music flowed quickly and freely, and together they began to record her record. Inspired by everything from the Bonnie Raitt that was playing in her house growing up to The Lumineers and Brandi Carlile, DeMuth's penchant for evocative storytelling and folk sensibilities shine through the 10-track record. And through those songs, DeMuth tells the story of her journey to self-discovery.
For DeMuth who struggled with ADD growing up, songs were her doorway into prose and fiction. Misadventure reads as a novel with each song an illuminating chapter of DeMuth's life. What she's created is a musical tapestry of what it's like to go through the cycle of losing yourself, fumbling in the dark and ultimately finding your way.
Performers
Date and Time
Location
Refund Policy