SOLD OUT! It's All Good! Child Care Training Event: Waco, TX
Description
Important: If you are traveling in from out of town, the Hilton is SOLD out of all their guest rooms. There is a few rooms left around the area, but they are nearly to capacity too. Please check out hotel rooms first before purchasing tickets.
Tickets are selling fast, but we do still have some available. We do expect this to sell out.
This child care training event is Ideal for Early Childhood Professionals in Texas Licensed Child Care Centers, Homes and Registered Homes. Discounts for 5 or more tickets. Bring your whole staff and treat them to a fun day of training. Earn 10 clock hours of training (6 instructor led and 4 self-instructional), plus Door Prizes!
We will be at The Hilton Downtown Conference Center in Waco, so we will have lots of seats and a block of hotel rooms for all that will be traveling in from out of town for this Groovy event! We expect a big turnout this year from all over the counties. Fun! Fellowship! and Training!
For Pete's Sake! ...it's All Good! Get ready for a full day of Groovy training as we bring Math and Literacy to life with a very Cool Cat and his Guitar! We will explore new fresh ideas and manipulatives for your learning centers, circle times, and much more to bring back to your classrooms. Plus, we will even do some make and take and learn some facts about the Texas Minimum Standards including the required sections f(1-6).
To see previous event pics, go to facebook.com/walchildcaretraining
Questions? Call us/text us at 817-403-9398.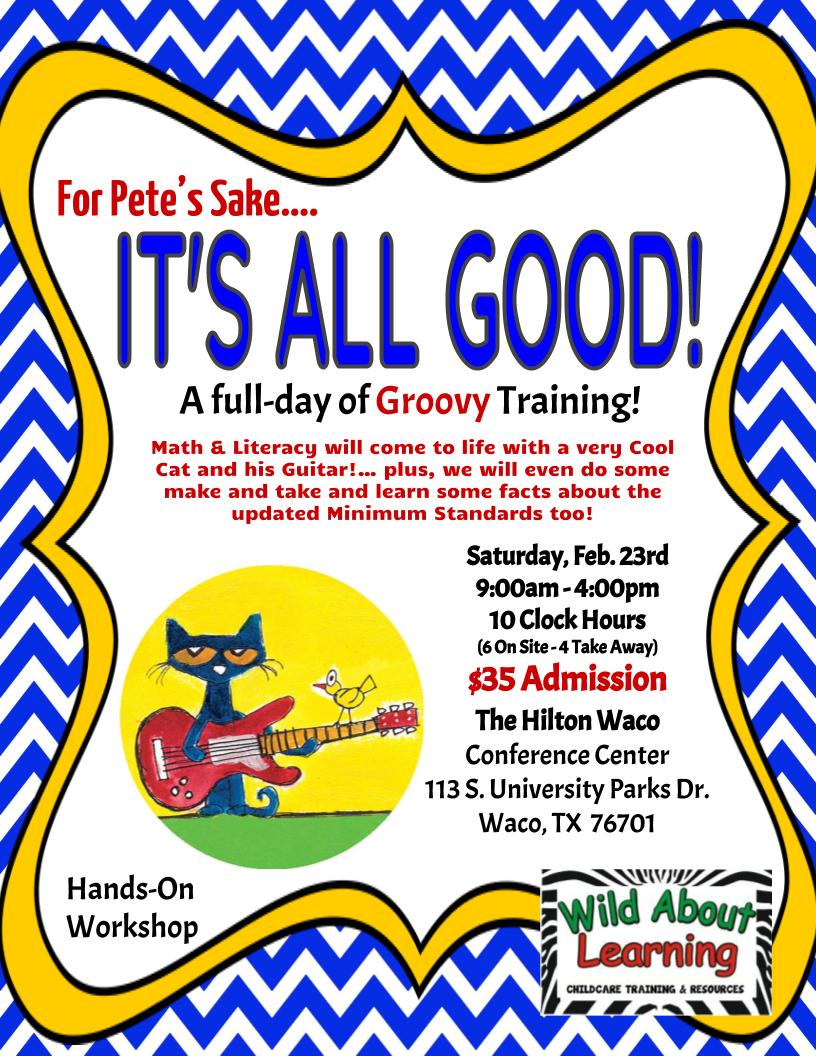 Training Topics:
Child growth & development and Planning developmentally appropriate learning activities;
Emergency preparedness, Preventing and controlling the spread of communicable diseases, including immunizations, Administering medication, Preventing and responding to emergencies due to food or allergic reactions, understanding building and physical premises safety, and Handling, storing, and disposing of hazardous materials.
Rhonda Witt, Master Professional Trainer TECPDS #2934
www.facebook.com/walchildcaretraining
www.walchildcaretraining.com
817-403-9398 call or text
Join us!
Discounts: Buy 5 tickets and receive 1 FREE. Buy 10 tickets and receive 3 FREE! Bring your whole staff.
Book a room at the hotel and make it a weekend getaway. This is a conference hotel and very nice. Great for team building, or just treating your staff.
UPCOMING EVENTS IN TEXARKANA AND TYLER - 2019