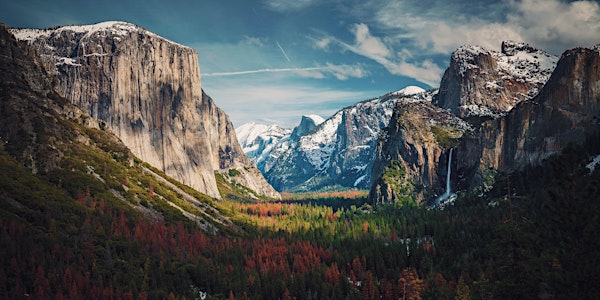 **SOLD OUT** IN A LANDSCAPE: Yosemite National Park, 2:00 pm Thur, Oct 27
IN A LANDSCAPE: Classical Music in the Wild™ in partnership with Yosemite National Park
When and where
Location
Yosemite National Park PCRF+Q2Q Yosemite Valley, CA 95389
About this event
**SOLD OUT**
For the first time, IN A LANDSCAPE, will be presented at Yosemite National Park!
Join us as we celebrate our national parks and the legacy of public lands in America by bringing a live classical music soundtrack to Yosemite Valley. One afternoon only, this intimate concert will take place on the bank of the Merced River, in the shade of old-growth pine trees just north of Housekeeping Camp Bridge.
Please note that your reservation does not include the park entrance fee. To learn about which pass might be right for you, please click here.
See our 2022 schedule of 60+ concerts across the American West
ACCESSIBILITY
Moderate. You will be walking ½ mile on uneven ground from the parking areas to the concert site.
RESERVATIONS
*Please note there are no cancellations, refunds, or exchanges.
If you need assistance with your order, email our ticketing office at tickets@inalandscape.org.
HEADPHONES
The use of our custom IN A LANDSCAPE headphones is a critical part of the concert experience and is included in your reservation/ticket. Pick up your individual set at our registration desk and enjoy this unique audio experience.
SEATING
No chairs will be provided. We recommend bringing low-back chairs, in consideration of your neighbor's view.
DIRECTIONS/PARKING
This concert takes place in Yosemite Valley on the north side of Housekeeping Camp Bridge, across the Merced River from Housekeeping Camp.
Park at Yosemite Village Parking (the parking lot just south of the Village Store), and walk .5 mile to the concert location. From the parking area, cross the traffic circle and take the paved path east, along Northside Drive. Follow the paved path east, along Northside Drive for 500 feet, then turn right (south) to cross Northside Drive and continue on that path for approximately 1600 feet. This path follows the Merced River until you reach the concert site, on the north side of Housekeeping Camp Bridge. See detailed map below.
Do not rely on GPS directions to navigate to or within Yosemite National Park! Please print or download directions before you hit the road.
ARRIVAL
We suggest arriving a minimum of 90 minutes prior to concert time in order to park, hike, reach the site, check in, get your headphones and get cozy before the concert starts.
DOGS
Dogs are not permitted at this concert venue. Thank you for leaving your furry friends at home.
FOOD & DRINK
Outside food and drink are permitted. Please remember that there is abundant wildlife in the park so please keep all your food and beverages within arms length at all times. You may store food inside your car or truck (out of sight, with windows completely closed) only during daylight hours. You may not leave food in a pickup truck bed or strapped to the outside of a vehicle at any time. Do not store food in your car or truck after dark. Remember to clear your car of food wrappers, crumbs in baby seats, and baby wipes--and even canned food and drinks. Think about packing all your food and related items together for easy removal from your car upon arriving in Yosemite.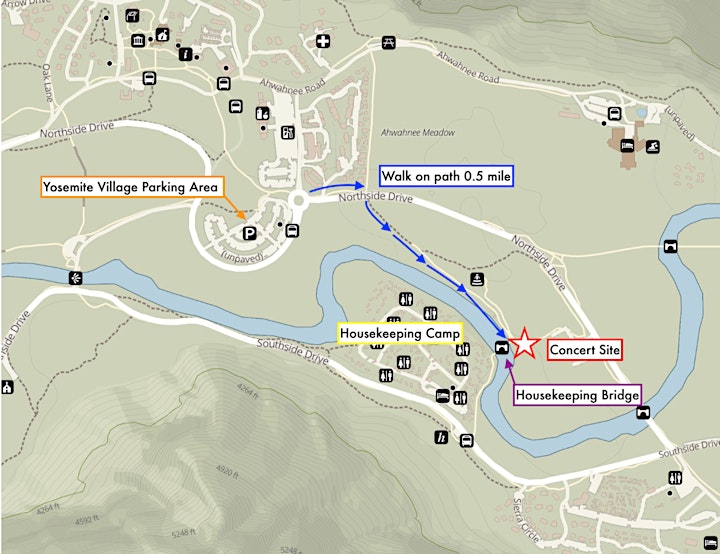 HUNTER'S NEW ALBUM
Hunter's new album, "In a Landscape", will be available in CD, MP3, or for Vinyl (preorder) at our summer concert series or
CLICK HERE to purchase Hunter's "In a Landscape" album right now on Heinz records.
This debut album features Hunter performing select favorites from the classical piano canon as well as collaborations with Native American flutist James Edmund Greeley, psychedelic electronics by Dave Friedlander, a spacious concerto with the Salem Orchestra, and an arrangement of Franz Schubert's most beautiful song with Pink Martini's China Forbes and Thomas Lauderdale. Be transported to the secret glens and sunny meadows that inspired the composers and performers with this contemplative collection.
SMOKING
Smoking is prohibited at all times. FIRE DANGER IS VERY REAL, and we acknowledge this with the utmost seriousness. Help us keep the area safe!
EXTREME WEATHER /CANCELLATION
This is a rain or shine event. We encourage guests to bring rain and heat protection as needed. In the case of extreme weather or severe smoke, IAL will cancel by 9am the day of the performance and notify all ticketed patrons.
COVID-19
IN A LANDSCAPE will follow all current local, county, and state protocols.
DISCLAIMER
While attending an IN A LANDSCAPE (IAL) concert, you will be participating in an event where photography, video and audio recording may occur. By participating in the IAL event, you consent to interview(s), photography, audio recording, video recording and its/their release, publication, exhibition, or reproduction to be used for news, web casts, promotional purposes, telecasts, advertising, inclusion on web sites, or for any other purpose(s) that IAL Board, partners, and/or representatives deems fit to use. You release IAL Board, its officers and employees, and each and all persons involved from any liability connected with the taking, recording, digitizing, or publication of interviews, photographs, computer images, video and/or sound recordings, and waive all rights for payment, royalties, or approval of content.
TERMS AND CONDITIONS
The "wild" nature of IN A LANDSCAPE concert venues requires care and caution by all attendees. By executing this ticket purchase, you individually and on behalf of your guest assume full responsibility for any and all injuries, losses and damages that you or your guests incur while attending an IN A LANDSCAPE concert, and hereby waive all claims against IN A LANDSCAPE, its employees, volunteers, directors, and venue hosts.