SOLD OUT! - Gobble Up! Child Care Conference - Grapevine, TX
Description
This event SOLD OUT sooner than we had anticipated. But, please keep us in mind for next year's Gobble Up! 2019
Thank you!
Ideal for Child Child Care Professionals in Licensed Centers, Licensed Homes and Registered Homes across the great State of Texas.
We all have so MUCH to be THANKFUL for... and we will be celebrating YOU! Nov. 10th!
Get ready for a Conference that will KNOCK THE SNEAKERS OFF A SILLY TURKEY! Experience a full day of FUN! and informative training for Child Care Professionals from a line up of Marvelous Trainers throughout the day!
We will start the morning off with a Formal Proclamation delivered by the City of Keller Mayor who will declare Nov. 10th as Quality Child Care Day!
Our Special Guest Speaker is Gene Cambridge! He is going to BRING THE HOUSE DOWN! A&M Agri-life Extension will be presenting! and Juan Gutierrez will have you groovin and movin! Plus, participate in Minimum Standards Jeopardy! Yes, you will get section (e) required trainings in all 6 topics.... and much more!
Come and treat yourself to one of the BEST 1-day conferences of the year! Bring your entire staff! It will be GREAT! Enjoy a FREE Embassy prepared lunch. Lots of door prizes will be given out too! ...and I do mean LOTS! Plus, everyone gets a swag bag with goodies!
Have any questions? Just call or text us at 817-403-9398 or just send us an email at wal.childcaretraining@gmail.com or JudyJon4@gmail.com. Rhonda (817)403-9398 or Judy (817)431-2783. Hope to see everyone out Nov. 10th! FUN! NETWORKING! TRAINING!
Bonus: FREE 3 hour Administrative Leadership Self-Instructional course at ticket confirmation to download immediately as a "Thank You" for choosing us for your training source!
Discounts: Buy 5 tickets and get 1 free. Buy 10 tickets and get 3 free.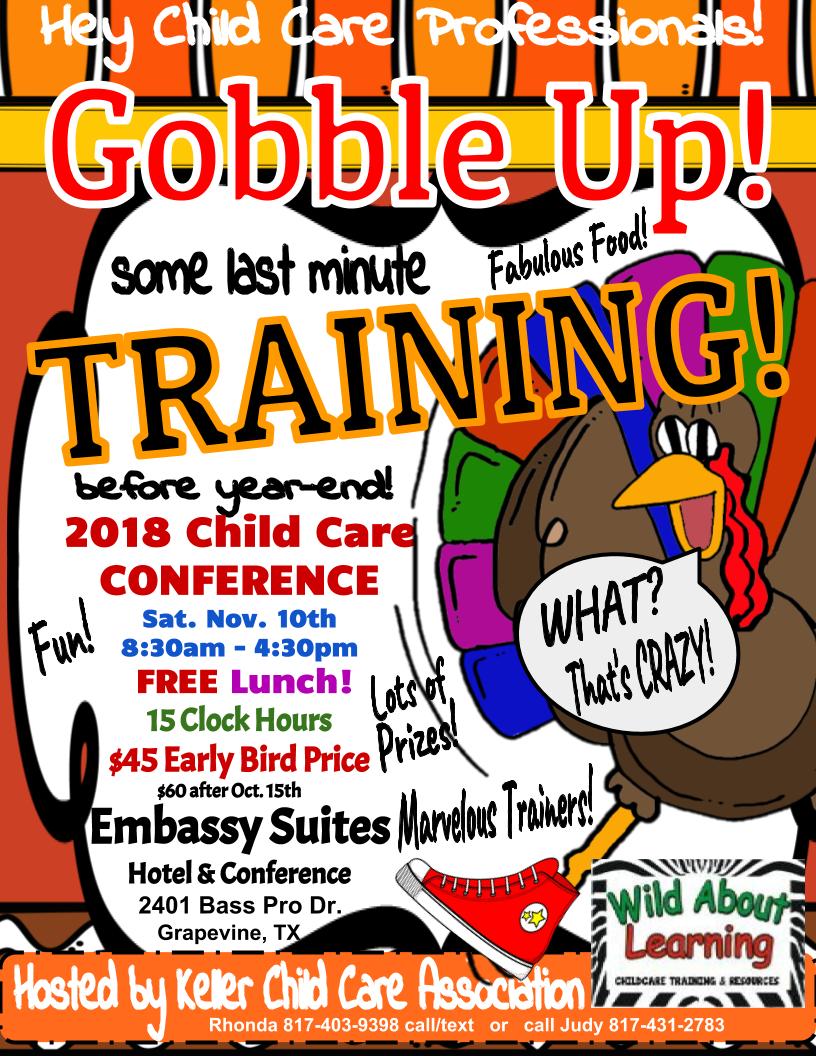 Get your tickets while they last! This conference is very popular and it will FILL UP!
Are you coming in from out of the area? We have some courtesy rooms at the Embassy available for a discounted price. Use GOB at checkout. Please call or email us for the details. Rhonda 817-403-9398 tel/text or Judy at 817-431-2783.
Pre-Conference Friday Evening Meet & Greet in the Hotel Atrium/Lounge 7pm - 9pm. Grab an hour of self-insructional training and a chance to a door prize.
Judy Johnson and Rhonda Witt