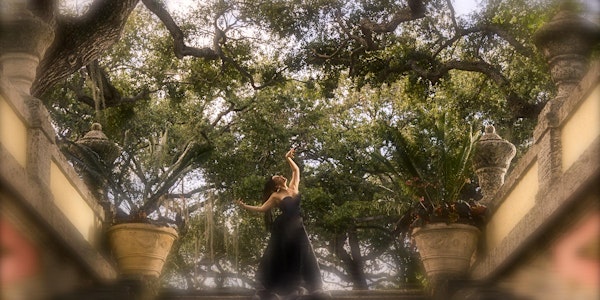 SOLD OUT: Gardens by Moonlight featuring Tigertail's Fire Gods in the Garden
When and where
Location
Vizcaya Museum & Gardens 3251 S Miami Ave Miami, FL 33129
Refund Policy
Contact the organizer to request a refund.
Description
Join us for the final Gardens by Moonlight of the centennial season, which features an evening opportunity to explore Vizcaya's gardens and free guided tours! To celebrate Vizcaya's 100th birthday, and to make one of our most popular programs a little extra special, we are happy to announce Tigertail's FIRE season comes to Vizcaya as 4 artists perform their site-specific Fire Gods in the Gardens pieces throughout the evening.
FIRE Gods in the Garden, is a dance event by four Miami-based choreographers: Marissa Alma Nick, Carla Forte, Hattie Mae Williams and Pioneer Winter. These four 5-7 minute solos will be performed sequentially, one after the other in the gardens of Vizcaya Museum & Gardens on a moonlight evening celebration. Each artist has selected a location and their fire god/goddess, Marissa Alma Nick – Hawaiian Fire Goddess Pele, Carla Forte – Mayan Fire God Huracán, Hattie Mae Williams – Egyptian Goddess of Fire and War Sekhmet and Pioneer Winter – Greek Fire God Hephaestus.
Performances will take place at 7:30 p.m. and 8:15 p.m. Doors open at 6:00 p.m. Registration closes at 8:00 p.m. and no guests will be admitted after this time. No refunds for late arrivals.
Not a Vizcaya Member? Join online today for as little as $50 and enjoy a full year of complimentary daytime admission, early access to tickets, special discounts and more.
Photo by Christin Paige Minnotte