Description
With over 200 million photos tagged to #food on instagram alone, we are increasingly consuming and feasting with our eyes first. Food styling and photography is a growing industry and one that now anyone with a camera phone and good light can participate in.
Join FotoDC this Thursday 6/22 for a happy hour and panel discussion on this and the implications for how brands engage with their communities and test new ideas. We'll be chatting with local food photographers, stylists and brand strategists Atara Bernstein, Jennifer Chase, and Diana Morales, as well as getting their tips and tricks for food styling and photography in a hands-on demo!
Free! RSVP Today!
4:30pm - 6:30pm

The H Street Lounge at Whole Foods
Whole Foods H Street
600 H St NE
Washington DC 20002

~This event is being held in conjunction with Whole Foods DC 5% Day! 5% of the day's net sales will be given to FotoDC. We encourage everyone to stop by a DC Whole Foods and support FotoDC!~
Participating locations: Whole Foods Tenleytown, Whole Foods Foggy Bottom, Whole Foods H Street, Whole Foods P Street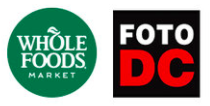 Space is limited to first come first serve. RSVP does not guarantee a seat.