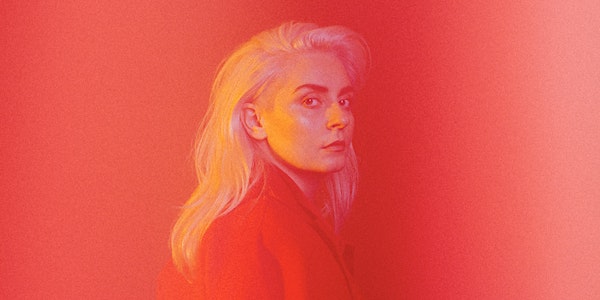 SOLD OUT! Eivør w/Emily Jane White
Location
The Old Church Concert Hall
1422 SW 11th Ave
Portland, OR 97201
All ages | Bar w/ID | All sales are final. |
About this event
Indoor masking is required, when Multnomah County has issued a high risk alert and daily cases are 200+.
Eivør Pálsdóttir is an artist perfectly attuned to the savage vicissitudes of nature. Born & raised in Syðrugøta (population: 453), a tiny community on one of the northerly Faroe Islands, the singer-songwriter grew up surrounded by a harsh, windswept landscape and the North Atlantic, a rugged backdrop that has, unsurprisingly, deeply influenced her music. Songs such as 'Tides', 'Fog Banks', 'Waves And The Wind' tied themes like love and growing old to the primitive environment of her youth; she wrote 'Into The Mist' (from her widely praised 2017 UK debut, 'Slør') about getting lost on a local mountain, Støðlafjall.
Forthcoming record, Segl - Eivør's ninth studio album, since releasing her debut at just 17 - builds on these motifs, exploring the journeys we undertake as humans, both metaphorically and physically. The title – meaning 'sail' in Faroese – alludes to our desire for growth and direction, and the role that fate plays in both. "You have to hoist your own sail," says Eivør, "but you cannot control the wind." Thus Segl explores the navigation between the soft and rough edges of life, and the balance that must be struck between strength and vulnerability, dark and light. "How will you find calm in the chaos?"
Her search for an answer began three years ago, just after the release of the English-language version of Slør (a companion version to the original, sung entirely in Faroese, which came out in 2015). The release triggered widespread critics' approval and her debut appearance on Later……With Jools Holland, which blended traditional Faroese a cappella elements with throat singing and shamanic hand drumming. With numerous side projects and collaborations also competing for her time, Segl represents "my longest process of writing and creating an album", a fact that, Eivør says, "definitely" shaped the music. But then, so has her illustrious career to date, and a life spent honing her singular musical talents.
Eivør first immersed herself in music aged 13, fronting a trip-hop band after discovering seminal albums by Massive Attack and Portishead when they reached The Faroes. Gigs soon followed, including some held afloat, in pitch-black darkness, inside a huge cave on the island of Hestur. At 16, she quit school to move alone to Iceland to further her musical ambitions, releasing her self-titled debut album and relocating to Reykjavik to pursue classical singing training. Her ambition was matched by success – two acclaimed albums followed soon after, and she has since won the Icelandic Music Prize (with her album 'Krákan', meaning 'the crow'), the first-non Icelandic artist to do so, not once, but twice.
This led to international recognition, and a number of opportunities. A move to Copenhagen, sync spots for her music across TV and film, including Homeland, Silence, The Last Kingdom & Game Of Thrones and the approval of contemporaries including John Grant and Ásgeir are all testament to the power and appeal of her music. Even the world of video games is not immune to her charms; Eivør collaborated on the soundtrack for Metal Gear Solid and appeared at Los Angeles' E3 international gaming event in 2016, performing to a global audience of 50 million at the launch of God Of War. Such itinerant tendencies, both in her life and her work, have bled into her music and how she creates; Segl, and the record's longer gestation period, are no different.
"My creative process can be very chaotic and abstract, so I need to find the space to dive deeper into it and sculpt it," she says. "After sitting on songs for a year or more, I'd go in and edit the melody or the lyrics. Sometimes the production too, move things around. And the whole album is very much about change, so it's quite apt in that sense."
But the extra space and time allowed Eivør to explore programming and production more thoroughly than ever before, and marked a completely different new process. Working closing again with closely again with Faroese composer/producer Tróndur Bogason (also her husband) and drummer Høgni Lisberg, she pulled apart the songwriting process, focussing more on the free flow of ideas and inspiration, and collaborating with a number or other writers and producers. 25 songs was the result, a collection that was painstakingly whittled down to the 12 that form Segl. "They were the ones that belonged together," she says. "They felt right".
Segl's unusually long gestation informed the music, but the music Eivør found herself writing also informed the project's ultimate themes. It became, she realised, about "embracing change, the unknown, and the things that scare you. These are the things that open you up to the world, and to the future." Fitting then that 'Sleep On It' was the first track she wrote, a song about "arriving at conclusions before you see the big picture and making bad choices. The paradox is; sometimes making a wrong choice might be the only way to eventually make the right one."
Written very late one night while unable to sleep, the song's dark beat and stabs of synthesiser perfectly conjure the frenzied anxiety of insomnia. Yet the chorus floats on a blissful plateau of serenity, like deep sleep's soothing embrace; "Just give me time / And I will find a way" she sings softly. The song posits that regardless of one's past, or "old habits", it's never too late to change – "Make all the pieces fall into place" scans like an exhortation as much as mere hope.
That idea – of seizing control – is a recurring theme. The stylish noir-pop of 'Let It Come' concerns realising your inner power and feeling ready to deal with whatever life throws your way. "That's very much a state of mind," says Eivør; the opening line, "Sometimes I overthink the most simple things", is a common malady, but one that must be acknowledged before it can be rectified. Doing so can set you free.
Seizing control is central also to 'Segl''s opening track. 'Mánasegl' is Faroese for "moonsail", the highest sail found on square rigged clippers, and also known as the hope sail, or hope-in-heaven. Such imagery, says Eivør, chimed with the concept of an inner journey. "We sail through all the things that make us who we are. The things we love, all our regrets, and all our hope." Holding course, when all around seems tempestuous, often pays dividends.
Eivør has talked before about how her modern electronica is deeply informed by the landscape of her homeland, and the wild elements that shaped it. It has, she says, an "electric sound – the storms, the winds, the ocean. It constantly inspires me." Segl, like Slør before it, makes judicious use of this. It's there in the crystalline piano lines of 'Hands', in the way sombre strings swell like storm clouds on the horizon, and how snare hits sometimes sound like lightning.
Yet there are subtler ways The Faroes' brutal beauty is weaved into the fabric of Segl. 'This City' contrasts Eivør's experience of living in Copenhagen, a bustling modern city, with the remoteness of her childhood. Over an ominous bass-line and mournful strings, she sings of packing her most precious belongings and needing to go away; "I don't know when I'll be back" she sings at the song's end. "I've always felt drawn to The Faroes," she says. "There's something about the laid back way of living that I find inspires me, and I have to balance that with busy city life."
An even deeper connection is explored in album closer 'Gullspunnin', a quiet, poignant track of ambient synth washes and woozy samples. Translated as "Cocooned in gold", it recalls "the magic play of light, fog, and astonishing contrasts that are unique to The Faroes," says Eivør. "It gets me into some sort of nostalgic, melancholic mood, somewhere between happiness and sadness – the melody came to me while thinking of this feeling."
Recounting this to Faroese poet Marjun Syderbø Kjælnes, she wrote a beautiful poem to match. But there's a double meaning; it's also about loneliness. "If you are lonely long enough your soul cocoons itself, perhaps to protect what you are deep down. This is sad, of course, but there is beauty in it as well. The soul is alone – but nevertheless it is glittering."
The track is also one of several collaborations on Segl, something that the album's extended genesis gave Eivør the chance to pursue more fully. Two tracks – 'Skyscrapers' and 'Gullspunnin' – were produced by Daniel Heath, 'Only Love' sees Icelandic musician Ásgeir accompanying Eivør on vocals, while Norweigian Einar Selvik, frontman of neofolk stars Wardruna, adds sonorous vocals to the pagan-esque stomp of 'Stirdur Saknur'.
"I wanted to be very playful," says Eivør of such guest spots. "Visiting other people's creative world, and inviting them into mine. Something magical happens when two different worlds meet, it expands the space. And it's full of contrast; that's very interesting."
There it is again – contrast. Change. Stepping outside one's comfort zone. In a way, we're all adrift on our own personal sea, looking for meaning and wondering which direction to take. Segl is an exploration of this, but also a record that suggests that everything will be ok; as Eivør says, over the last three years she's "felt deep doubt and cloudless confidence. I was lost and found again a hundred times." That's the real beauty of life; no-one knows where that wind in their sail will take them.