Description
Do you have an idea that could change the face of education? Are you passionate about empowering students for future success? Do you believe there's more we can do to support educators?
EdTechWomen Vancouver will be hosting a mini innovation challenge focused on producing tangible solutions for the education space. Hear from experts in the education space highlight some of the biggest challenges in the feild and provide actionable next steps towards improvement. This is an opportunity for everyone to take part in improving the education & learning.
Over the course of the evening you'll be doing the following:
Forming a team: network and collaborate with like-minded people who will help you bring ideas to life

Ideating and brainstorming: think up every crazy idea possible, collaborate, and narrow it down

Preparing a business plan: Identify the problem you're solving, who your customer is, and how to reach them
About the speakers:
Daniela Pico is the lead Academic Account Executive for a Vancouver based technology company called Riipen.Riipen's mission is to eliminate graduate underemployment through a web-based platform that connects students, companies, and post-secondary institutions to collaborate on project-based experiential learning.
Margaret Westaway is a multi-age classroom teacher at the Surrey Academy of Innovative Learning (SAIL) in the Surrey BC School District. Inspired by her 14 yr old son, who is an artist and avid maker, Margaret has been involved in Maker Ed for the past several years and has done grad work in the area of Innovative Learning Design. Margaret is passionate about finding ways to maximize the success of all learners.
Adrienne Wood is the Lead Code Teacher for the Vancouver School Board. She works at Norma Rose Point Middle School teaching digital media and is the Teacher Librarian for the school's learning commons.
Andrea Webb spent almost a decade as a classroom teacher and department head in Social Studies and English before returning to higher education as a teacher educator. Andrea received her Ph.D. in Curriculum Studies in 2015 and her research interests lie in teaching and learning in higher education. Currently, she is a lecturer in Social Studies Education and a member of the instructional team for the International Faculty SoTL Leadership Program: UBC Certificate on Curriculum and Pedagogy in Higher Education.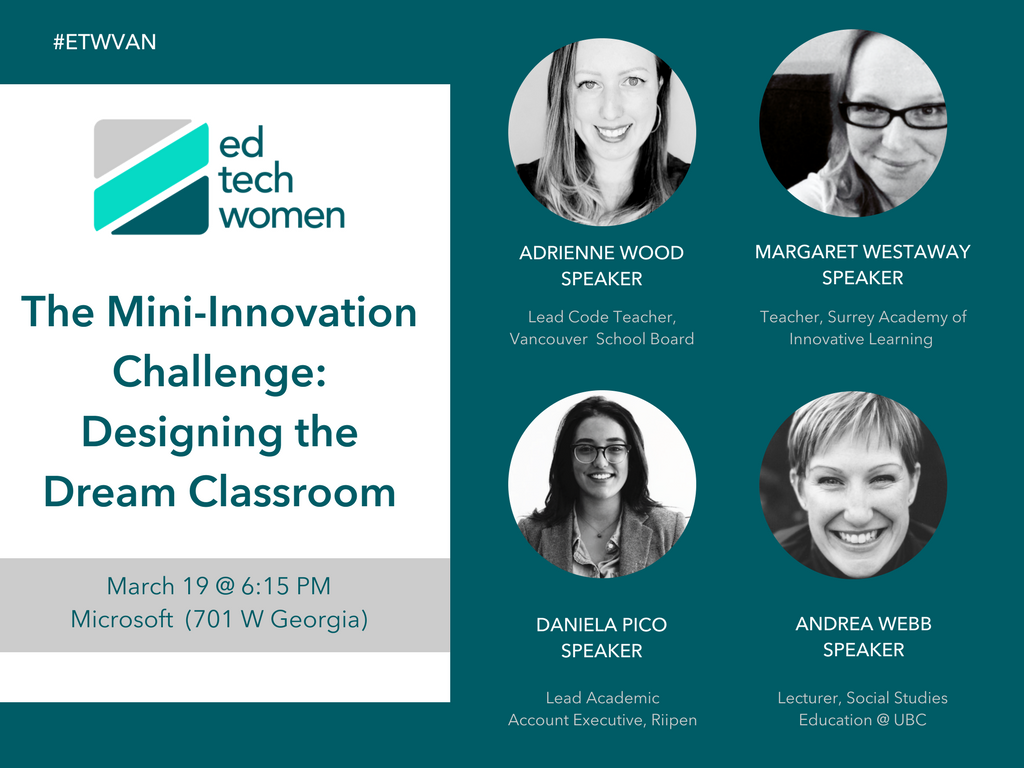 AGENDA:
6:30 PM | Registration Opens

6:30 - 6:45PM | Networking & Snacks

6:45 - 7:00PM | Event Start – Intro from EdTechWomen Vancouver, and Microsoft

7:00 - 7:20PM | Interview with Guest Speaker

7:20 – 8:20 PM | Innovation Challenge

8:30 PM | End of Event