SOLD OUT: Draughts & Laughs at The Farm Brewery at Broad Run
About this Event
The North American Comedy Brewery Tour presents a unique night out in Broad Run, Virginia featuring the finest that comedy has to offer, paired with The Farm Brewery's delicious fresh signature brews.
The North American Comedy Brewery Tour brings the best of the best North American comedians to local breweries across the United States for an evening that keeps the draughts flowing, and the laughs coming.
Our comics have traveled across North America, sampling local fare, tasting local brews, and providing a truly unique comedy experience that supports animals in need. This stop features a lineup of comics that will fill your belly with laughs.
We provide the absolute funniest in comedy entertainment, with our comics having credits at top festivals, on TV, and in major national and international clubs. All you need to do is come ready to laugh.
Show starts at 8:00PM, arrive early to grab a drink (or two) and pick out your seat! Seating is first come first serve!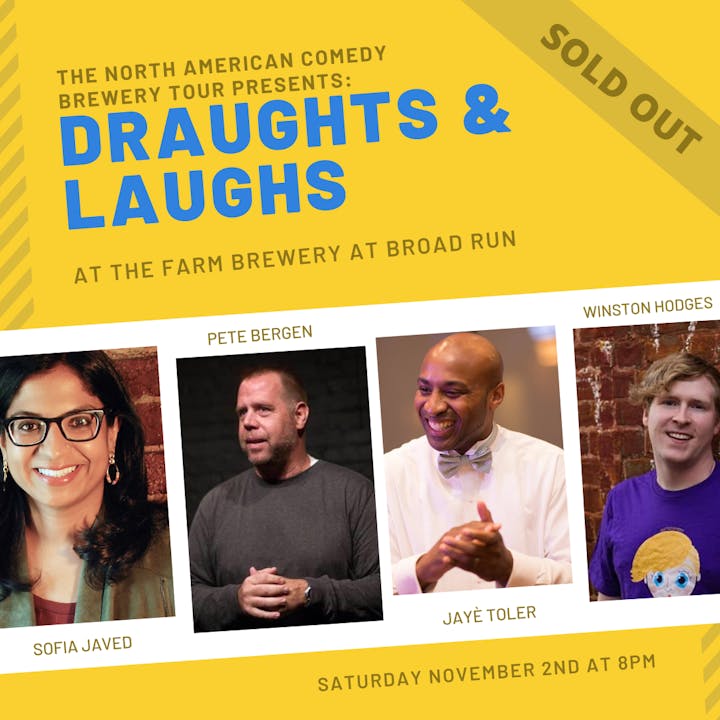 YOUR LINEUP FOR THE EVENING:
JAYÈ TOLER (Host/MC)
Jayé Toler, a Richmond Virginia native, started performing Stand-Up in 2009 by competing in local contests. After winning several competitions, he has been traveling throughout the East Coast entertaining a variety of audiences: Churches, Colleges, Comedy Clubs, Birthday Parties and Anniversaries, Corporate Events, Private Events, Charity Events, and other special engagements seeking comedic entertainment. Jayé's style, energetic temperament, and versatile content allows him to bring laughter to any demographic. With each performance, he reasserts his mastery of the art of story-telling. Every day he tries to have a laugh for himself and make at least one other person laugh.
Pete Bergen
Pete Bergen is a DC based stand up comic and improviser who has appeared at clubs and festivals all over. As a stand up comic, audiences identify with and appreciate his honest commentary about his own struggles with addiction, weight and all forms of inadequacy as well as his observations that are shaped by being one of from a giant family and as someone who bar tended for 15 years. Audiences love his balance of shocking and jaw dropping stories and vulnerable self deprecation. Come on out and see for yourself! As an improviser, Pete has studied with some of the best while completing the curriculum's at The Upright Citizens Brigade Theater and Washington Improv Theater and has been on teams that have appeared at the Del Close Marathon, the Philadelphia Improv Festival , the New York improv Festival, The Baltimore Improv Festival, the Pittsburgh Improv Festival, the North Carolina Comedy Arts Festival and the District Comedy Festival.
Sofia Javed
Sofia Javed honed her skills on unsuspecting co-workers and metro riders for an undisclosed amount of time before hitting the stage as a comedian last year. She delivers tightly-worded, thought-provoking jokes around the DC-area and has also performed in Seattle, Chicago, Boston, and New York. Sofia's comedy is inspired by her life as a woman of color in America and her career as a cubicle bureaucrat.
Winston Hodges
Winston Hodges is from a small town called Farmville (at least that is what he tells people, he is actually from a town so small he would know if you were from it!) in rural Virginia. He has spent his time working comedy clubs with his southern charm and edgy wit. His first time performing he won the competition at the Richmond Funny Bone's Clash Of Comics, and he has never looked back. You can hear him discussing growing up in a Christian home and working with children who have special needs all while providing a fun and energetic take on all the things we want to say but never do! Come see him and let him keep you laughing and warm your heart!