Multiple Dates
SOLD OUT-Damien Jurado Intimate Album Release Shows (DISTANCED, IN PERSON)
Event Information
Refund policy
Refunds up to 7 days before event
Experience a new form of wellness event held safely at various venues around Seattle. Clear stress, refresh your mind, spark your creativity
About this event
Five Evenings with Damien Jurado
"The Monster Who Hated Pennsylvania"
Intimate Album Release Shows
with very special guest, Indigo Sparke
*All Shows Sold Out, Wait List Only*
Distanced, in-person, very small music experiences.
See below for Safety Information.
More Events:
https://www.instagram.com/seattlewellnessevents/
Artist Info:
"On The Monster Who Hated Pennsylvania, Damien Jurado gathers up ten stories of people determined not to be broken by their dire circumstances. "The world is a liar, the stars are a must," he sings over brushed drums, a circling bassline, and acoustic guitar on "Helena," which opens his 17th album, the first release from Damien's own Maraqopa Records. Dire circumstances have long been fixtures of Jurado's songs, which are filled with ghosts, killers, cruel lovers, and the occasional UFO cult or false messiah. But here, the scenes are earthy, drawn from ordinary but no less immense calamities: hurricanes moving toward town, strained connections, amnesiacs in the front yard. On The Monster Who Hated Pennsylvania, Jurado pulls the curtains shut, blocking out "the light now embarrassed and afraid of the dark," as he sings on "Tom," one of the album's haunting numbers, only to throw them open the exact moment sunshine needs to come flooding in."
-Jason P. Woodbury (Aquarium Drunkard)
"Indigo Sparke brings her deeply personal lived experiences to her music, highlighting the spaces between the polarity of softness and grit. Pulling her experiences of addiction, of healing, of queerness, of heartbreak, of joy, of connection, of the softness and of the grit alchemising it all into tenderness through her music, she conjures up a myriad of feelings that is undeniably potent."
-Artist Bio
Preview: https://www.instagram.com/seattlewellnessevents/
@ Ballard Homestead, 6541 Jones Ave NW, Seattle
EARLY SHOW: 5:30-7p show, 5:15p doors
LATE SHOW: 8:15-9:45p show, 7:55p doors
All ages, seated
Private, invite-only events
If other pod sizes are sold out you can select a larger pod even if attending with a smaller group. Thanks for supporting local artists!
About Seattle Wellness Events
Creative Spark (Experiences & Classes to boost creativity) brings you all new events adapted to historic spaces, and presented with all public health safety in mind.
Experience a new form of event held safely at various venues around Seattle. Clear stress, refresh your mind, spark your creativity with live music, multi-arts, yoga, sound baths, creativity classes, and more.
Bring your pod and enjoy a relaxing and very very small "house concert" type music experience with local LIVE musicians. Small groups will be distanced in a large space with many large windows open and all Public Health & safety guidelines followed.
Bring your quiet picnics and enjoy the show! Some snacks/nonalcoholic beverages may be available for purchase at the venues, but no other food or bar service at these shows, audience is welcome to bring quiet picnics.
Audience size will be in the 30 person range to start (below 25% capacity), in large spaces rated for 180-260 people normally. Various creative activities will be included in the lobby. Some shows may be hosted outdoors when noted and weather permitting.
Pods will be spaced out in chairs & benches.
Please check your ticket for your seating.
More info via www.instagram.com/seattlewellnessevents
HEALTH & SAFETY INFO:
All public health guidelines must be followed
Masks are required for any indoor locations except when eating/drinking
Distance of 6 feet or more required for all participants/pods
8 large windows open in main space, more windows open in lobby & restrooms, and lots of fresh air flowing
Musicians & attendees must pre-screen and be free of any Covid symptoms
Musicians will distance further from audience when singing
Please refrain from talking or texting during the show.
Please enter quietly if the show has already begun.
Please leave quietly, it's a very quiet neighborhood.
Nonprofit 501(c)3 venues, we support equitable access to the Arts through the Arts Connect program. Email for info - arts@fremontabbey.org - www.abbeypresents.org/artsconnect
For ADA information at Ballard Homestead, please see www.ballardhomestead.org/rent or email arts(at)fremontabbey.org
There is a ramp around back on the south side of the Homestead for wheelchair access - please call in advance to make arrangements - 206-414-8325. Fremont Abbey and other venues are ADA accessible.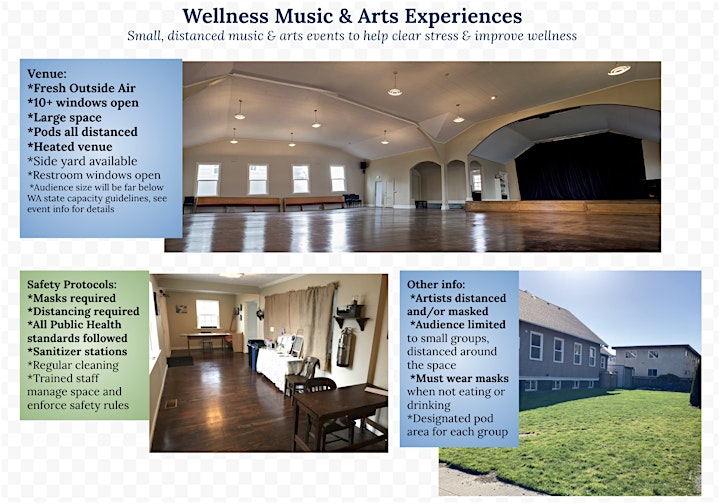 Location
Refund policy
Refunds up to 7 days before event