Description
Nectar & SolidSound present:
CLOZEE
Pressha
$13adv
Nectar Lounge
412 N 36th St
BOOTH RESERVATIONS NOW AVAILABLE!
We are a majority standing-area venue with seating on our heated and covered patio as well as our newly remodeled mezzanine. All seating is first come first serve however, we do have eight booths available for reservations on our mezzanine. Booths 1-6 seat two to four people, booth 7 seats five and booth 8 seats six to eight.
All table reservations are now made at checkout.
Booth reservations are sold on a first come first serve basis.

Reserve multiple booths for larger parties and we will seat you together.

See "Additional Items" on the bottom of checkout page for available booths. If you do not see "Additional Items" unfortunately all booths are SOLD OUT.

We try our best to guarantee your reservation all night, though we ask you to arrive within 2 hours after doors open.

We no longer reserve high top tables behind booths but we encourage people to arrive early to claim available space.

We offer food service once doors officially open. See listing above for specific door time.
CLOZEE
In a feedback loop of adventure, music, and love, CloZee and her fans are ready to let the force of the sound carry everyone to places they have never been before. Being based simultaneously in Toulouse, France and on stages across the world makes this electronic musician stand out. With inspirations far afield from music - a painting, the weather, a dream - in her craft, Chloé Herry's derivations are difficult to trace. Under the broad structure of electronic and bass music, and informed by sound the world over, Clozee finds her best fit in World Bass' corner.
CloZee has performed on many continents: from Coachella to India, on four US Tours, and everywhere around her native France. She is a standout on the roster of her labels, Gravitas Recordings & Otodayo Records. Followers in many languages drive streams counted in millions. But art's ability to transport others is this talented producer's special magic - manifest whenever someone presses play.
In the way the clean curve of a Japanese roof is understated and exotic, CloZee pulls her power from a bold simplicity. Her classical guitar roots allow her an informed, melodic space that draws influence from flamenco to edIT of The Glitch Mob. This melting pot of instrumentation and cinematic flair puts listeners in a mood to move, with international crowds now cultivating the evolution of her genre. Chloé says she rarely lays down only electronic sounds. Her favorite sources are organic and real.
To describe her life, CloZee grins and dramatizes her mind exploding. With traction growing stateside, she is set to expand far beyond the transformational festivals and tours where she grew the same roots that nourished Bassnectar, Beats Antique, and Bonobo. CloZee is breaking through the canopy and into the sun. Come see her fly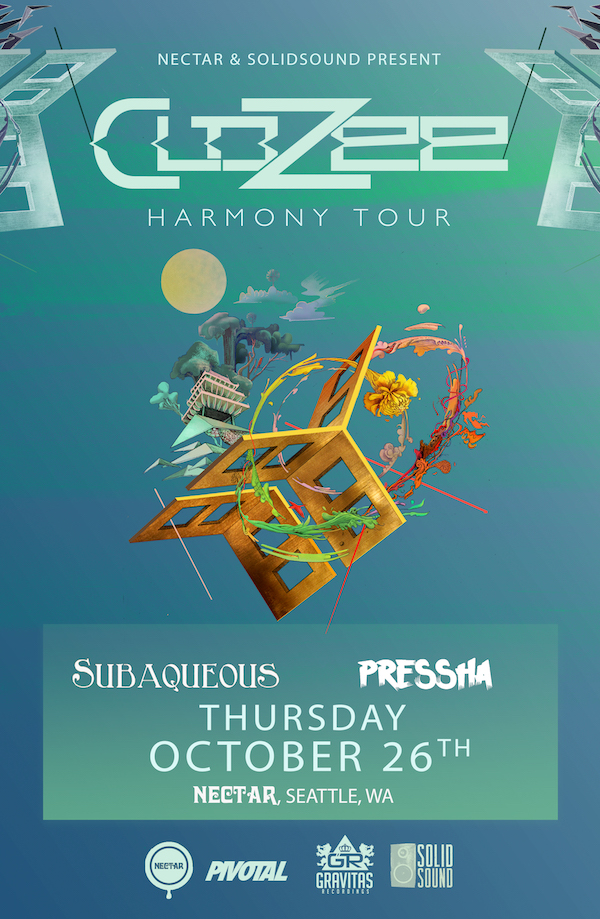 Date and Time
Location
Refund Policy