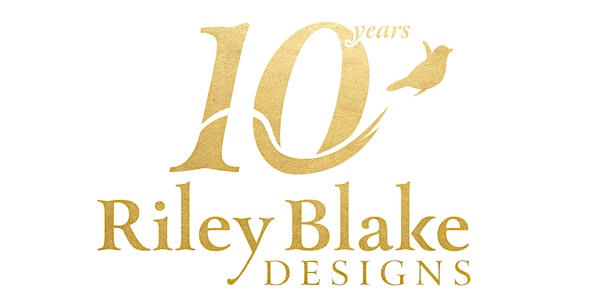 SOLD OUT!! Celebrate Sewing 10 Years with Riley Blake Retreat ($135.00 Ki...
Description
Cindy Cloward is the owner of Riley Blake Designs. Along with her husband, Bret, a talented group of artists and a dedicated staff of employees, she has grown a small family-owned business into one of the leading

quilting and sewing

f

abric manufacturers. She is passionate about well-designed fabrics and loves to quilt and sew. Before fabric, Cindy had a previous career as a flight nurse/labor & delivery nurse for nearly a decade. She grew up sewing and has a love for all handmade things. Cindy and Bret's joy is their four children, and beautiful granddaughter. They reside in Alpine, Utah.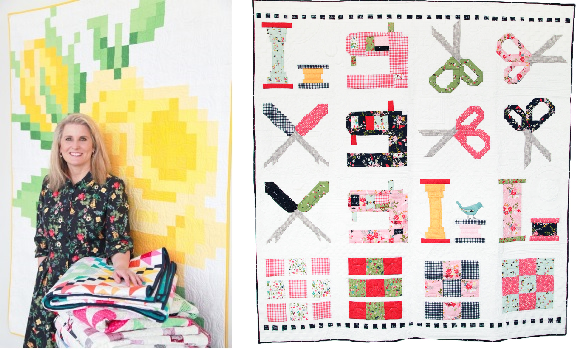 *$135.00 included in price of retreat.
Monday Early Check-In to the Retreat Center:
If you are wanting to get an early start on the retreat or your flight brings you to Hamilton Monday, you may check in after 4:00 pm. The cost ia $50 per person per night and is payable when you arrive.
For Early Check-In You Must Call or Email:
Cindy Morris
Retreat Coordinator Extrodinaire
Missouri Star Quilt Company Retreat Center
816-265-1812
lucinda.morris@missouriquiltco.com
Tuesday
9:00 am - 3:00 pm

Arrival, Set Up, Shopping, Open Sew Time
3:00 - 5:00 Orientation Meeting & Scavenger Hunt
6:00 pm

Dinner
6:30 pm Open Sew


Wednesday

8:00 am Breakfast
Following Breakfast -

Class
Lunch at
Noon
6:00 pm

Dinner
6:30 pm

Open Sew



Thursday

8:00 am

Breakfast
Following Breakfast - Class
Lunch at Noon
6:00 pm

Dinner
6:30 pm

Open Sew



Friday
8:00

Farewell Breakfast
11:00

Check Out



What to expect:
Bring projects to work on - You may not want to take a class and if you choose not to do this you will want to bring projects to work on. Your free time is your own to do as you please. We will have demonstrations and optional mini classes throughout the retreat. You can participate in these classes if you wish. We do not include a supply list for these classes because they are smaller and do not require much fabric. You can shop an MSQC shop or browse through one of the area stores. There is always something to do in Hamilton.
Sewing tables - We do have assigned seating for sewing. Each person will have their own 2' X 4' sewing table. These tables will be pushed together in pods of four. You will need to consolidate all of your sewing materials into this 2' X 4' space.
***Special Diets--Email susan@missouriquiltco.com
Meals - Eight meals are provided with each retreat. A continental breakfast will be served Wednesday and Thursday mornings and Friday will be a hot Farewell Breakfast. All starting at 8:00 am. Our continental breakfast includes cereal, oatmeal, toast, bagels, yogurt, cottage cheese, hard boiled eggs, & fresh fruit. Lunch and dinner will be provided by our local caterers. Lunches are served at noon Wednesday and Thursday. Dinners will be served at 6:00pm Tuesday, Wednesday and Thursday nights.
Snack Table - We set out a snack table and encourage you to bring a snack to share with the group.
Show & Tell - We will have a Show & Tell time on Thursday night for those who want to participate.
Shipping - There is free shipping for all of our United States guests who spend over $100 in the shops. We have reduced shipping rates for our foreign customers.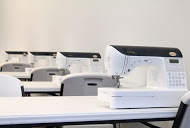 You can bring your unfinished projects from home, or drop in at our stores in town to purchase anything you may want to start something new. PLUS.....our sewing/activity and kitchen areas are available for you to use 24 hrs. a day! And, when you're ready to turn in, you'll sleep like a log in our comfy, cozy beds.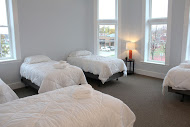 PLEASE NOTE:
Handicapped Rooms will read "Sales Ended" online. You must call Cindy@ 816-265-1812 to reserve one of the two rooms.

All rooms upstairs are shared rooms. NO PRIVATE ROOMS.

Ages 18 and over please.
Our sleeping rooms are on the second floor of the Retreat Center and are only accessible via stairs. They are shared rooms, configured in several different ways from rooms that have three twin beds, to a room that sleeps five. There are six individual, private bathrooms, each with a shower, toilet and sink, just steps away from the sleeping rooms that are shared by all the guests on the second floor. We also have two sleeping rooms located on the main floor, each with two twin beds and its own bathroom, that we reserve for individuals who cannot physically climb the stairs to the second floor. We are located 15 minutes east of I-35 and MO Hwy 36, approximately 60 miles north of Kansas City. If you are flying in, you'll want to fly into Kansas City International airport. We are a little over an hour from the airport.
Shuttle Options: Liz Manley 816-351-9172 (Shuttle Driver)


Nate Fish 816-527-3037 (Uber Driver)



Men are welcome at all of our quilting retreats. In our retreat center we have the following sleep accommodations:
8 sleeping rooms in the main retreat center that share 6 communal restrooms.
2 rooms with their own restroom that are accessible for individuals with disabilities.
1 sleeping room with 8 beds in our mini-retreat center with access to 2 communal restrooms.
We assign the rooms with the communal restroom facilities in the main retreat center to individuals of the same gender. Often women are assigned to these rooms in the main retreat center because more women register for the retreats, but if enough men registered, we would assign men to these rooms. We reserve the accessible rooms for individuals with a disability, but make these rooms available to another guest (male or female) if no individual requests an accessible room. The sleeping room in the mini-retreat center is assigned to a group of the same gender to share the sleeping room and communal restrooms. The rooms in the mini-retreat center are often assigned to individuals of the opposite gender from those assigned to the main retreat center.
Missouri Star Quilt continues to explore retreat offerings that meet our customer's interests and demands. We hope you will consider joining one of our retreats.

WHAT WE'LL PROVIDE:
+ 8 Meals
+ Unlimited access to our spacious and well-lit sewing space
+ Tables for cutting
+ Ironing boards and irons
+ Sewing tables and electrical outlets
+ A full kitchen (microwave, stove, refrigerator, freezer, dishwasher)
+ Dishes, mugs, flatware
+ Two coffee pots
+ Super comfy, cozy beds
+ Bed linens and towels
+ Sewing machines available for use during retreat as available.
+Surge Protectors and extension cords
WHAT TO BRING:
+ Sewing machine (optional, we do have machines to use)
+Thread if you are using our Babylocks (They run best with Aurifil or Gutterman)
+ Cutting board, cutter, rulers, scissors
+ Ironing board and iron (optional -- we will have some available for use)
+ Food or Soda (dining options listed above and Hy-Klas Grocery Store 1/2 block from the retreat center)
+ Casual, comfy attire
+ Personal toiletries, blow dryer, ear plugs and pj's
+ Something cushy for your "tushy" (optional)
+ Personal sewing lamp (optional)
REFUND POLICY: This is a NON-REFUNDABLE REGISTRATION. In the event that you register than are unable to come, you may transfer this registration to someone else.

QUESTIONS? Contact us at lucinda.morris@missouriquiltco.com
Organizer of SOLD OUT!! Celebrate Sewing 10 Years with Riley Blake Retreat ($135.00 Kit Included in your cost): November 12-15, 2019