Description
WONDER is SOLD OUT for the remainder of this year's Exhibition. For information on future exhibitions, go to www.kidsbasel.com and sign up to recieve updates.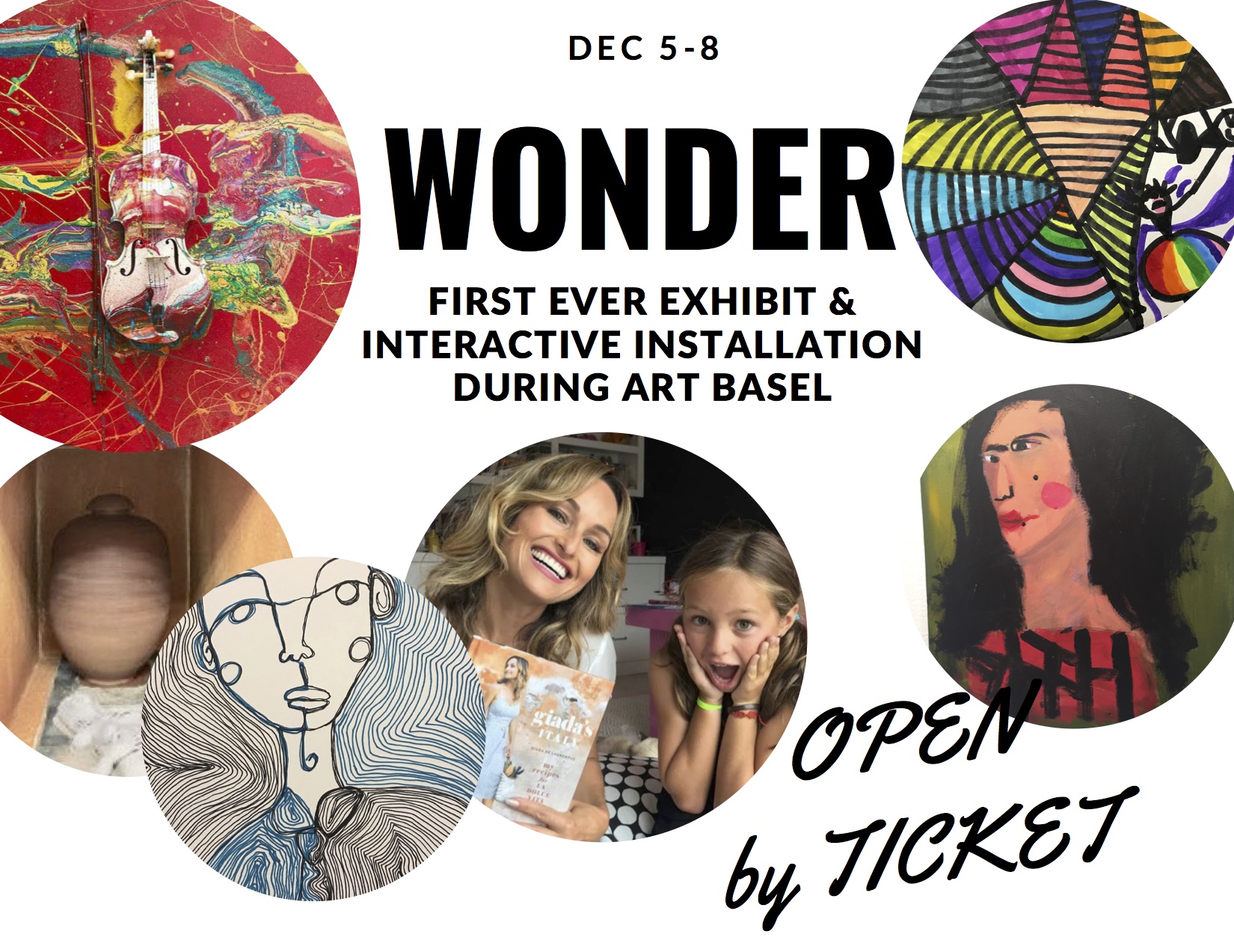 WONDER First Ever KIDS Exhibit and Interactive Installation during Art Basel Miami.
Over 100 works of art by kids 18 and under. Our KidsBasel Gallery of Artists have traveled from around the globe to present their work at WONDER. Ranging from 2 to 18 years of age, the brillance of this generation cannot be missed.
Presenting Infinite Wonder, Aelita Andre's newest exhibition opening at WONDER. Aelita is the Ambassador of WONDER and a voice of empowerment for all young creators and an inspirating force for us all. "Prodigy of Color"Aelita, 11, from Melbourne Australia, has exhibited her work since the age of 2 years old at museums around the world.
CELEBRITY WALL OF FAME - Portraits created by kids of their famous parents.
Music Headphone Tour of WONDER. At entry to WONDER, you'll receive the opportunity to choose headphones with varying music playlists providing a gallery experience hightened by your favorite songs and genres. Creating an entirely new approach to a gallery visit, you'll likely to want to come back through WONDER again with a new playlist, experiencing new emotions and thoughts brought to life by sound and memories. Playlists include Favorite Movie Hits "Soundtracks from Sundance" by Music Producer AJ Johnson who famously produced The Fray's "How to Save a Life," "Perfect Pop Hits for Kids" and "Infinite Energy" by DJ Irie.
Also...
GLOW ROOM
INTERACTIVE TOUCH FEEL SPACE
WONDER STORE
and more...
Benefitting Educational Progress and Youth Entrepreneurs. www.youthentrrepreneurs.org. WONDER Kids Inc.
Opening Night, Aelita will perform Touch Sound. https://www.youtube.com/watch?v=DLhEDWU8Bmk
VIP Tickets to Opening Night Extremely Limited and Almost Sold out. Available on Eventbrite for $250 a ticket.
#KidsBasel
For additional information, go to www.kidsbasel.com
THE WONDER GALLERY SPACE DONATED BY PARAMOUNT WORLDCENTER.
PARAMOUNT SUPPORTS THE ARTS AND EDUCATIONAL PROGRESS