SOLD OUT-American Club of Madrid Annual Thanksgiving Feast & DELTA Tickets*...
Description
Thanksgiving is celebrated each year on the fourth Thursday in November. Please join us for one of our favorite All-American holiday feasts.
THIS JUST IN!
*. Delta Air Lines has donated TWO round trip tickets to NYC. You must be a dues-paying member to be eligible to win. Good news-your membership includes free happy hours too!
JOIN NOW!!!
The menu is below:
STARTERS
CORN CHOWDER (Served with bacon bits)
CHEF'S SALAD (Mixed lettuce, carrot, craisins, pecans, tomato cherry, roasted corn)
ENTRÉE
ROASTED TURKEY WITH CHESTNUT STUFFING (Served with golden mashed potatoes, fresh vegetables and cranberry sauce)
DESSERT
PUMPKIN PIE (Served with whipped cream)
CHOICE OF BEVERAGE
*Estrella Damm Beer, Sodas, Ice Tea or Mineral Water
*Two Drinks per person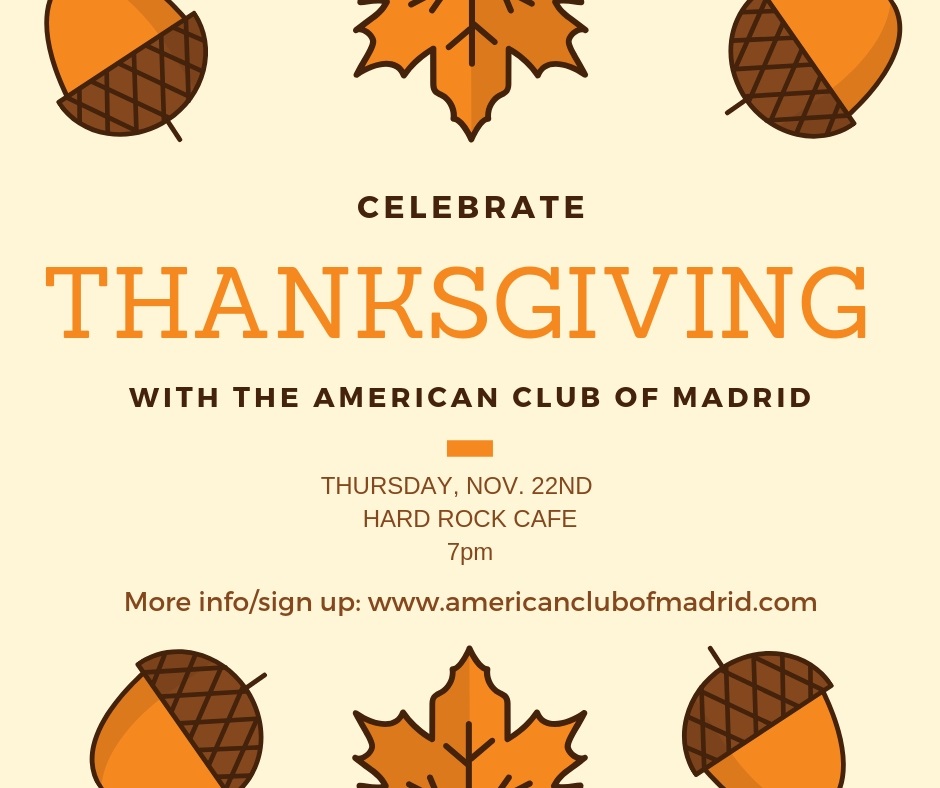 The History of the American Thanksgiving:
In 1621, the Plymouth colonists and Wampanoag Indians shared an autumn harvest feast that is acknowledged today as one of the first Thanksgiving celebrations in the colonies. For more than two centuries, days of thanksgiving were celebrated by individual colonies and states. It was not until 1863, in midst of the Civil War, that President Abraham Lincoln proclaimed a national Thanksgiving Day to be held each November.