Description
Jake Knapp is back in Berlin for a smaller exclusive workshop with less participants and more Jake-time!!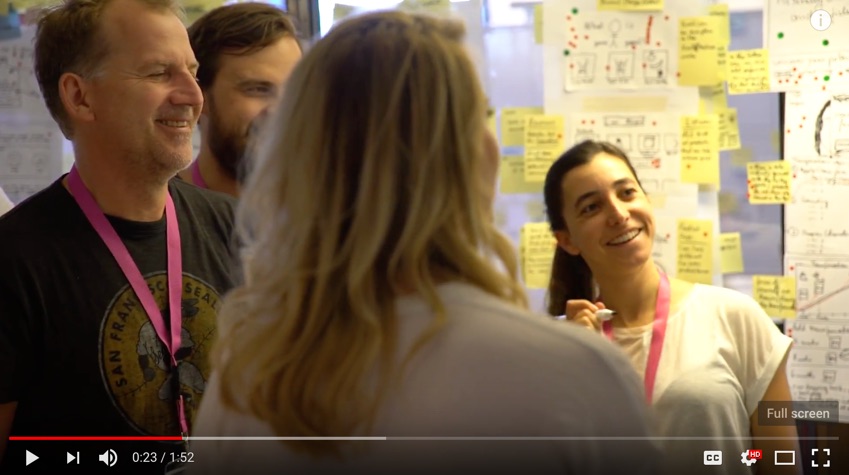 Learn the Design Sprint process from the inventor Jake Knapp and a company that has run over 100 Sprints all over the world. This is the ultimate Design Sprint workshop.
The Design Sprint is a greatest hits of Lean Product Design, Design Thinking, Business Strategy, Innovation, Behavior Science, and more, packaged into a battle-tested process that any team can use. Join Jake Knapp, New York Times best selling author and creator of the Design Sprint process and AJ&Smart, an award winning Digital Product Design Studio with dozens of Sprints under their belt, in an intense 2-day Design Sprint Workshop.
In this action-packed 2-day workshop, you'll learn the specific processes and exercises they use to help the best of Silicon Valley and Fortune 500 companies create better products faster and more efficiently. This is practical and actionable advice, not just "inspirational" talks.
What will participants learn at this bootcamp?
How to run a Design Sprint

How to define and prioritise challenges
How to avoid unstructured discussions
How to produce a huge quantity of solutions to various challenges
How to compress potentially months of work into days
How to create product/service concepts to test against these challenges
How to decide what concepts to test under extreme time pressure
How to storyboard a prototype
The tools and techniques we use to build interactive prototypes
How to test and document your prototype
How to validate and iterate on your prototype
What can participants use these techniques for?
Digital Product Design
Defining and Designing new products
Creation and Testing of Business Model Concepts
Solving big internal problems (culture, process etc)
Service Design
Solving Logistical Problems
Branding Projects
Physical Product Design
App Design


**Company Ticket**

If you are 4-7people from the same company, you get a company table at the workshop (if requested, email danny@ajsmart.com for more info)
What you get:
the chance to take a real challenge your team is facing, and create tangible solutions for it
an appointed facilitator who supports your group throughout the 2-day workshop
contact danny@ajsmart.com for more information


**Individual Ticket**
What you get:
you will get to work on a team with people from different companies
you will get to tackle a "canned" challenge provided by the organizers


In this 2-Day, intensive, hands-on workshop you will learn how to go from a list of problems, challenges and opportunities to a high-fidelity and user-tested prototype. This is not a theoretical workshop. You will learn the tangible and repeatable techniques that allow Design Sprinters to develop user-tested solutions in just 5 days.
If you're looking for a relaxing two days away from the office, this isn't the workshop for you.
Who is Jake Knapp?
Jake Knapp created GV's sprint process and is the (NY Times Best Selling) author of Sprint. He has run more than a hundred sprints with startups such as Medium, 23andme, Slack, Nest, and Foundation Medicine. Previously, Jake worked at Google, leading sprints for everything from Gmail to Google X. He is currently among the world's tallest designers.
Who are AJ&Smart?
AJ&Smart is a product design studio based in Berlin, Germany. We used Design Sprints to create products like N26, Share the Meal, and Zalon. We've also used it to help businesses like WD, Eon, Udacity, eBay, Pro7, Red Bull, UEFA, Lufthansa, Telekom, Bundesliga and many, many more to innovate faster and more efficiently.
At AJ&Smart we offer something very different when it comes to training, that's because we're not a training company, we build and ship products weekly.
We hate talk without action, so we especially hate training programs that focus on teaching theoretical approaches that are impossible to apply to real-life situations. Our training workshops are intense, hands-on and not for people just looking for a day off work. We solve problems and learn by doing.