The 5th Annual Ugly Sweater Bar Crawl is here and we want Lakewood to join in on the fun!
About this event
THIS CRAWL IS OFFICIALLY SOLD OUT FOR THE 5TH YEAR IN A ROW. NO TICKET NO ENTRY. PLEASE JOIN US NEXT YEAR. GET YOUR TICKETS EARLY!
Join us for the 5th Annual Ugly Sweater Crawl! Get that Goodwill sweater, find those tacky holiday pants, and get ready to jingle bell ROCK on Dec. 11th. And make it to the end and get your holiday T-shirt!
**Registration party from 12pm-3pm at ATC. We start crawling at 2pm. There will be 4 different colored lanyards for you to pick from at registration. This will put you in either (red, green, yellow, or blue) group. Get same the color as your crew. You'll head to your home bar at 2pm and rotate every hour (2pm, 3pm, 4pm, & 5pm) you'll rotate. Then head to Avenue Tap House at 6pm for the after party and shirts**
Any questions - please email us info@barcrawlusa.com or msg us.
THIS CRAWL IS BUSY. PACKED. FUN. AWESOME. UGLY. BUT BUSY. If you don't like a busy bar, this isn't your event. We warned you!
Ticket Includes:
🎅 Holiday T-shirt at After Party*
🎅 Ugly Sweater Crawl Koozie
🎅 Lanyard w/ scavenger hunt card
🎅 Christmas movie live stream trivia
🎅 Registration party
🎅 Discounted Drink specials $2-$4
🎅 DJ's at multiple stops
🎅 Ugly Sweater Digital Crawl Map to help guide you bar to bar
🎅 Ugly Sweater After Party
*Sizes S-3X available. All get a shirt at after party but sizes not guaranteed.
Bar Partners:
🎅 Around The Corner: 12pm-3pm
$2 Miller Cans
$3 Chocolate Rum Shot
$4 Jingle Juice Drink
🎅 Harry Buffalo Lakewood 2pm-7pm
$2 Miller Lite
$3 Shoot your eye out shot
$4 Oh Fudge Drinks
🎅 Riverwood Cafe 2pm-7pm
$2 Millers
$3 Santa Shooters
$3 Wells
$4 Jingle Juice Drinks
🎅 West End 2pm-7pm
$2 Domestics
$3 Elf Bombs
$3 Imports
$3 Wells
🎅 Vosh 2pm-7pm
$3 Miller
$3 Mrs. Clause Shot
$4 Jingle Juice Drink
DJ Spinning tunes
🎅 Avenue Tap House: 5p-8p
T-shirt pick up 6pm-8pm back room
$2 Miller Cans
$3 Baby it's cocoa shots
DJ Spinning tunes
BONUS STOP: 7pm-10pm
🎅 Lakewood Truck Park:
$3 Selvarey Chocolate Rum Shots
$3 Three Olives Santa Berry Bombs
$3 Miller Lite 16oz Drafts
Food Trucks: Parilya Cle & Feed My Belly
🎅 Kenilworth
FAQ:
🎅 Follow Bar Crawl USA to receive weekly updates including drink specials.
🎅 How will you handle Covid-19 limitations / if any?
We will follow any and all guidelines set forth by the city & state in regards to covid-19 safety measures.
🎅 Do I need a ticket?
Yes, you will not be able to get holiday shirt, access to trivia game, koozie, access to some bars, discounted drink specials and other giveaways if applicable.
🎅 How do I get my holiday shirt?
Just come to our after party and get your holiday shirt. Sizes not guaranteed. S-3X sizes available. See you there!
🎅 Do I need to go to all of the bars? Is it guided?
You do not need to visit all the bars. We will have times next to each bar when they will be staffed & ready and when you should be there for wristband & crawl awesomeness.
🎅 Do I need to print my ticket? Does it need to match my name?
No, on your phone is preferred. Ticket does not need to match attendee name.
🎅 Can friends check me in?
Yes, we just need your ticket.
🎅 21+?
This is a 21+ event.
🎅 Refunds?
We will give refunds up to 7 days from event. No exception. Within 7 days, we will ONLY do credits to future Bar Crawl USA events.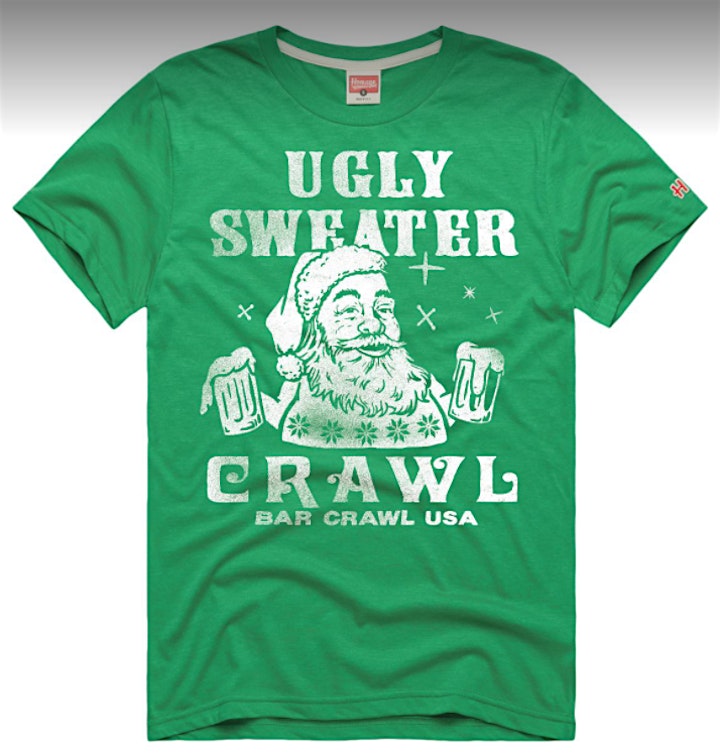 Organizer of SOLD OUT: 5th Annual Ugly Sweater Crawl: Lakewood