Sold out 2020 Valentine Romantic Five Course Dinner Wine Chocolate Pairing
Description
Dinner is sold out. Please join us Friday, Saturday and Sunday for a Truffle and wine Pairing.


Five Courses: appetizer, salad, side dish, entree and dessert all paired with wine. Each with a special relation with chocolate. Skip lunch to leave room for this delectable meal! If you can't make it go to Specials on bottom of page!
Launching our Limited Production True Kiss (Strawberry Zinfandel)to Celebrate the special wines of love. These will include True Belle (Peach Chardonnay), Bronceado en el sol (Chilean Malbec) and a few more hidden gems.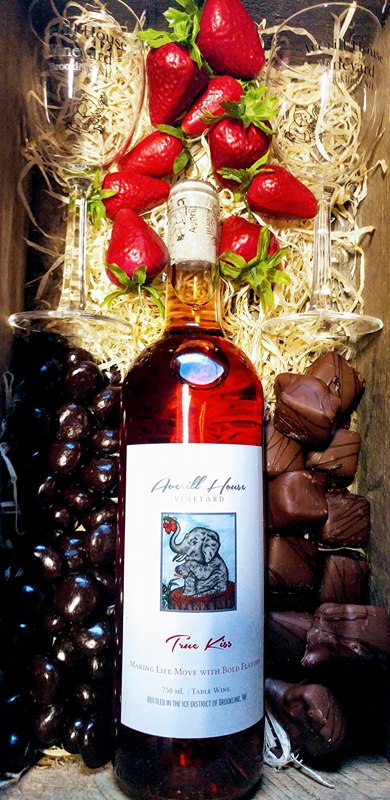 The wine pairing will be Chocolate themed in perfect balance with the wines matched for an evening of love. Your commemorative glass will remind you of this special evening for years to come.

Leave It To Me Event Planning has come up with a scrumptious menu Five courses that will all be accented with Chocolate in amazing ways. Chocolate Port Sauce, Coconut Chocolate, Chocolate Dressing, White Chocolate and a special dessert with a Chocolate theme. We won't spoil the courses by giving a full description. But Maureen makes amazing food. What she does with Chicken, Beef and salad is astonishing!
Wine tasting and pairing are complementary.
Arrive at 5:30 pm to begin your adventure, taking a tour of the Winery and cellar with a tasting direct from the cask. Then promptly at 6pm join in a tasting where you will taste several wines paired to some fabulous Chocolate, Meats and Crackers. As the evening continues we'll open the last of the wines in celebration of your love.
Tickets are Limited to 23 people for this exciting evening. If the evening is a gift we would love to be in on the surprise! If your partner does not drink, send us a note so we can arrange something special for them. Coming Solo, you'll be our Valentines. If you have interest in making a full day of your visit send us a note, your threshold for activity and we'll organize your adventure. Any question call 603-371-2296 or send us a note.