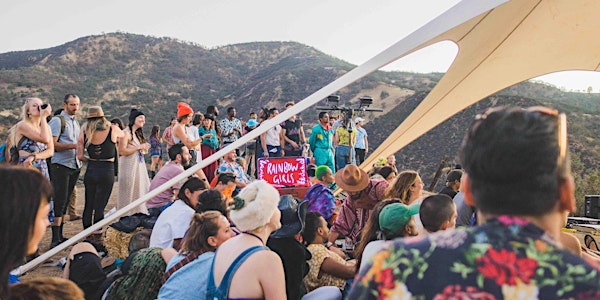 solaura festival 2023
We're a gathering of the warmest, most generous people you'll find. It's four straight days of camping, live music, and gorgeous vibes.
Date and time
October 6 · 4pm - October 9 · 5pm PDT
Location
Paicines TBA Paicines, CA 95043
About this event
Want a ticket code? Go to solaurafest.com to get on the list!
Event is 21+ only.
------------------------------------------------------------------------------------
Have you felt that Solaura is out of your price range? Just sign up for our Equity & Access Program and we'll get you set up with a discounted ticket!
We've always felt strongly that Solaura should be accessible to all, regardless of your financial situation. By making this program more widely accessible, we're helping bring back a lot of the people that started Solaura in the first place!
------------------------------------------------------------------------------------
Solaura is an annual gathering of the warmest, most generous people you'll find on the West Coast for 4 days of camping and live music. At Solaura, attendees co-create magical experiences alongside artists, sharing is second nature, and good vibes are king.
What you'll find at Solaura:
Sunset Hill: Incredible sunset performances overlooking the San Benito Valley
The Sun Stage: The best hidden and rising talent in California, from funk to psych rock, soul, indie, brass bands, and more. Don't miss the analog liquid light shows.
The Launchpad: A helipad nestled among the San Benito mountains bumps electronic music from top Bay Area DJs - groovy house, funk, hip hop, and disco all night long. No boring tech house allowed.
The Bluegrass Holler: Ever been to a full-on bluegrass hoedown? Here's your chance. Swing dancing, wagon saloons, hay bales, and nonstop fiddles will rock your world.
The Solaura Market: A repurposed horse stable offers ten late-night stalls filled with tarot card readings, costume closets, free dumplings, art exhibits, and more. Expect the unexpected!
The Funkaquarium: A horse paddock serves as our daytime center for workshops from all backgrounds - dating gameshows, comedy acts, late-night cabarets, and morning yoga.
30+ Immersive Experiences: Dating game-shows, costume closets, disc golf, late-night cabarets, swing dancing, restorative yoga. All contributed by our attendees.BB
The Teahouse: Our tea house is the perfect tool to sink into a flow state, find spontaneous connections, and maybe catch an acoustic artist. Some of our attendees spend all weekend here!
Free Food Pop-Ups: We've learned that our people love making food for each other. So we've made it a part of Solaura! You'll find pop-up pancakes, dumplings, lamb roasts and more all weekend long.
Frequently asked questions
how is solaura different from a regular festival?
where and when is solaura?
when will the lineup get released?
can i get financial assistance?
About the organizer
Born from the need to do just that....Escape the Routine. We are an event and experience production company bringing parties, concerts, and events to our favorite locations around San Francisco and beyond.
Click here to subscribe to our text messages.
Join our mailing list at www.escapetheroutine.com
Experiences that break the mold.