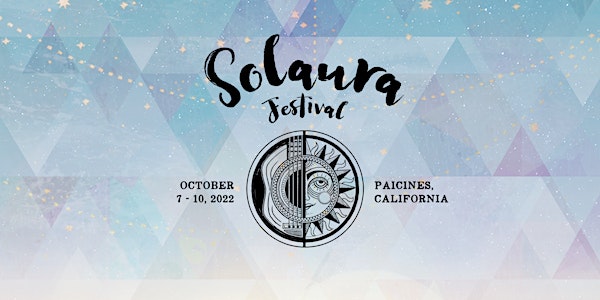 Solaura Festival 2022
Solaura is the reunion of a set of wonderful communities based in the Bay Area.
Refund Policy
Contact the organizer to request a refund.
Eventbrite's fee is nonrefundable.
About this event
GA tickets are closed, but Solaura attendees can still invite additional guests (as space permits)! If you don't have a passcode find a friend who's attending Solaura 2022, and ask them to check for an email with the phrase "how to bring your friends to solaura"
Website: http://www.solaurafest.com
We're sorry to share that we don't offer refunds for Solaura tickets, even though our Eventbrite configuration suggests otherwise (that's our bad!) If you're no longer able to come, we've got an active community on our FB group that will help you re-locate your ticket!
https://www.facebook.com/groups/solaurafest/
🎉5️⃣ YEAR FIVE! We made it!!! 5️⃣ 🎉
There were so many points in the past half-decade where we didn't think we'd be in this position (remember 2020?) But we're still here, with a wonderful, tight-knit community, tons of dreamy memories, and a lot of promise ahead of us.
We've got a lot of big news to share this year, but most importantly:
🥳 Solaura is moving to a new venue! 🥳
Unfortunately, we've been outgrowing our beautiful Mendocino beach property for a long time. Luckily, we've stumbled on a venue this December with some of the most spectacular views we've ever set eyes on. We can't share too many details, but it's:
A rustic ranch 🧑🏻‍🌾 covered in cattle (and a longhorn), horses, sheep, and miniature ponies. 🐄🏇🏼🐑🐴
Just two hours south of San Francisco - near Pinnacles National Park! ⛰️
Has a cluster of barns for late-night music performances that we're calling the "Cowboy Village" 🤠🏘️
Surrounded by absolutely breathtaking sunset lookout points - and the chance to see some endangered California condors! 🦅
It's got plenty of room for us to grow year over year, and it's truly magical - the drive itself is a journey people travel from all over the world for.
What else? Ah, yes, the dates:
📅 Solaura 2022 will happen October 7-10, 2022! 📅
That's right - we're moving to a 4-day experience from Friday to Monday! Solaura has always felt just a little too short, and with these new dates we've landed on a federal holiday - giving us a 3-day weekend.
What's more - it's a full-moon weekend, so get ready for some magically lit midnight 🎶🪕 bluegrass jams 🪕🎶! And for those of you wondering about the weather - October is the best time of the year at this property, with warm days and cool nights.
Ask to sign up to our mailing list for more information: find us at www.solaurafest.com!