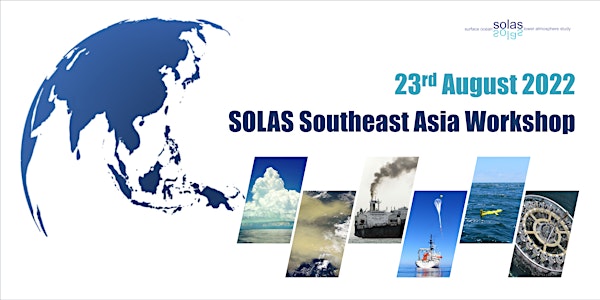 SOLAS Southeast Asia Workshop
Online Workshop on Surface Ocean Lower Atmosphere Study in Southeast Asia: Linking Ocean-Atmosphere Interactions with Climate and People
About this event
The global and multidisciplinary research project Surface Ocean - Lower Atmosphere Study (SOLAS) was established to understand the key biogeochemical-physical interactions and feedback between the ocean and atmosphere. Achievement of this goal is important to understand and quantify the role that ocean-atmosphere interactions play in the regulation of climate and global change.
Southeast Asia is characterized by diverse marine ecosystems and high population along the coastal areas. Being part of the tropical Indo-Pacific warm pool, air-sea interaction in this region exerts a significant influence on regional to global climates. Meanwhile, it is among the world's most vulnerable regions to anthropogenic climate change.
This workshop aims to introduce and discuss SOLAS-relevant and region-specific research and activities, as well as to build scientific networks in Southeast Asia. We would like to invite all researchers working within the SOLAS Core Themes or Cross-Cutting Themes to join the workshop and share your research work. Registration is open and free to all participants!!
Invited Talks:
SOLAS Sciences: A Regional Perspective and Opportunity
By Minhan Dai, State Key Laboratory of Marine Environmental Science, China
-------------------------------
Ocean Acidification: Knowns and Unknowns
By Rajasekhar Balasubramanian, National University of Singapore, Singapore
-------------------------------
Dynamics of Indo-Pacific Climate Modes and Their Impacts on the Forest Fire in Indonesia
By Iskhaq Iskandar, University of Sriwijaya, Indonesia
-------------------------------
Asian Dust Deposition into the Sunda Shelf Region: Natural Radionuclides Elucidate the Monsoon Effects
By Che Abd Rahim Mohamed, Universiti Kebangsaan Malaysia, Malaysia
-------------------------------
Aerosol Measurements at Sundarban Mangrove
By Punyasloke Bhadury, Indian Institute of Science Education and Research Kolkata, India
-------------------------------
Reactive Halogen Species and their Impacts on Air Pollutants in Western Pacific: A WRF-chem Study
By Qinyi Li, Institute of Physical Chemistry Rocasolano, Spanish National Research Council, Spain