We are very excited to welcome both Solarstone and the Thrillseekers present Hydra to District Atlanta on Saturday, March 21st 2020.
About this event
Unity Presents Solarstone & The Thrillseekers present Hydra
Saturday March 21st 2020
18+ Welcome | Doors @ 9:00 PM
District Atlanta | 269 Armour Dr NE, Atlanta, GA 30324
Solarstone
" 'Pure Trance' is a feeling, a passion which exists outside of contemporary musical fads and fashions. It is the bringing together of millions of fans for whom this music is a way of life." - Solarstone
From scene founding father to ringleader and flag-bearer of the Pure Trance movement, Solarstone (producer, composer & DJ Richard Mowatt) enduring influence stretches back almost as far as the genre itself.
Releases like 'Solarcoaster', 'The Calling' and 'Seven Cities' are all benchmark classics of its pre-millennial period. The latter track – among the first of the Balearic trance anthems - has been re-released 3 times, and now sold in excess of ½ million copies. Remixed by Armin van Buuren amongst others, its instantly recognizable sunset/sunrise-sound legacy is still heard in tracks today. With the albums 'Anthology One' 'RainStarsEternal', 'Touchstone', 'Pure' and most recently the cryptically titled '. - - - - ', he's also released a quintet of critically revered longplayers.
Solarstone has long brought his sound to some of the most famous clubs, arenas and festivals on the planet. In Europe, those have come to include Tomorrowland, Cream Ibiza, A State Of Trance & Global Gathering, whilst further afield he's rocked TomorrowWorld, Stereosonic, FSOE and numerous others.
Having championed trance's true nature from his very first release, the last 5 years have seen Solarstone push its origin sound - almost singlehandedly - back to the top of the genre's agenda. Through his gospel of #PureTrance - modernizing the genre's heart, whilst ring-fencing its soul - he caught the disposition of the scene with zeitgeist timing. Within its first year, Solarstone's ideology of Pure Trance had developed into a bona fide musical movement. It's one which has been captured by a major a mix-compilation series, worldwide Pure Trance club and festival shows, the Pure Trance and Pure Progressive record labels & its weekly radio show.
The Thrillseekers present Hydra
Steve Helstrip, aka The Thrillseekers, has been at the forefront of the global trance scene for some 15 years. From his first single 'Synaesthesia', through to countless club classics including 'The Last Time', 'Affinity', 'Es Vedra (with Aly & Fila)' and more recently 'Just Because' and 'Amber', Steve Helstrip has been behind some of the most emotive electronic music ever released. He's worked with pioneers like Trevor Horn, shared co-production credits with Chicane and Ferry Corsten, and remixed for artists including Tiesto and Armin van Buuren.
As a DJ, Steve continues to captivate crowds the world over and has recently performed at Aly & Fila's headline FSOE450 event at the historic site of Karnak Temple in Egypt. Creamfields, Ministry of Sound, Godskitchen and Gatecrasher have all born witness to his fluid mixing, unique style and energetic performances. 2006 saw him climb to no. 45 in DJ Magazine's top 100 DJs poll.
In late 2005 The Thrillseekers moved into compilation territory with the release of 'NightMusic Vol. 1'. The CD and 30 date world tour that followed was an instant smash, generating State-side, Russian and Asian releases of the compilation. Summer 2007 saw the heavily anticipated follow-up hit the stores, and repeated again in 2009 with NightMusic Vol. 3.
In 2014 The Thrillseekers notched up 4 consecutive club anthems including 'This Is All We Have', which was consistently voted as one of the top trance releases of the year. Armin van Buuren described his track 'Find You' as 'simply brilliant' and Steve himself as 'one of his heroes'.
The past six months has seen The Thrillseekers sell out shows around the globe with his open-to-close '15 Years of Trance' events, while his release The Thrillseekers Pres. Hydra 'Amber' became the second fastest selling trance release is Beatport history, having reached number 1 in just 3 days. 'Amber' is the first single to be released from his upcoming album 'Escape', which is due for release on FSOE Recordings in December 2016. With 5 more singles lined-up over the coming 6 months, and many high profile events including Dreamstate, 2017 is going to be his biggest year to date.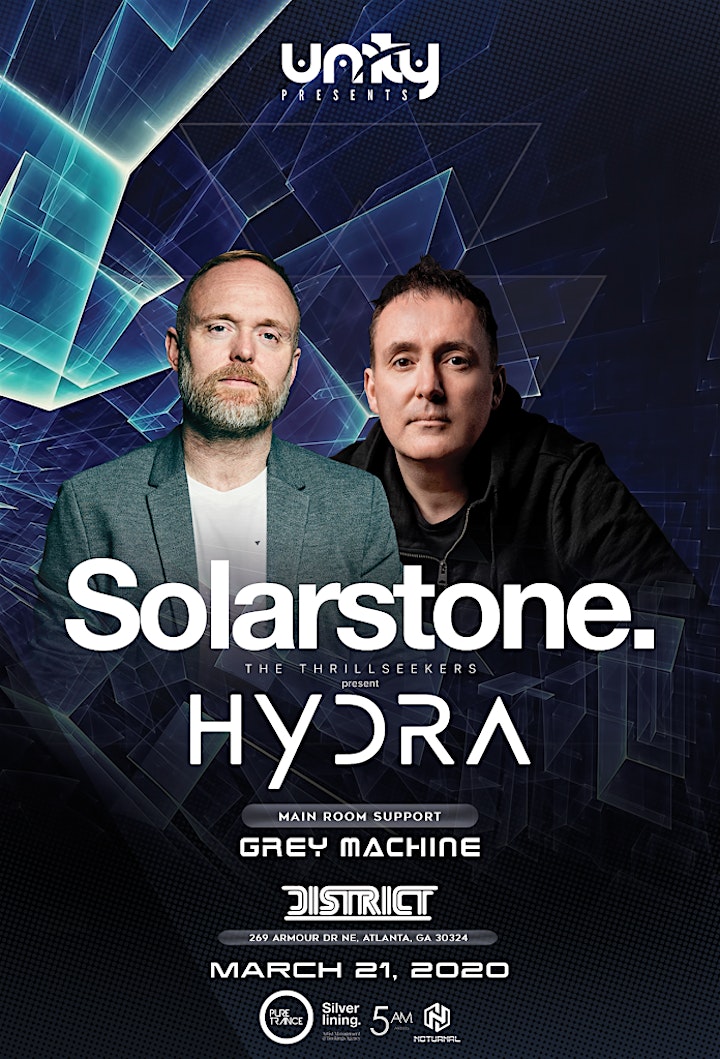 Organizer of Solarstone & The Thrillseekers present Hydra