Real Estate professionals will develop expertise to serve their clients with solar-powered homes and expand their professional credibility.
About this event
Newly constructed homes in California are required to have solar as of 2020! How much value does solar add? Appraisers and Realtors are increasingly challenged with the call to advance their credibility and competency as homeowners continue to invest in solar.
Today we're seeing stronger market drivers from CA energy policy and building codes as they shift to an emphasis on all-electric buildings powered by solar. Power losses from power safety shut-offs and fires is also fueling the momentum of solar sales. This course will help deepen your understanding of solar assets in sales and valuations to be a credible guide for buyers and sellers.
Learning Objectives
Answer essential questions regarding the valuation of a solar system
Identify components of solar systems and know what to look for during inspections
Be aware of variations in utility rates and their impact on value
Understand motives and market influencers of homeowner decisions
Determine the value of solar PV systems: 3 appraisal approaches
Accurately represent solar in listings including vital points to inform value
Comprehend basics of battery storage, microgrids and electric vehicles and their potential for grid balancing and resiliency
Know how unique stakeholders contribute to the shared pool of knowledge to support fair valuations
There is a final quiz where attendees must receive 70% or higher to be eligible for continuing education units (CEUs).
Prerequisites
Experienced appraisers, agents, lenders and related professionals will benefit most from this class as this material ranges from intermediate to advanced. The class is designed for those familiar with valuation principles.
Instructor
Debra Little, CEO of AjO
Debra Little is a Home Performance and Valuation Specialist with field experience in both appraising and home performance. Debra has a background in appraising tho has been primarily focused on energy efficiency since building her own high performance home in 2007. She's been developing and instructing classes for real estate appraisers and agents on the topics of energy efficiency and solar-powered homes for CA public utilities and at national conferences since 2010.
This Course Is Approved for Continuing Education Units by: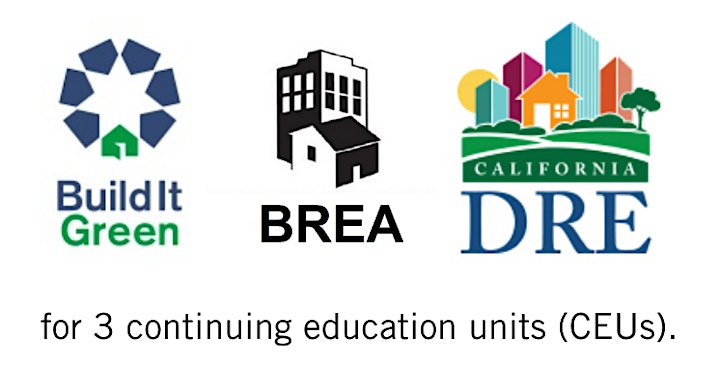 This Course is Hosted and Sponsored by:

Organizer of Solar PV: Technology & Valuation
Build It Green cross-promotes courses that highlight the features, benefits and value of high performance homes. We believe these courses will add value to building professionals' work, and increase awareness and education about what makes a healthy, efficient, and environmentally-friendly home.