About this Event
Join us and your industry colleagues for a free and informative happy hour at Great Divide Barrel Bar!
Why: Learn how solar increases NOI through incentive income and/or lower OpEx.
When: Thursday, October 24th, 4:30 – 6:30 pm. Our short solar presentation will start at 5:15 pm.
Great Divide is also offering free 30-min brewery tours at 4 pm and 6:30 pm.
(Can't attend? Contact us to learn if solar is right for your commercial property or business: 303.447.0015 or comminquiry@namastesolar.com).
Where: Great Divide Barrel Bar – 3403 Brighton Boulevard, Denver. Free onsite parking is available.
Intended audience: Commercial real estate investors, brokers, property managers, tenants, asset managers, and developers.
Namasté Solar and Greenworks Lending will provide free beer and appetizers.
Our presentation will cover:
Gross or NNN leases: how to create win-win scenarios for landlords and tenants
Solar ROI, IRR, and breakeven
Federal Investment Tax Credit, which is set to decrease each of the next 3 years
100% bonus depreciation
How solar can reduce OpEx
How solar boosts NOI
How C-PACE (Commercial Property Assessed Clean Energy) financing increases cash flow and preserves operating capital
How solar differentiates your business
The Denver Green Building Ordinance
And more!
Did you know?
Nearly half of a solar system's cost is recouped in Year 1 from tax incentives.
Solar differentiates your property, and increases appeal, lease rates, and the value of the property.
$0 out-of-pocket Capital Energy Improvements (like solar) with C-PACE financing have fixed rate, 20-year terms that are transferable.
Savings and utility incentive income exceed your C-PACE financing note in most cases.
Green Lease solutions allow property owners to recoup the utility savings realized by NNN tenants from your asset, resulting in an additional income stream and accelerated ROI.
Ogilvie Properties on Saving with Commercial Solar: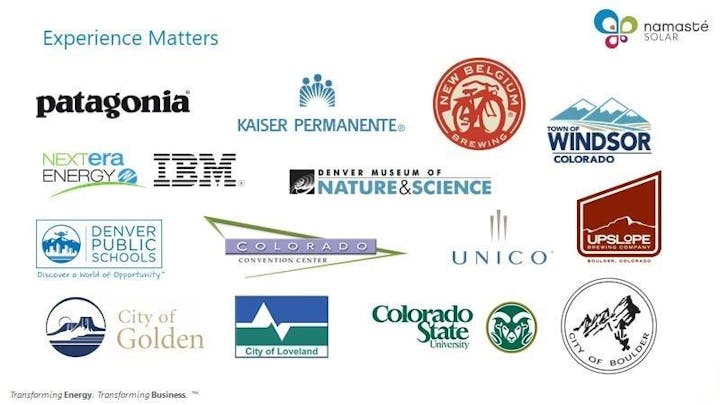 Sponsored and in partnership with Greenworks Lending.
Greenworks Lending is the largest provider of Commercial Property Assessed Clean Energy (C-PACE) financing in the country. Led by several of the industry's founding policy developers and standard-setters, Greenworks Lending is a private capital provider uniquely dedicated to funding commercial real estate through C-PACE. Greenworks has provided financing to hundreds of commercial properties in more than a dozen states. Greenworks Lending's C-PACE financing makes clean energy a smart financial decision for commercial property owners.
Namasté Solar is one of the longest standing solar companies in Colorado, having designed, permitted, and installed over 7,400 systems and 110 MW of solar. Namasté Solar is a Certified B Corp and Public Benefit Corporation, as well as an employee-owned cooperative. Our solar energy experts handle every detail from design to permitting to installation, delivering you a customized, turnkey solar energy solution that maximizes your ROI.